This is my race report from the 2015 Jackson Hole skimo race, the second of two ski mountaineering races I completed this weekend. (Here's my report from yesterday's race at Grand Targhee.)
Jackson was going to be bigger and badder than Targhee, no question. I knew that I'd be hucking double black diamond chutes on Wade's skinny race skis, but with no concept of how hard or dangerous that would be, I chose to shut down the usual mental preparation. I'd deal with the steeps soon enough.
After yesterday's major gear debacle, I knew I'd have to find a way to get more skin underfoot. You should know that no shop in Jackson carries "skimo race gear". Every shop owner I asked took pains to make it clear to me that nobody wants race gear, and that they get these requests no more than once a year. I guess the race committee needs to do a little more outreach to the grizzly shopowner community.
With the hope of new skins dashed, I decided instead to buy some purple paracord and extend the front skin attachment point by 12 inches to at least move the skin tails back under my boots. Every step forward would force snow under the tip of skin, but if I was careful about keeping the glue warm and sticky before applying the skins to my ski bases I stood a good chance of keeping the tails attached. I bought some orange ski straps just in case, figuring that I could belt the skins on to my skis if the situation grew desperate.
The Start
Race check-in the next morning happened inside of a huge, heated tent near the Gondola. I recognized the final kilometer from the few YouTube videos I'd found of the race. The officials checked my required gear - helmet, avalanche gear, skis, skins. I knocked out some squats and kicked my legs, copying the pros, trying to get a little stretch in. A racer stretching next to me was telling his friend about his decision not to wear his Alien snow gaiters. "They're useful, but they weigh like 42 grams. Fuck if I'm hauling that up the mountain when I don't have to." Damn right, brother! Minutes later we pushed out the door, fell into the line of entirely-too-serious looking athletes, lined up and took off at the gun, trudging up a mountain that usually does not allow uphill travel of this kind.
I started more conservatively this time, heart rate capping at 177 then settling down to an average of 175 for the first long, long climb. When the slope kicked back I got ready to lose friction like yesterday... but the skins held! I was a herringboner no longer. They didn't glide well, and I could see little arcs of snow spraying out from the small plows formed by the skin tips underfoot as I pushed the skis forward, but I was in the game. You can see me on the left of this photo looking uncomfortable:
(Photo by Mark Gocke)
I settled in next to a short man in a race suit that I recognized from the A-Basin morning race series. I've never seen this guy NOT clad in full lycra. Such are my relationships of late. I was breathing easily at the high heart rate and moving well, mentally spinning on my food and water strategy, feeling very, very good. Had I solved my equipment issues? I could see Stevie Kremer ahead of me, firing forward over her signature super high stride rate. I'm behind her. Good. She finished 45 minutes ahead of me yesterday. No sense making my move yet.
The first climb through beautiful, powdery snow rolled over into a long, flat traversing skin track that wound back and forth for a few switchbacks before breaking off into the woods and ascending a mogul run through tight glades. I passed a few racers on this uphill, growing more confident. I was in the top third of the pack. I was going to beat more than one guy! YEAH! (How quickly the scope of our dreams adjusts to reality.)
The first few switchbacks and kick turns in the glades went well. The powder gave my skins excellent grip, and I stuck right on the tails of the skis swishing forward and back below the lycra suit ahead.
But then - oh, man, but THEN... the ice appeared. The powder thinned, the ice shone forth, and I fucked up my first kick turn, folding at the waist and going pigeon-toed before catching myself and shuffling ahead to make up the small gap I'd created. On the next switchback I kick-turned below the track and had to herringbone sideways up for a couple of steps, off balance and suddenly tense, forcing myself forward with poles and upper body. You hold your breath a little during moves like this, the heart rate spikes, and your Chi, your Zen, your spiritual self "shits the bed" as they say in many of the ancient traditions.
It happened again and again. My confidence was shot. I started looking back at the racers behind me, cringing, wondering who I was going to piss off. I pushed on, sliding back with every botched kick turn, falling over every few minutes. The racer behind me sensed weakness and pushed past. The others started catching up and the third man to pass me tried to offer help. "your skin tail's starting to detach a little, man." Oh boy.
I adjusted my expectations. This was a huge race, and I had a long way to go. We were ascending amazing glades, the terrain was gorgeous, and there were four major climbs left. We had a long way to go, spidering up and down the mountain. The views were unreal, and what did I care about doing well? I really had cared, but the whole race scene was so wild that I didn't have much trouble shedding ego and enjoying what was happening. I began to let anyone pass that wanted to go, smiling and cheering them on. My goal of beating at least one dude was important, now, and totally achievable.
I hit the top of the first climb and popped my skis off for the transition. I cleaned snow off of the skins and skis, brushing and fussing like a pawnshop jeweler scrutinizing a filthy new item, making sure to remove every crumb of snow and slosh. I only had one pair of skins, and if the skins failed my day was over. Better to sacrifice a couple of minutes on each transition. The transition crews actually "awwwwed" me each time I stopped to do this. The pity was palpable.
The first descent was a steep, black diamond mogul run, which made it slightly easier than the most difficult run I'd ever skied. (That run had happened yesterday at Grand Targhee.) I flopped my way down the run as other racers shot by me. Everyone looked out of control, but most folks were going fast. The moguls finally ended at the edge of a long, flat groomer, and I got a couple of solid carves in before it was time to put the skins on and go uphill again. Two minutes into the climb my skin tails detached. I stopped, strapped them on with my orange ski straps and kept moving. Another two minutes gone, and another couple of places lost. No matter.
My new caution about the skins had forced my heart rate down below my aerobic threshold, and it was easy to have fun. Because my technique was so bad I was able to mix in with skiers who were suffering more than I was with good technique and become that cheery asshole that everyone who's raced has met and loathed. "Great work, guys! Solid push! Isn't it just so beautiful up here?" The second climb ended in a transition area at the top of a traversing blue route that looked very casual. I performed a slow transition, breathing on the skins to melt the ice crystals before carefully folding them in half, buckled the boots and launched down the blue. I almost missed the volunteer yelling at me to turn off the side of the route.
"This way!" she said, and pointed sideways. I obeyed, looking at my feet, and cliffed out twenty feet later. What the hell? I looked right and saw a flag down the horribly steep line of Tower 3 Chute, easily the most intimidating line I'd ever skied. A weekend of firsts. Jesus. With skiers behind me trying to get past I couldn't stop, so I initiated a program of controlled falls, jumping downhill into each turn and driving my uphill hip into the snow to stop my body from cartwheeling. Racers were jumping over and around me with unreal speed, spraying snow at my body. I forced myself up again, remembering that I had to improve on yesterday's results. I had to beat somebody, and far too many racers were gunning by me to continue to believe that that outcome was still obvious. I kept doing the fall-jump move. Soon I was down, transitioned and climbing again, traversing up a beautiful track in the growing sunlight. I pulled my phone out of my sweaty lycra waistband and called Jenna, earning me more annoyed looks from the exhausted skiers around me.
I reached the lodge at the top of Jackson's gondola in a little pack of racers. There was a line of spectators waiting, cheering us on as we strapped our skis to our backs and started bootpacking up the headwall. We were spectacles, grotesque, trudging up under perfectly good lifts, but I was comfortable with this and able to pretend that the cheers were born only from respect of the physical effort. I'll take what I can get, okay?
Time began to blur. Another skinning session after a short downhill at the top of the headwall. I was so, so tempted to skate past the flags marking the beginning of the skin track and gain a minute or so of overall time. But what would be the point? The entire day's rules were so arbitrary. Cheating at a game I was so bad at felt sad. I transitioned at the flags and another girl passed me. Corbet's Couloir and the final bootpack to Jackson's high point loomed above us at the end of a long traverse. I could barely see the cliffs through the fog and spindrift. Course officials were waiting at the bottom of the snowy cliff, pointing my little group toward the next flag and up the bootpack.
"Just a little more until waffles at the lodge!" yelled one official. After two more course officials said the same, I asked, "is the top an aid station? Are we supposed to go in?"
Shocked looks. "I mean, you can stop and go in if you want...", like, who does this guy think he is, dressed like that and asking about aid stations? I get the message. Jesus.
All I wanted was to go fast enough that the course photographer wouldn't throw out all of his photos of me suffering, as so often happens when you're at the back of the pack. I got my wish! Here's me at the top of the bootpack, just before the lodge:
(Photo by Mark Gocke)
Jenna, Will and Alyssa were waiting for me at the top and cheering me on. I got a kiss, and transitioned, trying to flash the ski straps and telegraph the misfortune, hoping they'd assume that of course I'd be up at the front of the pack if not for equipment malfunctions. Lost in this fantasy I forgot to lock my boots into ski mode. As I leaned down to carve the first turn my feet went up in front of me and I drilled into the snow. Jenna was lost in the fog behind me, but Will had decided to follow me down and saw it all.
The whole descent was fogged in. I could see maybe one flag at a time. Will - or someone that I assumed was Will - stuck with me the entire way down. I spent the first few minutes trying to remember what color his jacket had been. I think he was dressed like this guy... or was this some other spectator? Reality was fuzzing over. Of course it was him. No one else on the mountain gave a shit about this spectacle. He stayed back and let me show him my hip-slam technique, which I decided to illustrate for him on almost every turn.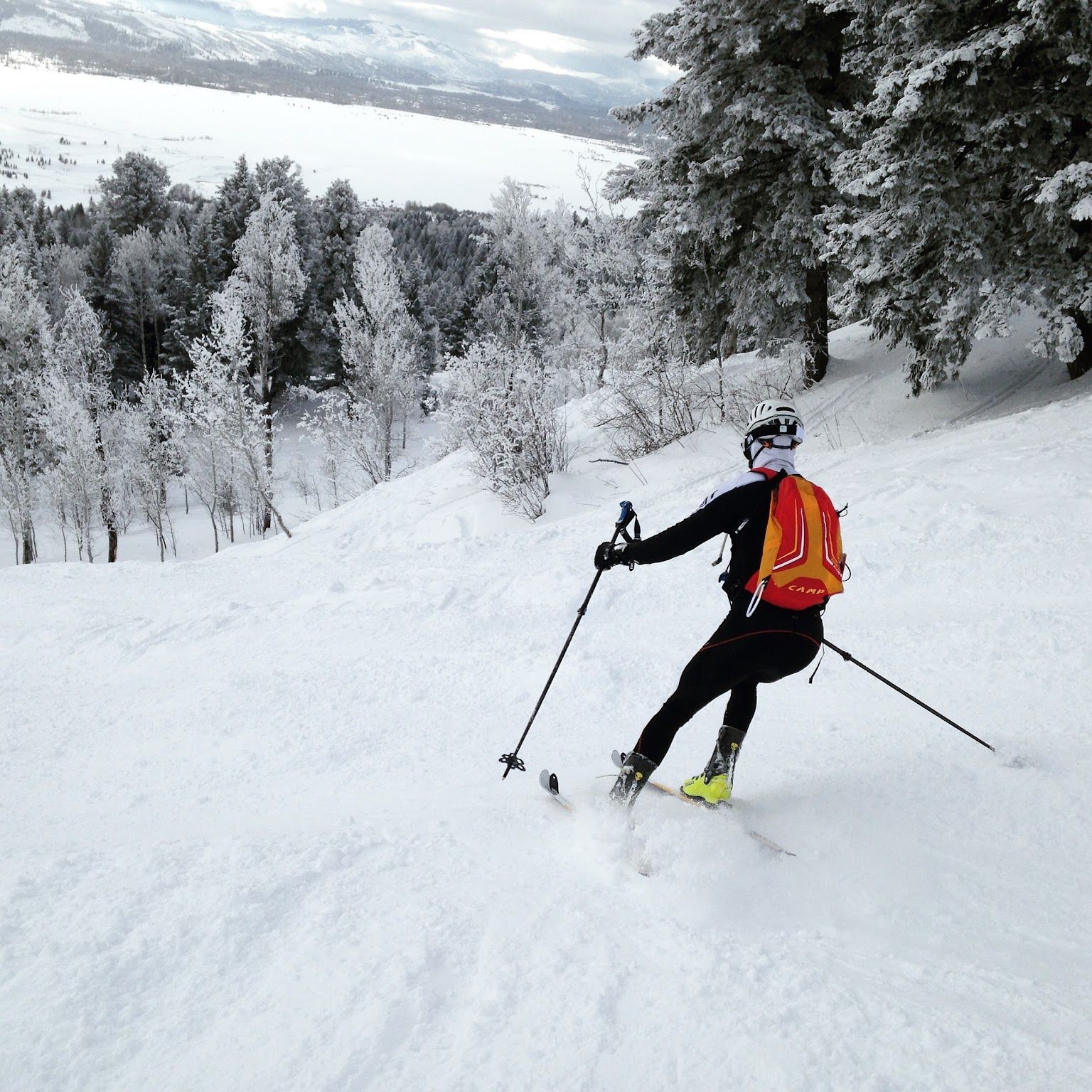 Down, down, out of the clouds, through double black chutes and into deep breakable crust to the next and final transition to uphill, where Will snapped some photos and left me with a yell. I ski-strapped my skins for the last climb in the new heat, still ahead of at least a couple of athletes. At the top I once again thought we were cruising down a blue traverse and had to get rerouted onto a crusty mogul run. I almost couldn't believe it when the course leveled out to the first blue run of the day. I could ski! I could carve! My legs were so tired. Finally, there it was, the bridge and a bundled up man with a radio pumping his fist up and down. Finis!
Race entry came with a free ski pass that I was absolutely not going to let go to waste. I hustled into the cafeteria, downed a bunch of chicken wings, changed into normal ski gear and jumped back in the gondola for a final half day of skiing with Jenna, Will and Alyssa, my caring crew.
Conclusion
Overall this was a very cool race weekend. No one was here to fuck around. I saw maybe two athletes across both days not decked out in full skimo lycra. I beat maybe five athletes in the race division out of a field of fifty (official results here). Here's my Strava file from the race if you're curious. Other than yesterday at Grand Targhee (and a botched soccer season at age four) this stands as one of the worst results in my athletic career. I was completely outclassed on the downhills and the technical aspects of the uphills. But damn, what fun! My guiding light these past few years has been to get involved in sports that make me uncomfortable. Ski mountaineering racing is a hell of a time and fits that bill oh so well.