In September of 2017 I raced my first ever mountain bike race - the Vapor Trail 125, the hardest race I could find up in the mountains of Colorado. After four years of 100 mile running races I was well and truly burned out on the idea of spending my summer training for yet another huge odyssey-on-foot... but I still wanted to get up into the high country, and I know by now that my best source of motivation is the fear of a big race on the calendar.
What to do? The year before, out in Leadville pacing Aaron Steele, I'd met a mountain biker who'd raced the Leadville 100 Mountain Bike race the weekend before. I'd congratulated him on his finish and asked how hard he thought the bike race was compared to the 100 mile run. He scoffed, disgusted that I would consider a Leadville finish to be anything more than the accomplishment of a child.
"Leadville is a race for beginners," he told me. I could see a darkness behind his stare, like the darkness that never quite left Bilbo's eyes after he surrendered the ring to his nephew Frodo. "If you want a real mountain bike race, go check out the Vapor Trail. Grass roots, starts at 10pm... Hard. Fucking. Core."
This guy was an addict. I wanted to learn more but Aaron was coming into the aid station and I had to leave.
Signing Up
The next spring I opened up my "Athletic Life List" Google Doc to complete the annual ritual where I try to pick an endurance event big enough to fill the emptiness inside. There it was... the Vapor Trail, the newest entry, one of the few mountain bike races. I started my research and found confirmation of Bilbo's claims. From the Vapor Trail 125 website:
The Vapor Trail 125 is like riding two Leadvilles in a row, and one of them is at night.
All over the internet, former Vapor Trail competitors were spraying poison at Leadville. Leadville was a 3 out of 10. Vapor Trail? 10 out of 10. Hard Fucking Core. Jealousy over Leadville's popularity and success? Of course not. Just raw, rock hard honesty from the toughest cyclists no one's ever heard of.
The Vapor Trail is 125 miles of mostly single track mountain bike trails at high elevation; it starts at 7k and spends most of the race in the Collegiate peaks over 9k, with multiple passes over 12k. 17,000 feet of elevation gain; the race starts at 10pm, with the toughest parts of the course at night in freezing temperatures; the aid stations are spaced far apart, with a 34 mile gap at night.
And, oh boy, the first crux. The race is also application only! From the VT's "Cycle the Earth" page:
The people who participate in this event have to have done this sort of thing before and proven that they know what to do and what to have in order to take care of themselves.
I spun a web of half-truths and shady arguments about how well I thought my skiing, running, canoe and triathlon background had prepared me for the VT and fired off an email to the race organizers, Tom, Earl and Shawn.
They were convinced - troubling given their responsibility to keep out racers that were a danger to themselves, which I most certainly was - and sent me a registration form.
I trained! I had no idea how to train. I got out for big rides on the mountain bike and slowly improved. I preserved the on-sight by never riding any piece of the course. I was confident about my climbing ability, but what about these huge descents? Would I even be able to ride them? Or would I careen off the side of some mountain a dozen hours in, too tired to squeeze the brakes?
It was a wonderful summer riding with Jenna and exploring new trails and a new sport, with my senses heightened by the slow drip of fear and adrenaline that my background awareness of the Vapor Trail provided.
Finally, it was September. The honeymoon was over. We packed the car and drove to Salida to certain death or eternal glory.
Pre-Race
The start was scheduled for 10pm on Saturday, September 9th. I spent the day obsessing over questions I should have answered months before. How much food should I pack? How hungry do people get on the bike? What shirt should I wear? Unable to make decisions, I defaulted to road bike tights on the bottom and my uphill skiing costume (Capilene Air hooded long sleeve, light shell) on top to deal with the six hours of freezing night temperatures.
Here's my bike, my trusty steed, ready to rage around the collegiates: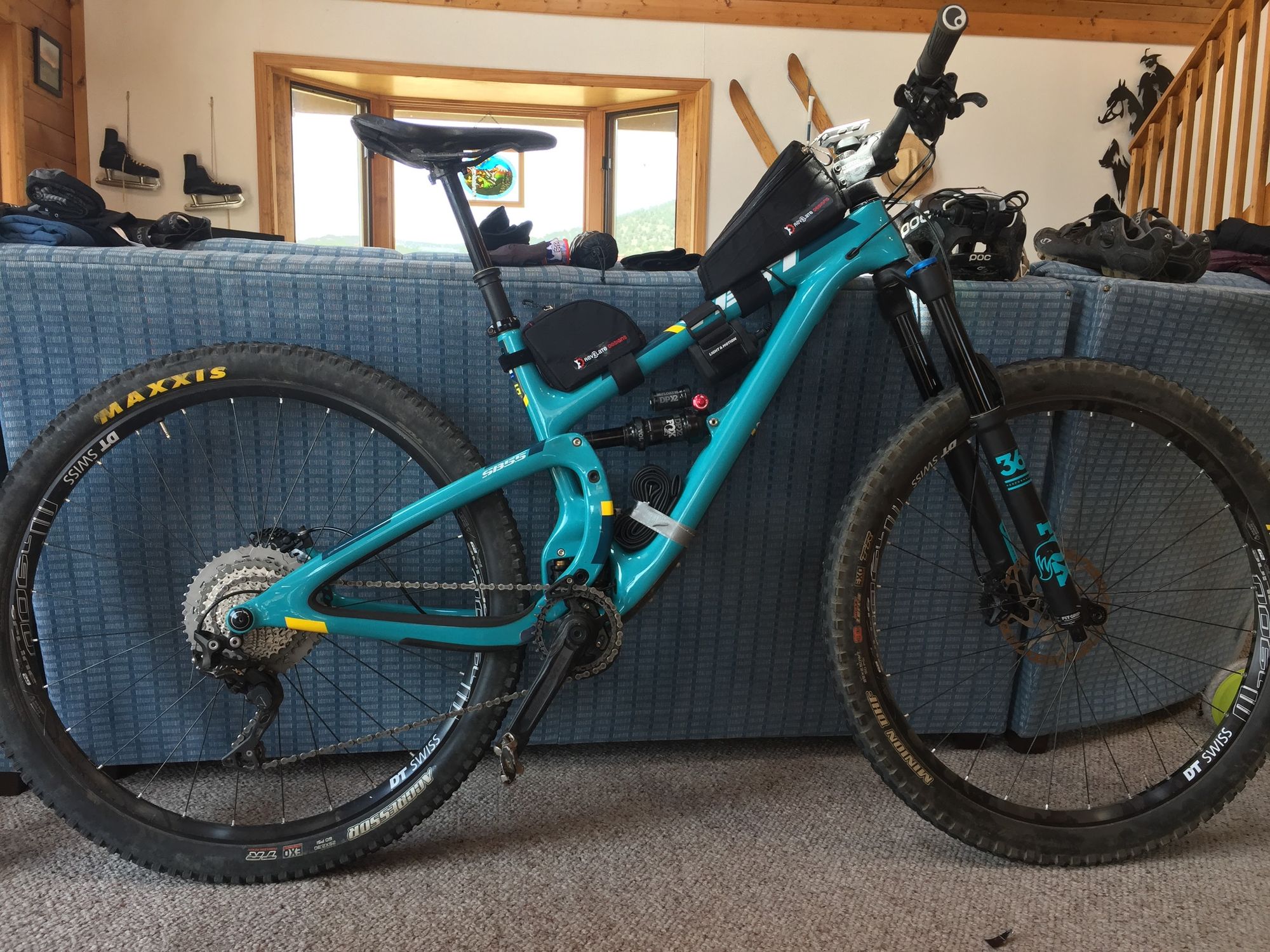 I drank a lot of coffee. In the afternoon I drove with Jenna to Absolute Bikes to check in and meet the race organizers and maybe some other athletes. Jenna bought a map as I struck up a conversation with one of the staff.
This guy - I can't remember his name - was racing as well, on a single speed bike with no suspension. What the hell? I asked him what the theory was, why he was getting after it on such unsuitable gear.
"You know that climber dude, Alex Honnold?" he asked me. I replied that I did. "Everyone else is up there with all sorts of gear and ropes, but he's just getting it done. Free soloing. Single speed mountain biking is the free soloing of mountain bikes."
I thought, but didn't say - isn't trail running sort of the free soloing of mountain biking? Sorry, my man. You're definitely not the Alex Honnold of mountain biking.
Home, more coffee, pasta for dinner, an attempt at a nap.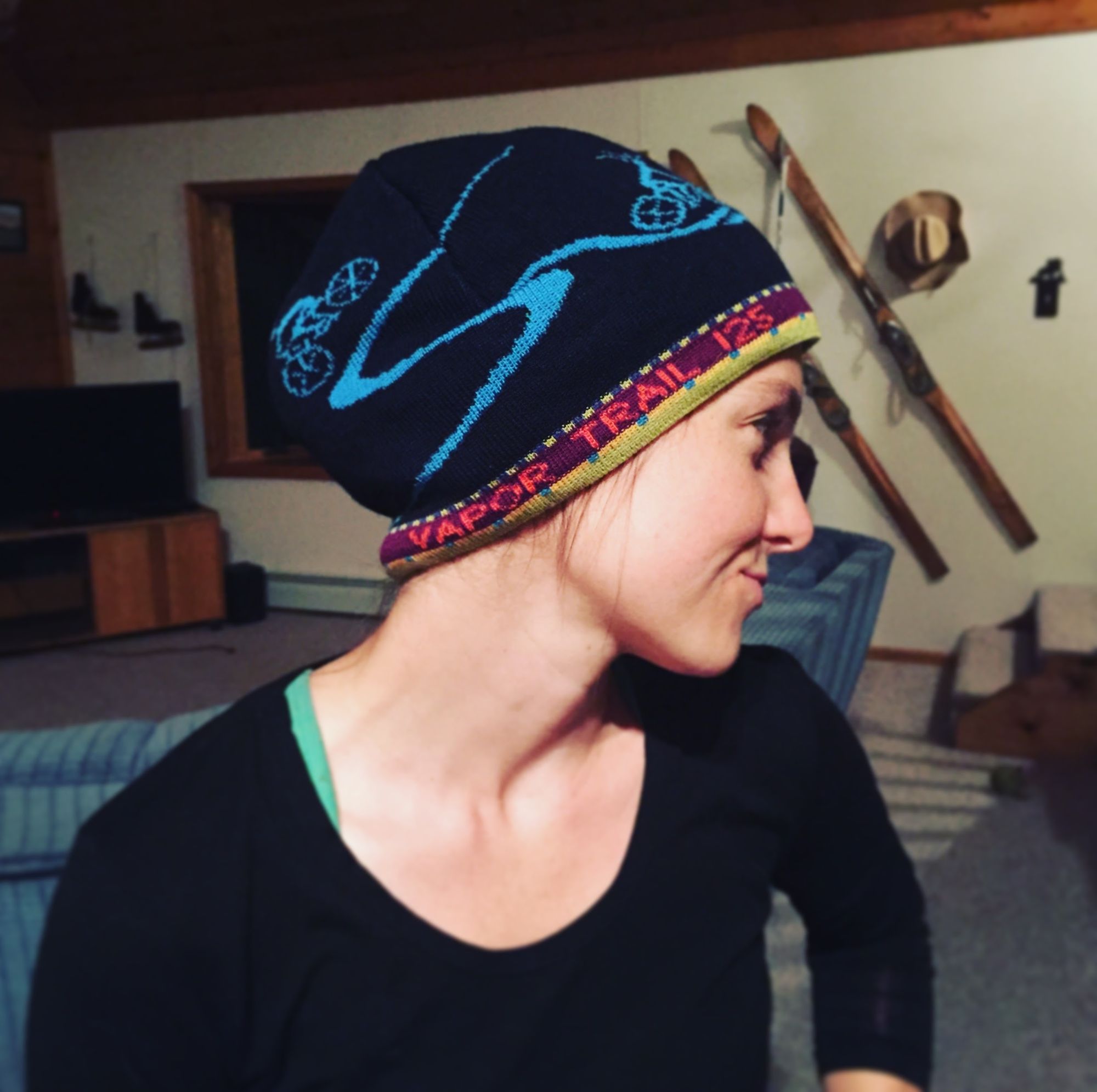 Race Night
That evening Jenna and I headed back to Absolute Bikes for the pre-race meeting. I was sweating and nervous, mentally out of control. I was one of the few people fully dressed to ride; I'd showed up ready to blast off, far too early. Not a big deal. Back to the house, catch a TV show, then back to the start line for the final time. I was fully loaded for the first 27 mile stretch, the heaviest I'd be all day.
Here's a moody view of the bike shop where it all began: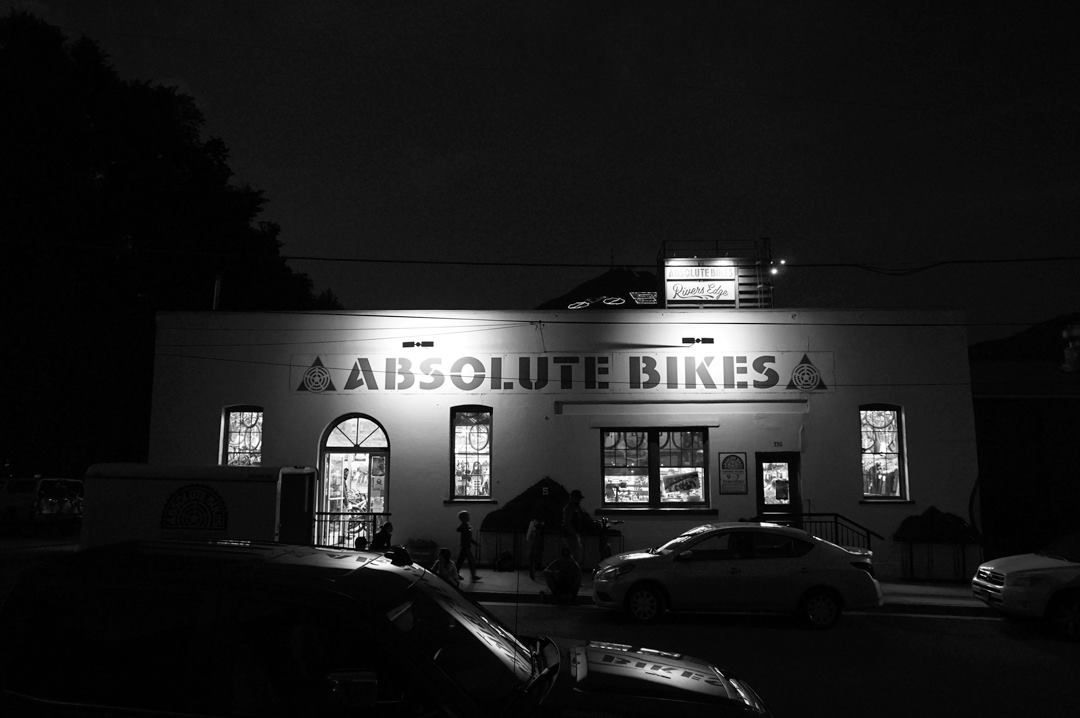 Start to Aid 1 (26.5)
Ah, the beginning of it all. There is always so much anticipation at the start line, such intensity of nerve... and then the gun goes off and finally, with something to do after all the waiting, you settle in to the long push.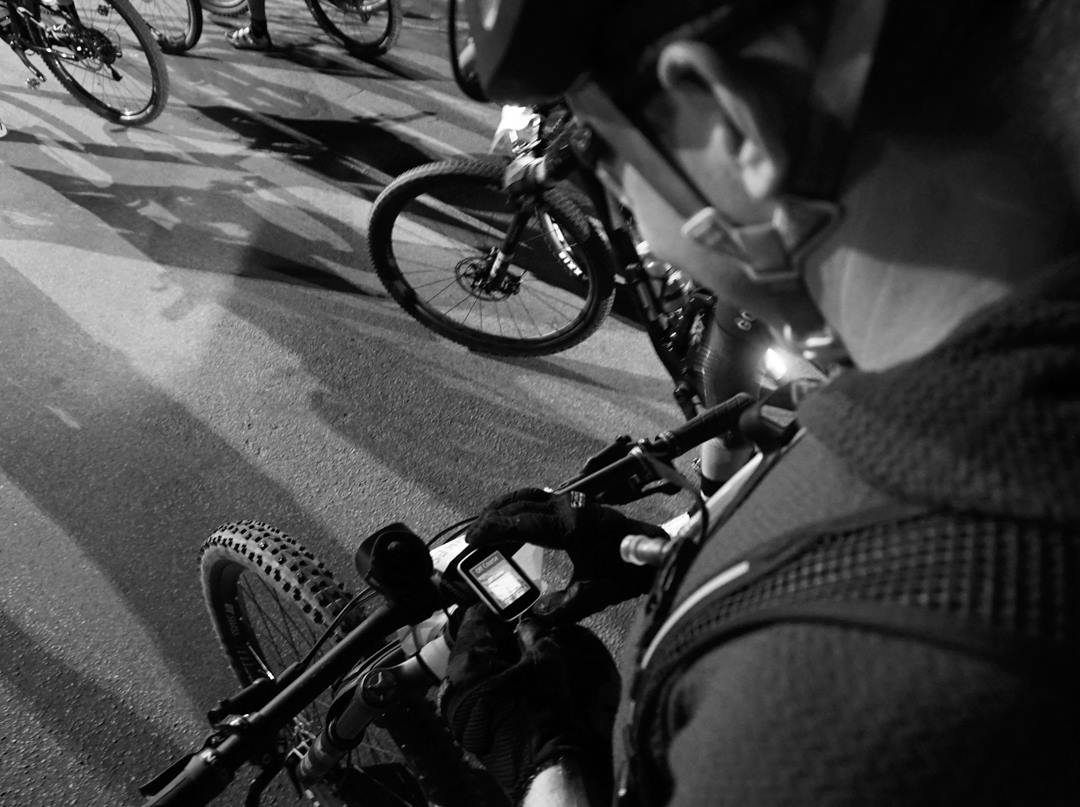 Especially at the Vapor Trail. This race starts with a neutral roll out, and everyone stays casual together for around five miles until the group's safely escorted across the highway. Once this happens the fast riders fission off of the front. I was happy to note that slow group pace felt fine.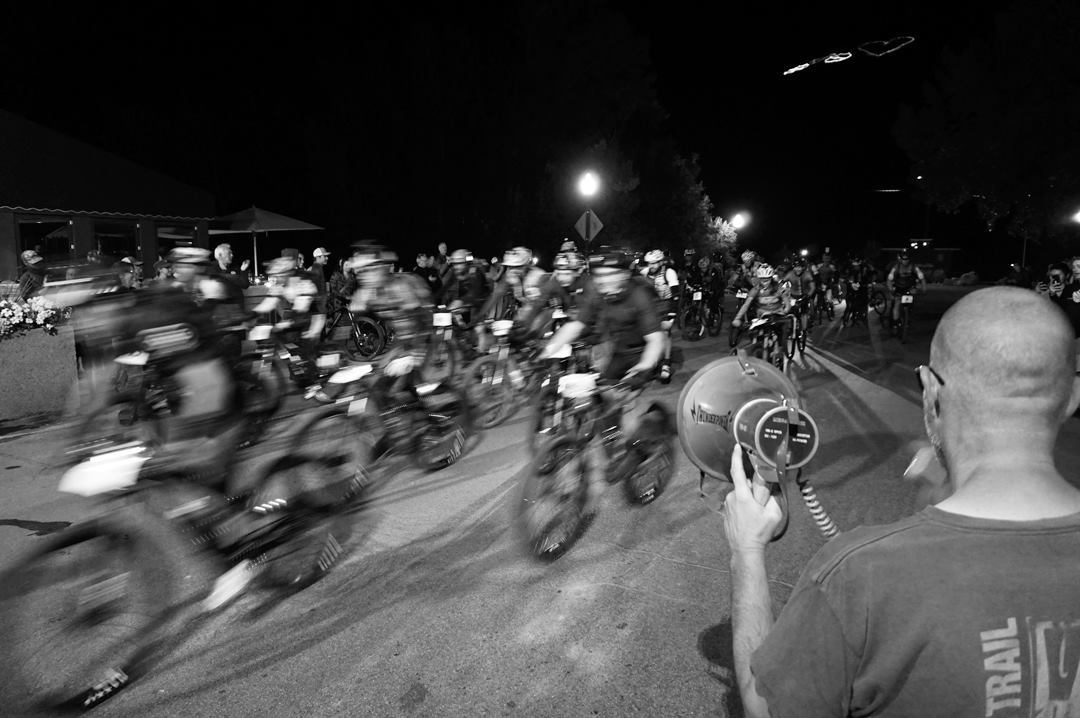 I kept my light off, drafted somewhere in the middle of the group, took a casual pee break when everyone stopped and stretched out. What a gorgeous night!
We reached the highway, crossed, and a short while later at the first right turn, everyone just exploded off of the front of the group. I ended up alone, a hundred yards behind this one woman with a strange pedal stroke that had her bouncing up and down constantly. I passed her and said nothing.
This first stretch was a long, slow uphill jeep road that got more chunky as we climbed up toward the base of the Collegiate peaks. I picked off a few people, going harder than I wanted to to try and keep my toes warm. It was so cold, even early in the night. My taint was hurting, 8 miles in. I could probably run this faster. Stop thinking so much.
One difference with running - it is very hard to motivate to stop and eat, since people catch you so fast. My bar-unwrapping technique was so bad that I had to stop and take the penalty to get food. Oh well. I looked at the big mountains, moved forward, listened to the sounds of the night and the suspicious squeak that developed somewhere down in my drivetrain. I passed a guy on a single speed, "free soloing" his way up the hill.
Finally, the start of the Colorado trail, something like 13 miles in. I jumped off the bike and immediately felt dizzy. My glasses fogged up as I stumbled off trail to try and pee, failed, came back and finished my aborted snack from before. I wasn't quite in last place, but there were less than ten riders behind me, I was sure. I put on my Houdini jacket and the toe caps I'd brought to keep my toes safe, got back on the bike and rolled out onto wonderful singletrack.
The Colorado trail delivered. The monotony was over as I fought the urge to ride my brakes down the steep, techy singletrack - my first time riding at night by headlight! I was conservative, especially on the narrow off-camber pitches of trail that dropped off into the dark. But no one was catching me, so no sense worrying. I was happy to be riding one of the bigger bikes in the race as the descent got chunkier.
A mile in the trail kicked up, and I dropped gears and tried to fight my way over roots up the increasingly steep hills. Holy shit, I'm redlining! Get off the bike, don't be a hero, hike it up the hill. My heart rate stayed surprisingly high from the hike and hike and I started sweating, drenching myself inside the houdini. Managing these hikes was going to be a challenge. Don't worry, keep going, keep drinking.
At least I was warm. This scene repeated itself a few times, but soon enough the trail mellowed out and I was roaring down a narrow track through tall grass by moonlight. I caught up to a couple of riders and we got through the flowy sections as a group. This saved me - I passed them, and shortly after missed a turn into a hike-a-bike. They saw my light and yelled down at me before I could become too lost. Would I have been able to recover?
So close to the aid station. Before we reached it the trail descended through a couple of very steep switchbacks full of large dinosaur eggs that swallowed even my knobby tires. I made it down and passed my bud on his single speed, the Alex Honnold of mountain biking. He was looking rough but passed on some encouraging words as I tic-tacked through. I almost went over the bars here but saved myself the destruction and limped out, pushing on toward that glorious first aid.
Aid 1 (26.5) to Aid 2 (60)
Boom! First checkpoint! 27 miles in and still alive, the first big test of the night complete. If I could make it to the second aid station and survive until morning I felt confident that I could finish safely.
I ordered a breakfast burrito from the wonderful aid station crew. When they handed it to me, suddenly I was too nauseous to take a bit. I couldn't sip the coffee, couldn't handle the tailwind. This came on quickly once I had a moment to relax. Was I bloated from bouncing around on the bike?
I waddled down the hill on the side of the road to try and shit. I was wearing bibs, so this forced me to take off everything. Shirt and jacket off to access the bibs; bibs off to get the job done. I turned off my light to stay stealthy. I couldn't perform. What a waste of time. I got dressed again, went back to the aid and managed a few sips of coffee and a bite of an energy bar. I nibbled on the burrito until the cold grew too intense, geared up and rolled out.
The next stretch was a long, sandy road cut into a high rock cliff, maybe five miles long. It was mostly mellow, except for a section of trail cut off by a huge rockfall a few years before. Carey Lowery posted a shot of the rockfall on her 2015 race report:
The stretch was short but gnarly in bike shoes. I was alone still, and enjoyed moving fast on my feet. My crotch enjoyed the break.
I couldn't stop looking over at the big drop a few feet to my right, and the big peaks shining with moonlight off in the distance. The drop was pulling me in. What violent delights waited in that canyon, if I just edged my way over for a peek?
Five miles of this and then... a road? A dirt road, well maintained! God, it went on for so long. It was so painful, so monotonous, to just sit and pedal, hard, for 11 miles.
On reflection - and this section was all about reflection - I would so much rather the race be physically hard. It's much easier mentally to transition back and forth between technical stretches. Instead, for this hour, I became my taint, standing up and down, protecting it - me? - visualizing its structure, apologizing to it in my most sensitive internal tones for the long term damage I was almost certainly causing. Maybe the intense cold preserved it.
After so long I hit a transition where the road became more technical and sat with a couple of other riders, talked, commented on the light behind us, catching up. I left with them, but realized a couple of minutes in that I had left my glasses. My clears! I went back, heart aching at the extra mileage. Alone, I tried to pee and got nothing. I was so ravaged.
More monotonous riding until, finally, the turnoff to Hancock pass. The trail turned incredibly chunky very fast, and I switched to hiking almost immediately. Ahead of me was a guy in jorts, my spirit guide. Obsessed with my own chafing, I asked him what he had on underneath. I've blocked out his response.
We were 7 hours in at this point, at 5 am. Dawn was coming. Jorts and I both jumped on to ride every so often, but it felt good to hike. I was warm, finally, and able to eat. I started passing people, able to use my trail running muscles to climb a bit faster. (A pass on a hike-a-bike is an incredibly awkward thing. It takes a while, and you have to decide whether or not to talk; the most important thing is to act casual. If they sense your weakness they'll try to pass you back, which is devastating.)
It is hard to communicate how monotonous and long these climbs were. I won't try, but trust me - don't do this.
Finally, the top and our first big descent in a while through fine moondust. Again I felt so happy to be on a big, chunky bike, riding through some of the hardest downhill on the course and feeling confident! I was going to survive - this really had been in question, with my absolute lack of experience.
On the next climb I struck up a conversation with a rider who introduced himself as - woah - Jesse Ward! Jesse was the mysterious cyclist who had been laying "Kudos" all over my Strava profile in the weeks leading up to the race. We chatted and made another friend, Kylie, during the next big hike-a-bike. Endless climbing, slight rolls down to intermediate saddles and then more climbing, hiking the whole way. We were deep into the collegiates now and the view was outrageous.
Another incredibly chunky descent with lots of drops. Who would do this on a single speed? Then, down to a flat run-out section full of deep puddles, and, woah, a secret aid station beyond, with coke and bacon! Kylie caught me here again and we hiked the next stretch together. Riding isn't so hard when you're not actually riding.
Another monster climb up to, I believe, the high point of the race at 12,800 feet above sea level, higher than Hope Pass outside of Leadville. I felt fine, refreshed, even, from the hiking. I wasn't going terribly fast, but, remember, the goal was surival.
I hit the summit just as the sky started to glow and further mountains, and more contrast, started to resolve across the landscape. I had carried a very warm jacket and gloves with me all night, and decided that it was now or never to wear them - this next descent was going to be very cold, so I might as well get a snack and dress the part.
Big mistake.
When I started descending I was immediately too hot. I was riding fast, now that I could see, but my gloves were too tight on my fingers and far too hot; my hands were drenched in sweat. I finally decided to pull over when my light battery jostled loose and unplugged itself, stranding me suddenly in the dark at high speed. Fuck! I was alone! Jessie blew by me, gone for now and probably for the rest of the race.
I ended up stopping for 12 minutes to remove my heavy clothes and fix my light. Of course by the time I got back on the bike, the sun was up enough that I no longer needed the light. Chill, stop panicking. It doesn't matter. But maybe it did! Was I going to be in last place again??
I rolled out and got my speed back up - and then, five minutes later, coming hard down a steep stretch cut into the side of the hill I hit a rock and dumped off the side of the trail. I managed to get one foot out and slowed down enough that my fall, high-side over the mountain bike, was huge, exaggerated. I hit the ground with my back and started to roll, but managed to kick hard with my attached foot and throw the bike over me down the hill and brace myself against a log that I had just missed. I stopped myself before getting out of control, but just barely.
I laid there for a while, slowing my breath. I took a snack. Then, up, back on the bike and cautiously down.
The descent really was amazing. It was 90 minutes long, thousands of feet of descent, incredible rollers through fall colors; it really felt like a flow track, an impossible-to-access flow track deep in the mountains. There was no way in other than the hike-a-bike we'd completed. Truly an unbelievable ride, some of the best riding I'd ever done.
I was musing on how much of a stud I was on the bike when Kylie caught me on some descending switchbacks and passed me again. Oh well. Soon, the road, and the second aid station.
Aid 2 (60) to Aid 3 (74)
I'd passed the big test. I was close to halfway down with the race, and I'd survived the long, cold night with very little aid. I was so happy to see Jenna and Pretzel and savored the rest - Dave Wiens, Leadville 100 legend, was cleaning and servicing the bikes of every rider, so while waiting for him to get to my bike I took the time to partake in the aid 2 feast.
Pancakes with syrup! Coffee! I was going to enjoy this in a way that I had committed to never fully enjoying aid stations at my trail races. 20 minutes, such excess. Jenna grew troubled. "Shouldn't you get out of here?"
I took a bathroom break, then went to retrieve my bike and ditched all of my night and cold-weather gear and changed into a dry shirt. What a difference! What a reset!
The bike squeak that I'd listened to for the past 7 hours was gone, thanks to Dave. I posted up and got out of there, rolling fast down the road to the start of the next massive climb.
I passed a guy on the way to the climb who was acting confused, like he didn't know if we were on course. Had I fucked up? I tried to ask him if he'd done the race before, and if he recognized where we were. He was strangely quiet, responding "Yes." but not picking up on the edge in my voice.
I checked the GPS and we were on course; we hit the turn and I dropped him on the endless climb. I stayed seated and merged again with my taint, welcoming it back into my mental arena, where it would stay for the next few hours.
2,000 vertical feet of sandy road. I ate gels, Pepto, salt pills, and the combo helped my stomach and mind. Nothing much to say here other than that it is difficult to cover the deep monotony of long, boring climbs in these trip reports. Don't be deceived!
At the top of the climb I stood up, so happy to be done, and hit the descent hard down a long scree field that I assumed would lead me from Old Monarch Pass down to Monarch Pass and the next aid station. I hit the highway. No Monarch Pass. I checked the GPS and realized I was a little more than a mile away from the aid station; I'd made a wrong turn.
You've reached it - my dazzling admission that I didn't actually roll across every foot of the Vapor Trail course! I actually covered more distance, thank you very much. I considered climbing back to the actual course, but buckled mentally and decided that a ride up the highway was the smarter move. More gains, am I right?
The honking semis kept me awake and hustling for the extra mile; soon I was around the corner, and crossed the highway over to the Monarch Pass parking lot where Jenna and Pretz waited, 74 miles in.
Aid 3 (74) to Aid 4 (84.5)
More coke and another bathroom break. I ditched almost everything here and switched over to my tiny Salomon trail running pack with some food and a bladder. I forgot to apply sunscreen before leaving! Not a good situation. I did pound an Ensure, which I maintain is the finest ultramarathon food ever created. Nectar of the gods, no question.
As I rolled out away from Jenna, this lady ran up alongside my bike and started pushing me up the hill on my butt, just above the saddle. "Go go go!" she yelled. Talk about misreading the energy of the situation. Why was this happening?
The next section of the course was the Monarch Crest trail, a legendary Colorado point-to-point bike trail. The Monarch Crest ride leads all the way back to Salida, which meant we'd now be riding with fresh-faced weekend warriors all the way to the finish line.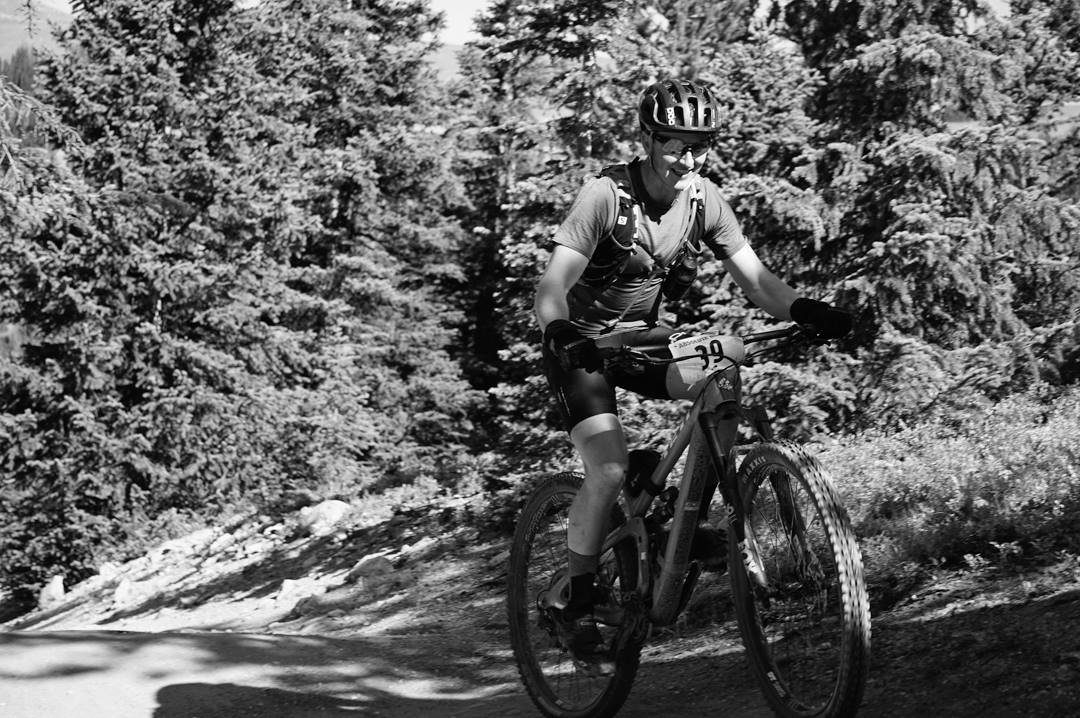 Now that the sun was properly up I felt good. Only 51 miles to go. It's so much, but I remember telling myself that the remaining miles were "mostly downhill". This is always incorrect, if you find yourself repeating similar wisdom. There were so many big climbs to go.
I passed a couple of riders on the uphill and cleaned some difficult sections. I was so happy to be free of the big pack, and cruised along the trail, climbing steadily, noting the big storms off in the distance.
The trail was of course fantastic, and the descent, when it came, was so tasty. I won't spoil the trail for you. You should absolutely go ride it.
I joined up with a group of riders when the descent joined up with the final jeep road. One of these riders seemed to know about mountain bike racing, and stayed with me for a while, asking questions. I realized a few minutes in that his questions were all a setup for him to brag to me about his rides in the Telluride 100, which was way harder than the Vapor Trail on his account. Okay, stud, go easy.
And then the segment was over! What else is there to say? great trail, net descent, a little respect and a lot of bragging from strangers... just another day in the mountains. I spotted the fourth aid station to the right and headed that way.
Aid 4 (84.5) to Aid 4, Again (96)
Now, the big loop with a reputation of breaking strong riders and causing drops with only 30 miles to go. How was that possible?
I saw Jenna and Pretzel before reaching the aid station and ditched my arm warmers with Jenna. Pretzel tried to run alongside me to the aid station... I wanted him to stay with me, but of course that's not a great idea with the huge descent coming.
I ate some more bacon at the aid station and talked to a guy who had just finished his loop, way ahead of me. He looks together and happy, but cautions me on how rough the big climb up can feel. I don't have any mechanical issues to deal with, so I drink some coke out of the single cup that the entire aid station is sharing, take some bacon for the road and get out of there.
The loop started with a punch 600 foot climb. I had the elevation profile dialed in on the watch, and being able to see what was coming made the climb mentally comfortable. Or was my mind just cracking, failing, unable to anticipate good or bad anymore? Had I achieved nirvana?
The storms I'd noted in the distance had, I realized, gotten much closer. Large clouds were massing miles away, bringing down the temperature, getting close. Thunder started to boom, not far away. Because I hadn't seen Jenna at the actual aid station I hadn't been able to retrieve my shell, and was wearing a light t shirt alone. It would be maybe hours before I could get warm again if it started to pour. Not a great situation.
I crested the roller in front of my and started the drop, and holy shit it is just ledge drop after ledge drop, endless hard descending on narrow single track. This is what it is all about! Eventually the descent (never slowing) dropped down alongside a river and kept punching across thick beds of sharp shale, humming along slanted, eroding segments that had me hugging the bank so hard that multiple times I bounced my wheel and popped myself back out toward the edge.
There were a few spots where it's obvious that everyone has run off the edge of the trail. I was riding the brakes hard enough by this point that I was able to avoid this fate, though not by much.
Finally I was at the bottom. Another rider caught me as we rolled out and turned left to the jeep road and our big climb. He stopped with me and, as I ate a bar, pulled out a poorly-rolled joint.
"I smoke weed one time a year, and it's right here on the Vapor Trail course," he told me. "You want some?"
I said no, feeling good, and asked him why now?
"This climb is so fucked up that I end up puking my brains out if I don't do something to control the nausea." Thunder was booming around us, and my race was going great, so denied him a second time and rolled out, touched at the sweetness of the moment.
The ascent was not that bad. I mostly cleaned it, though hiked a couple of sections. This might be why it has such a bad reputation. It is endless and very chunky, but rideable, so you can't get the break that hiking provides and are forced to keep a high heart rate for hours after you've already been in the saddle for close to 100 miles.
Without the light rain that had started it would have been far more dusty and slippery, and I can see how one could break in the heat of the day, exposed to those conditions.
I pushed a little and, woah, Kylie appeared up ahead! I passed her and, soon, passed the jorts guy again from all those hours ago. Even with all my stopping, I'm still in the mix. The only troubling thing is the loud creak in my bike, back and more aggressive.
Soon I'm near the top of the loop, back at the point where I descended not long ago. Over the final roller then back out, past the signs with food haikus from the riders' applications to the Vapor Trail. I hit the aid station and grab my houdini from Jenna, my lovely wife, still there with the storm threatening. 29 miles to go.
Aid 4 (96) to Rainbow Trailhead (104)
Late in the game, the details of these races start to fade, and the memories are dominated by a general feel of good riding and mundane problem solving. Unless you bonk and go really deep in the hole, time dilation takes over and hours pass without anything detailed to note. A boring report is a good thing.
Time dilation kicked in after the end of the loop. I remember more ups, more downs, climbing, rollers. It was unclear how much mileage was left, and I didn't care... though the GPS staring me in the face was happy to remind me that the miles weren't clicking off that fast.
I do remember the enormous descent here across broken shale, completely bumpy and terrible. I chased Kylie down this descent and finally caught her. She's a better rider than me, but my bike could handle more chunk and she let me pass, which of course upped the pressure for me to continue to ride very fast. Finally, 100 miles in, I was comfortable fully off the brakes through the turns, pumping the bike, rolling hard through the best turns of the entire race. To be fair I'd practiced descending more in this race than maybe the entire summer. It was so good to feel it all coming together.
Soon, so soon, we crossed the river and rolled up to the aid station at the beginning of the Rainbow Trail.
Rainbow Trailhead (104) to Finish (125)
This was the cutest aid station of all time. The old couple running the aid station was pouring individual cups of coke for us! One cup at a time of mexi-coke, the good stuff with real sugar. They also have the most delicious bacon and egg rice cakes. These go down so well that I take three for the road. It is so nice not to have to choke down calories.
When we leave it's, once again, Jorts, Kylie and me, keeping together on the steep-sided rolling trail. Am I hallucinating, just a bit? Eyes on the trail, focus on the feeling of the caffeine.
The trail keeps dropping down into small drainages, then kicking up into hard, steep hike-a-bike sections on the other side that are really just on the edge of rideable. Kylie and I keep riding them and drop Jorts, who decides that hiking is the better part of valor. Kylie is an animal, standing up and mashing her pedals on the climbs.
A few miles in we heard the loud noise of dirtbikes and pulled off just in time not to get mowed down by the bike gang coming the opposite direction on the trail. I'm holding it together, barely. The sun is getting hot and the climbs are becoming more monotonous, more difficult.
Finally, a huge descent that looks like the final descent down to the road, to the final 10 miles back home. This is steep and chunky, but nothing new. I've been looking forward to the final 10 miles, assuming I can just tuck and coast the entire way to town, but of course the highway is not that steep, and a strong headwind is forcing me to pedal fairly hard.
Kylie had pulled away on the descent, but I could see her ahead and caught her, finally, at Poncha Springs with 5 miles to go until town. I passed and told her to jump on my draft, thinking that we would trade back and forth for the final five miles. She never offered to pull, just drafted, and I spent the final miles wondering how to non-awkwardly suggest that maybe she should fucking pull for a turn. Well, this passes the time as well as any other thoughts, I guess.
Town, the final turns, and, there it was, the road to Absolute Bikes, just a block to go. And Kylie jumped out off of my draft and snaked me! Stabbed in the back at the end of the day. I'm sure she needed the boost more than I did.
I'd done it. Another strange ultramarathon, this time on a mountain bike, with a solid middle-of-the-pack finish.
Here's the Strava file, for those interested:
Conclusion
First, I want to highlight the incredible work that Logan Watts has done to turn the Vapor Trail into a bikepacking route, complete with incredible photos and route information over at bikepacking.com: https://bikepacking.com/routes/vapor-trail/
You should absolutely go do this course, if you have the ability and the few days it'll take to do it unsupported. It is unbelievably beautiful, and moving through so much terrain on a mountain bike is something I had never dreamed of doing years ago when I got into this sport.
Now, thoughts on the race. What would I do "differently" next time? How does this compare to running?
Ultra distance mountain biking is not as bad as ultrarunning at all. The race took about the same amount of time as my Vermont 100 trail race. That race had me shaking and shivering all evening, and shattered the next day. After the Vapor Trail, with very little experience, I suffered through maybe a single hour of overheating and quivering before the fever passed, my appetite returned and I was able to head out to dinner with Jenna.
It was not that hard. There, I said it.
I had spent quite a bit of time training my body to burn more fat than carbohydrate, and I continue to think that the "ketogenic" way is such a power move for these big races. Your stomach is bound to knot up, and it's very nice to be able to rely on the tremendous fat reserves we all have for energy.
My bike handling could use some work. I need to rip the descents harder, and stay off of the brakes - but I will say I was totally capable on the descents, and more than capable on the climbs as a result of years of running up and down mountains here on the front range. Don't avoid the uphills, kids. Sustained higher output effort is something I didn't quite have, but that's okay for a race this long.
My organization on the bike needs to change, as well as my plan (what plan?) at the aid stations. I had tried to use a cycling pack, but frankly mountain bike gear is not nearly as well thought out as the newer ultrarunning packs like Salomon's "sense" set.
Finally, the big question.Would I do it again? In the middle of the Vapor Trail, my "experiencing self" was not that happy. It never is. But it is so fun to have completed a race like this!
125 in a push is a bit extreme, but I would love to do more 50-60 mile big adventures on the bike. The Whole Enchilada without the shuttle, for example.
Do I want to, or care, to get that good at mountain bike racing? I'll save my development for skiing. That feels like a more pure target. It is so fun to have the range, though!
Vapor Trail Finisher and Never-Leadviller Sam Ritchie, signing out.