Welcome back to my report of the 2018 Tahoe 200. If you haven't read Part 1 and care about background and context, go check it out and come on back. Otherwise enjoy the tale!
Table of Contents
Heavenly Aid Station (102)
We slept for about two hours at Heavenly. I woke up drenched in sweat; Jason claims that I spoke to him in the night, but I remember nothing. Jason couldn't fall asleep at all, and finally woke me up at the two hour mark to get our stuff together and head out.
We took so long to get moving. My wife Jenna later noted that, looking at the tracker back in Boulder, she thought we must have turned in for the entire night. The first order of business was to take care of our feet. At the back of the opium den was a bit more light and a medical cot; near the cot we found Mary, our Blister Angel.
Mary hadn't been provided with any "sharps" by the race organizers, one of many major Black Widow oversights that began to manifest at these later aid stations. Mary was a pro and had brought her own stash of safety pins to sterilize and use for popping blisters, and got to it with Jason, helping him drain his wounds and patch himself up. She lent us her paramedic shears to cut holes for Jason's pinkies in the side of the straitjacketed Merrell shoes.
Mary couldn't resist staring at Anna, and finally, after some teasing from J - "Focus on US, Mary! Anna, what, are you some sort of big deal?" - she asked for a picture. Jason told her it was fine, she didn't have to pretend that she wanted a picture with EVERYONE, but Mary insisted and snapped this beauty:
As we worked on our feet I overheard a conversation to my left, a runner hyping himself up to his crew - "I mean, look at these. I'm going to keep going, but I SHOULDN'T. NORMAL people wouldn't continue on feet like these!" Yeah, buddy, we get it, you're a badass.
New socks, more food. It felt like we were hustling, finally, but when I checked the watch we'd been at the aid station for over four hours. This was a long cry from the sub-1-minute aid station stops you strive for in a 100 miler. Jason's knees were bothering him; Anna revealed that she's trained in KT tape application, and built a tape-splint for his knees that held off the pain long enough to start the next push.
My good friend Aaron Steele would be pacing us for the next segment. He'd been ready to go for hours. A short update before we left:
And another video of us prepping our bags before we left, looking for any excuse not to run on our wrecked feet:
We couldn't hold off the inevitable any longer. We headed out into the freezing air.
Heavenly (102) to Armstrong (117)
We walked the first pitch and caught Aaron up on some of the day's events. The trail was sustained and rocky, full of large boulders. A mile up, as I was telling Aaron the Tale of the Siren, we saw a body crumpled in front of a boulder on the right. It was the Siren, staring at her hands, a total mess. I offered her food and she refused. We continued on.
"Her new boyfriend must have failed the test," said Jason. A Chad, not a Jeremy as we'd all hoped. What a sad day for love.
Rosy-fingered Dawn tickled the clouds and light seeped into the day. The trail was built out of boulders arranged on the side of the steep hill. I was happy that Aaron had joined us for such a beautiful section devoid of dust. Aaron has wanted to run Tahoe for a couple of years. What a way to preview the course.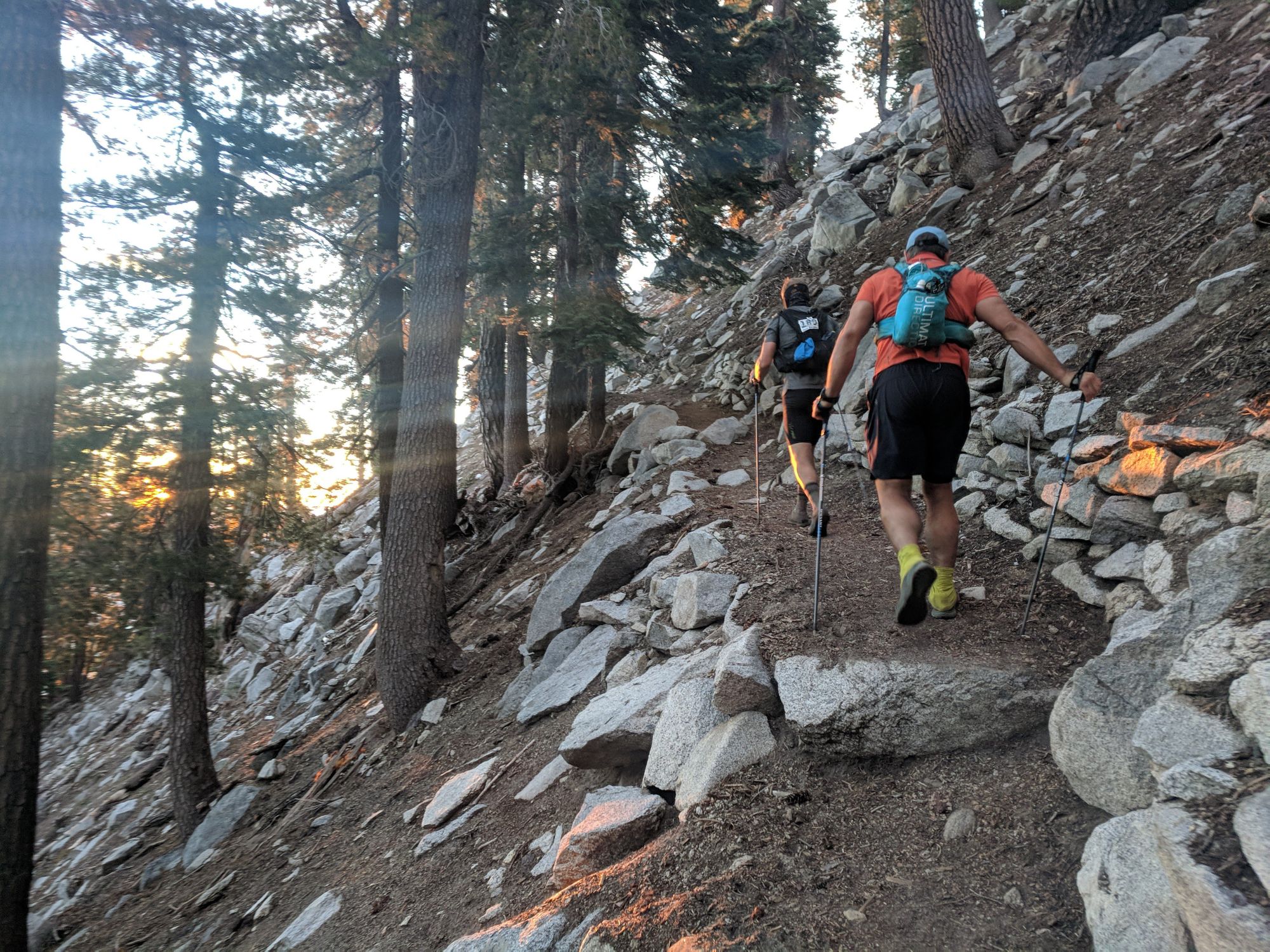 We stopped for a breakfast picnic on some stone steps once the light was up, an hour out from the next aid station, and Jason and I introduced Aaron to the concept of "feedings". We had found success eating once an hour, and as the days passed (this was our third, now!) found that "feedings" were a more sensible unit of time than hours.
We also told Aaron about the "Penalty Box" concept we'd developed on the Infinity Loop. If a runner in a group of three starts to flag, he's placed into the middle spot, preventing him from slowing. "Don't hesitate to put us in the Box," I said. What I didn't say, though he sensed it, was that Jason and I wouldn't hesitate to penalize Aaron if he grew tired. How shameful would it feel, to be placed in the penalty box by runners each over 100 miles deep?
The next stretch was a long, slow climb up to the race's high point. The trail was riddled with false summits, cautioned Aaron. Well, no problem there. One mental change I've noticed in ultrarunning is that I no longer care where I am on the course, or what the upcoming terrain looks like.
Not caring doesn't pass the time, though, so Jason and I spent the next hour pretending to be very worked up about the falsies, as you can see:
The trail narrowed and took us out past scrubby trees. We passed a man with, of all things, a baby chariot, taking his kid for a walk in the deep backcountry. He'd pushed the chariot out over the edge of the trail, teetering, to give us space to pass.
We reached a huge peak, the high point, maybe 1,500' up. I was honestly excited to climb to give my legs a break from the hours of Tahoe Downhill... but the trail skirted around the mountain! A Reverse False Summit, the climb plucked away at the last minute.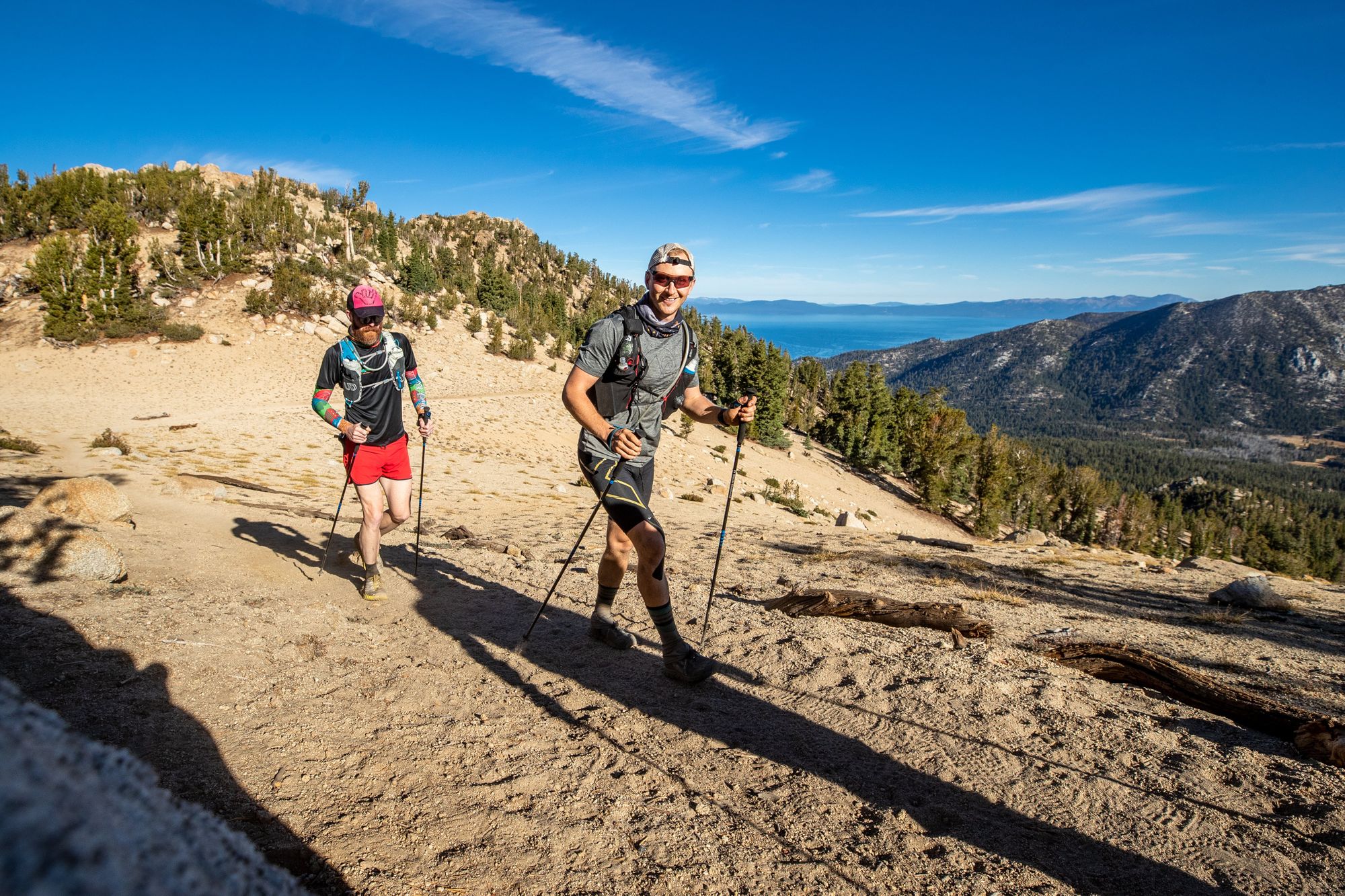 We each popped a couple of pieces of caffeine gum at the saddle before the downhill and started running again, really running, to Aaron's shock.
A video log of our downhill push, led by Father Merrell of the Butchered Shoes:
And again, more sending, 115 miles in and counting:
Aaron let us know how slow we were actually going by calling his family and conducting a FaceTime conversation for this whole descent. At the time it was up in the air whether or not he'd be pacing for more than a single day. Noah and Amelie yelling "DADDY, WHY AREN'T YOU HOME WITH US!" surely didn't influence his choice.
We turned left to Armstrong aid station at the bottom of the hill, just as the heat was really starting to cook through the air. Jason began to hallucinate for real. He saw huge lakes in the woods, wagons, massive structures that he was convinced were real. He ate some salt and we stayed quiet about it, hoping sodium would clear his mind as we shuffled down a long, hot alley before a left turn and short uphill to the Armstrong Aid Station, mile 117.
Armstrong (117) to Housewife Hill (135)
Aaron placed an order for three breakfast burritos. We assumed these were already cooked and we'd be on our way; in fact these were artisanal burritos that took 15 minutes to prepare. We should have just left but I couldn't make decisions and just vibrated with impatience. Jason sunk deeper into his reverie. We needed to leave. We were wasting so much time! Aaron stayed quiet, waiting for the burritos, not sure how appropriate it was to make decisions for the group.
Jason was strangely peaceful in the grip of his madness, mellowed by the Revelations of the Halloose:
We needed the break, impatience aside, and we were out seen enough. As we backtracked to the main trail I began to point out shapes that I was seeing to Jason, to encourage and guide his own hallucinations. He was silent for the first couple of suggestions, but spoke up at last when he saw that I wasn't slowing down.
"I don't really want to be in this headspace right now," he said, "so if you wouldn't mind..."
Message received. I shut it down.
At the main trail Aaron suggested a 10 minute sleep. Another break? Fine. I laid down by a log and stared up at the trees, feeling the cool air, letting the blood flow back out of my feet. This was good.
Everything is temporary. We got up and continued the hike.
The terrain past Armstrong was viciously hot and not terribly interesting, just a long, slow slog through California desolation. We wouldn't find water for a long time, so we tried to conserve and stay cool by covering ourselves up.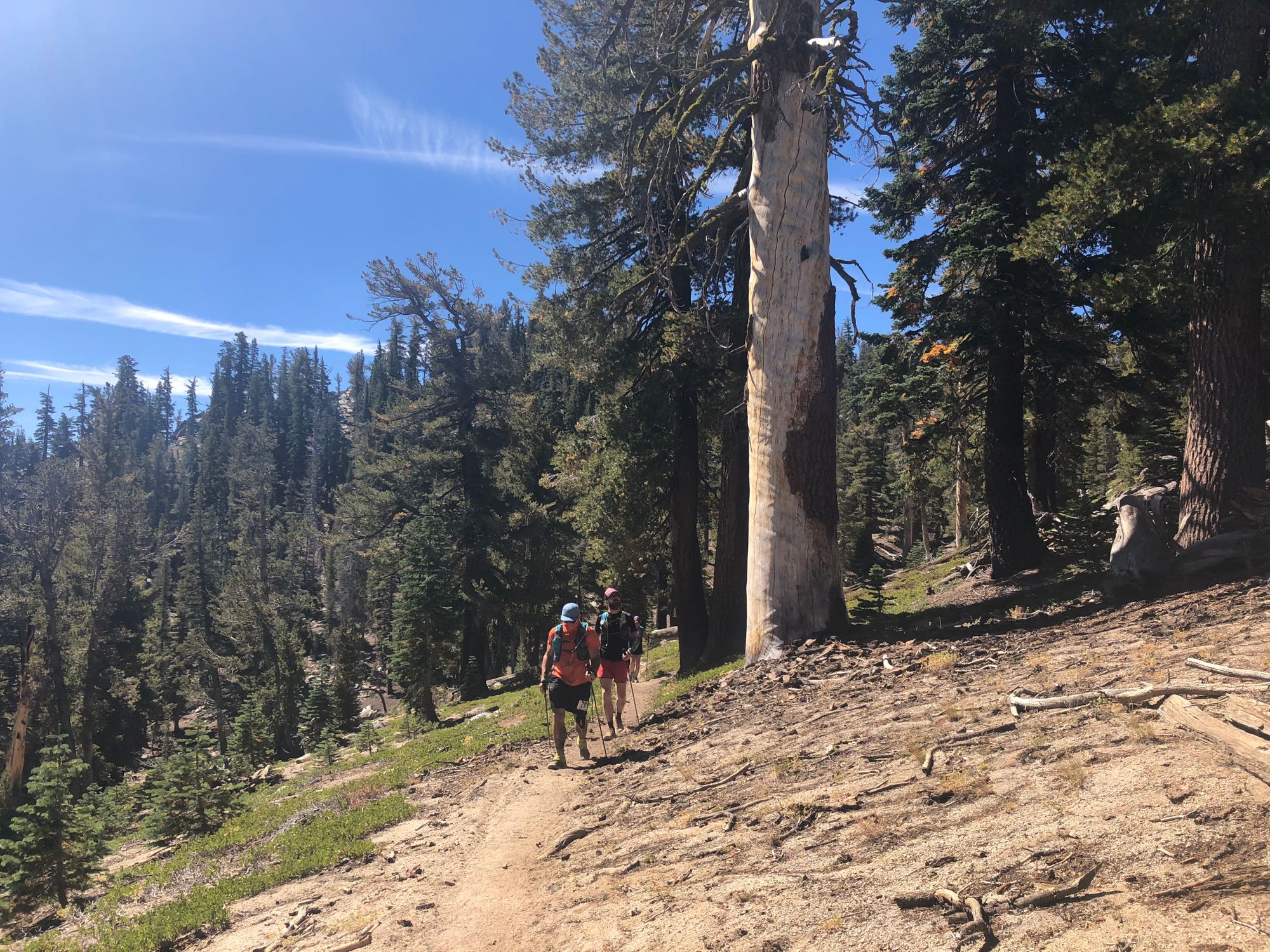 Here's an interview from the Spirit World on that hot stretch, where I note that we've all forgotten to apply sunscreen at the aid station:
We topped out the climb, which in Tahoe 200-speak means that the slow climb turned into a slow, rolling hot slog along the top of a ridge. We came across a runner and his pacer nesting in the shadow under a tree, runner asleep, pacer standing guard. They nodded that they were okay and we kept moving.
Around here is where Aaron attempted his "cold visualization" on me. He started informing me in slow, yoga-instructor tones that I wasn't actually out in the California heat. I was in fact sinking below the cold surface of an alpine lake, letting the heat leach out of me, feeling the chill, the shiver spread through my skin...
"Dude, you need to stop that right now," I said, bristling, too harsh. Did that trick really work for Aaron? The contrast of thinking about the cold seemed to make the heat much worse. My preferred strategy was to recalibrate my expectations of cold or hot and to try and give less of a fuck about how I felt. I was just a husk, moving through the landscape.
Another update from a rest we took in a patch of shade, desperate for water. Aaron is completely silent, uncharacteristically so:
We saw more runners playing dead, vulture meat tucked into every patch of shade. It was carnage on the ridge. I was exhausted, sick of the heat but relatively healthy through large boulders and open fields. Then we hit the descent. I moved into the lead and started opening up my stride to try and get some good flow, and, boom, another twang hit my right knee. I told the guys that, actually, I needed to keep hobbling, and popped two Advil. I was able to control the pain by focusing on keeping my hips pushed forward; soon the Advil took effect and we settled into a jog.
After a long descent we reached the water stop we'd each been privately fantasizing about. I dunked my hat and pulled out my BeFree filter bottle to show off to Aaron, filling it in a small pool of the stream.
Aaron noted that the water actually looked pure and drinkable with no filter at all. Seconds later a mouse jumped into the pond from the opposite bank and ran across the pool where I'd filled up. I wonder what diseases that little nest contained? Does the BeFree filter viruses? Too late.
Our rest was glorious, maybe ten minutes. We moved out, cool and refreshed.
Another merry band of runners caught us maybe a mile later, and a woman, their ringleader, asked if we'd stopped for water. Yes, of course.
"Did you filter?"
I didn't mention the mouse, just said yes, we had definitely filtered.
"Whatever! I don't even care anymore!" said the woman, and continued past, band in tow. Before she was out of sight, we saw her uncap her bottle and dump it into the dirt.
Just after this I blew my nose and it exploded again. I tried to stop the bleeding with my Buff like before but the pressure had no effect, my blood thin after so many hours out. I lay on my back and let the blood drip down my throat, willing it to clot. To shift positions, I took a knee and leaned my head back. Seeing this Jason was struck with awe; he told me later that it looked like I was in the middle of a forest church, in the center of a circle of trees, praying to the gods of this ancient grove.
Aaron snapped this picture of the carnage. I'd sopped up much of the damage with the buff, but it was horrific, I swear.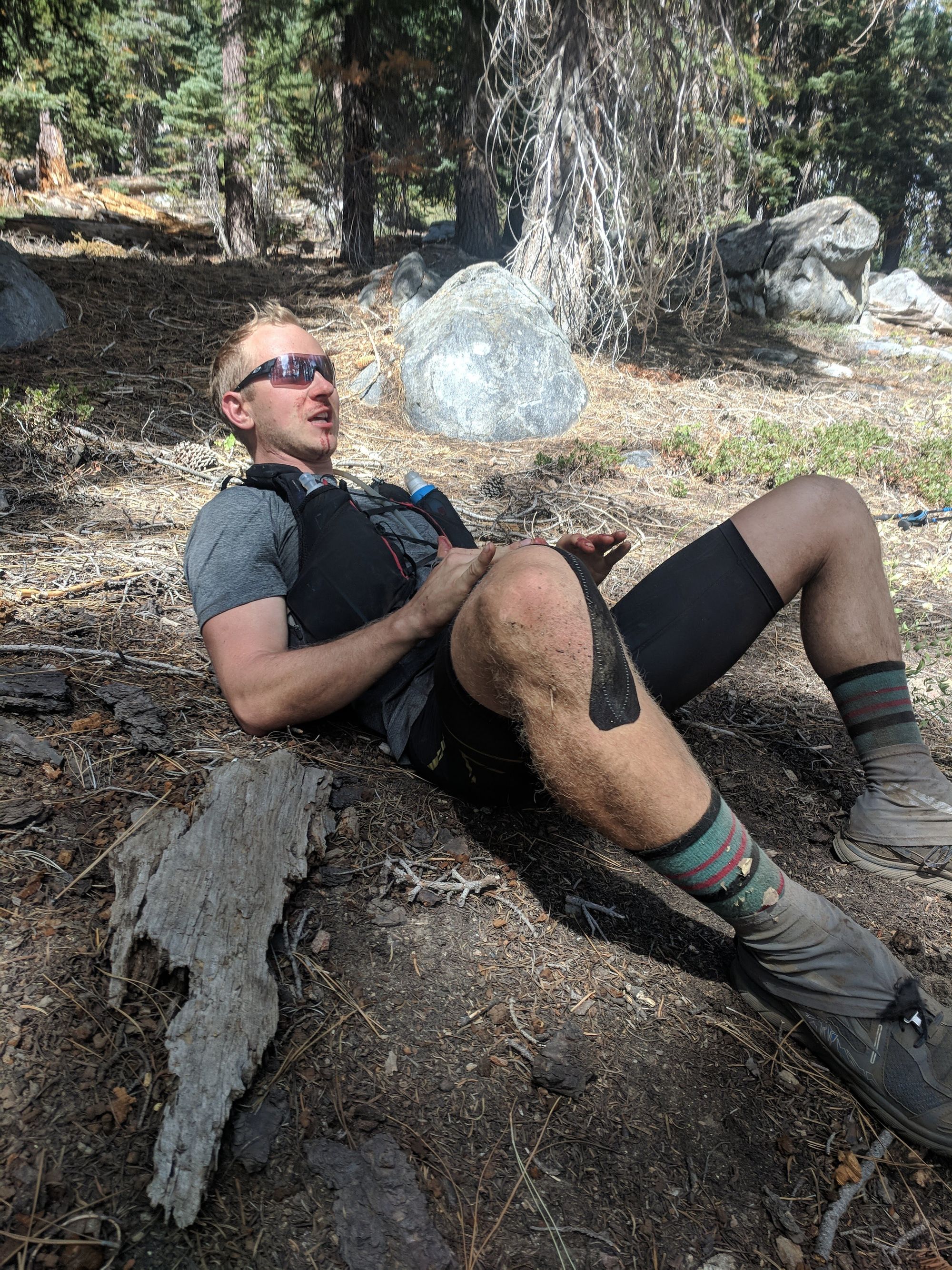 Finally the bleeding stopped and we started walking again, then resumed our shuffle down the trail toa  road and through a trailhead parking lot. I remember a Prius with this bumper sticker:
"Hey, nice looking Prius!" ~No one ever.
Owning a Prius is like being fat in high school, I suppose. If you make fun of yourself first, you beat the bullies to it and take the wind out of their sails.
The trailhead led us back to the official Tahoe Rim Trail, and we started to pass hikers out for their afternoon strolls.
A small woman with a dog said to us as we passed - "Hey, what time did you start?"
"Friday morning," I replied.
"No," she clarified, "what time this MORNING?"
A second, then it computed. She thought we were through-hikers, tackling the TRT over multiple days. How to explain that there was no "this morning" start? The truth would have to do.
"No, ma'am, we started Friday... we've been going for 55 hours!" she stayed quiet and we rolled past.
The next climb was big and chunky, finally giving my legs a break from the endless "Tahoe Downhill" uphill. We passed two runners; minutes later they shouted some question up at us, trying to get our attention by yelling "Hey, Miwok Armsleeves!" at Aaron.
"Aaron," said J in a solemn voice. "I think you just earned your trail name." Miwok Armsleeves, branded for life.
Up and up, into the trees, then out through a wide field of grain that we dubbed "The Elysian Fields".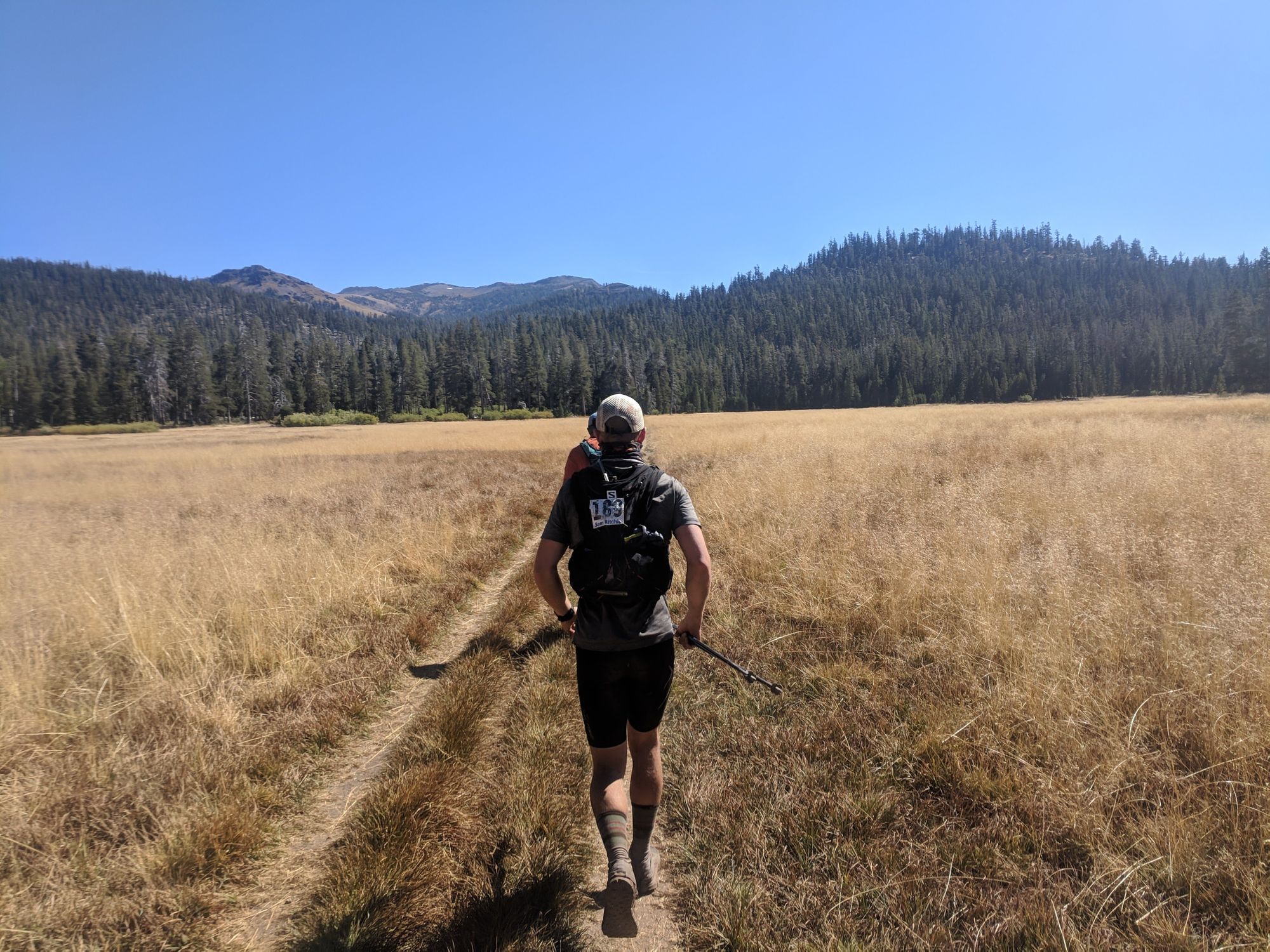 Up again, another climb, and two more runners appeared - Brian Tomita and his pacer, a girl in a hat with a bold "Pringles" logo. Trail name? Pringles.
Brian didn't know it but he was in trouble. He was limping slightly, moving slow. As we passed, Pringles stopped, leaned down and pretended to tie her shoe. Brian passed her and she quit the shoelace hoax, stood and slid in him behind Brian, pushing the pace. Jason and I exchanged a glance, stunned at what we had just witnessed. That had been the most masterful penalty box move of all time. Brian had no idea what had happened, but he was running harder now, manipulated for his own good.
Again, a descent, steeper; Aaron moved to the front and led a strong push through the afternoon heat over very technical terrain. I was moving without thinking, following Jason and Aaron, merging with the trail. Suddenly Jason's trekking pole swerved right, signaling a better path, and he shouted "SAM GO HIGH!" - I dodged that way and found myself off-trail in a nest of tall boulders. Betrayal. Oh well. After the Hospice Hike of the last few days it was nice to see J's mind back in action.
I ate a piece of caffeinated gum and took the lead from Aaron, and we ran hard down a long, beautiful switchbacking descent toward Housewife Hill, where our crew - Jenny Antin - would be waiting. We made great time in the evening cool and reached the aid station early.
Housewife Hill (135) to Sierra at Tahoe (142)
Soup, treats, fill water, load up on lollies. Only seven miles until the big sleep station at Sierra at Tahoe.
Jason's knee was throbbing again. He checked in at the medical tent and asked if any of the volunteers had experience with KT tape. Only one man was up to the challenge - Volunteer Mike, with no experience but the desire to learn. Mike became obsessed, like Ahab, with his quest to recreate a knee-support pattern he'd seen once on Youtube. I filled Jason's bottles while Mike tried again and again to master the tape algorithm and heal Jason. You can see the results in the video below:
Soon enough we were out and moving through the fading afternoon light, up a long Wonderland-style rocky climb carved into the side of the hill. I felt good, happy to trudge, certainly more sane than this photo reveals: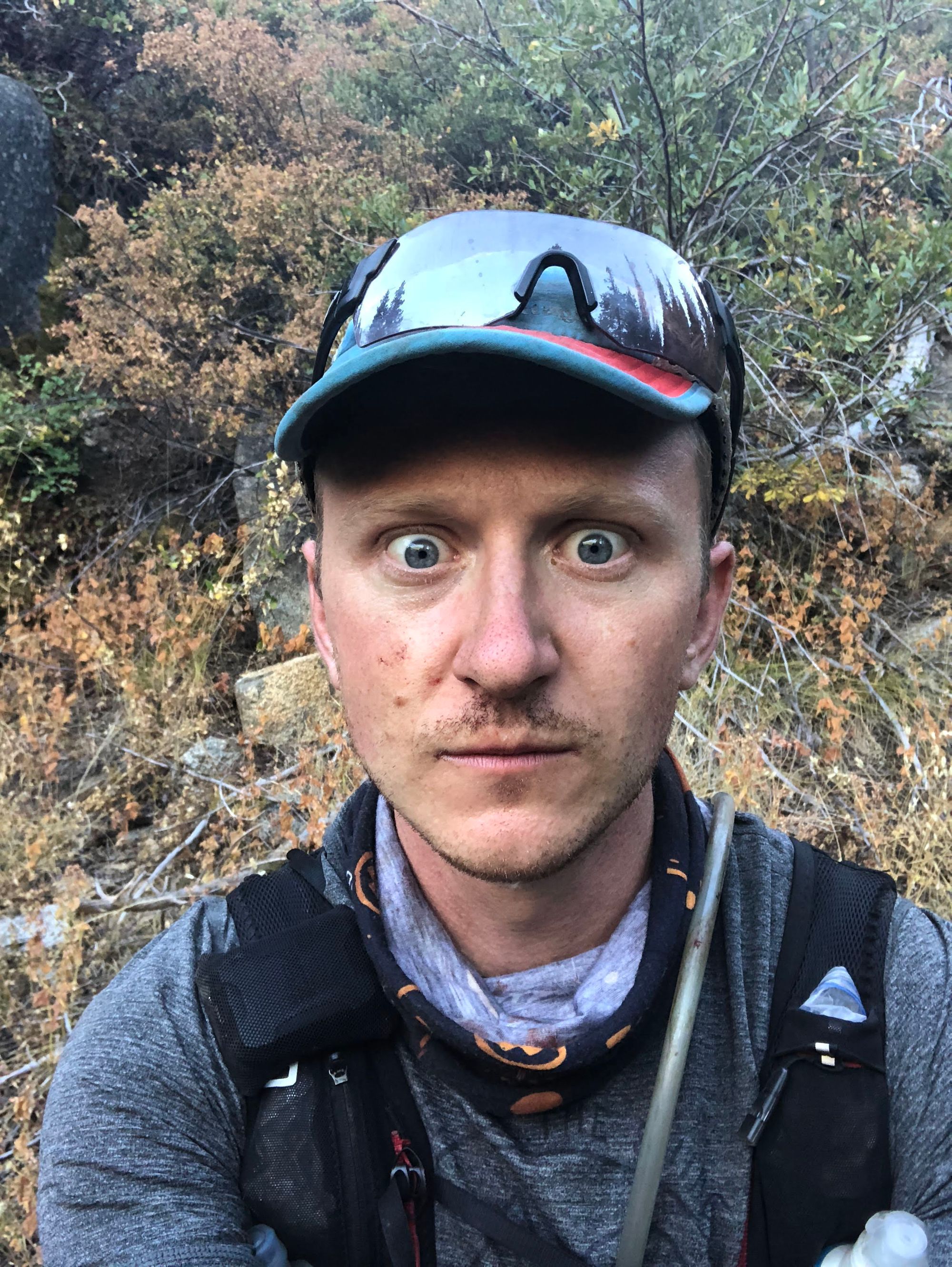 The trail reached the highway, paralleled it for a stretch then turned left on a service road tucked between large trees. As we hobbled down the road I heard an engine behind us, just above idle, and looked back to see a white truck with its doors removed, gaining. The driver stared straight ahead as he passed. Sitting on the passenger seat was a compound bow. A quiver of arrows jutted from the well.
I remembered my discussion with J the night before about the Black Widow's "Experience Packages".
"J," I said. "Most Dangerous Game experience. No question, right?"
"Zero doubt."
The trees were covered in electric green moss, gorgeous and strange. Jason spotted a barkless branch leaning against a tree on the left side of the road and stopped to stare at it. "This has to be manmade," he said, wonder in his voice. We dubbed it the Artifact.
Soon we were back on singletrack, hustling in the last light of day. The flat evening light started to bring our hallucinations back. We saw whales; the prow of a large ship; massive birds bobbing in the trees. Jason came up with a brilliant app idea. Imagine a guided audio tour. You submit a photo and text description of your most vivid hallucinations. The app geotags the photo; other runners in a similar state can check in for a shared taste of Spirit World that, it turns out, lies just below the surface of our reality, visible only to those who've gone without sleep for 60 hours. Brilliant!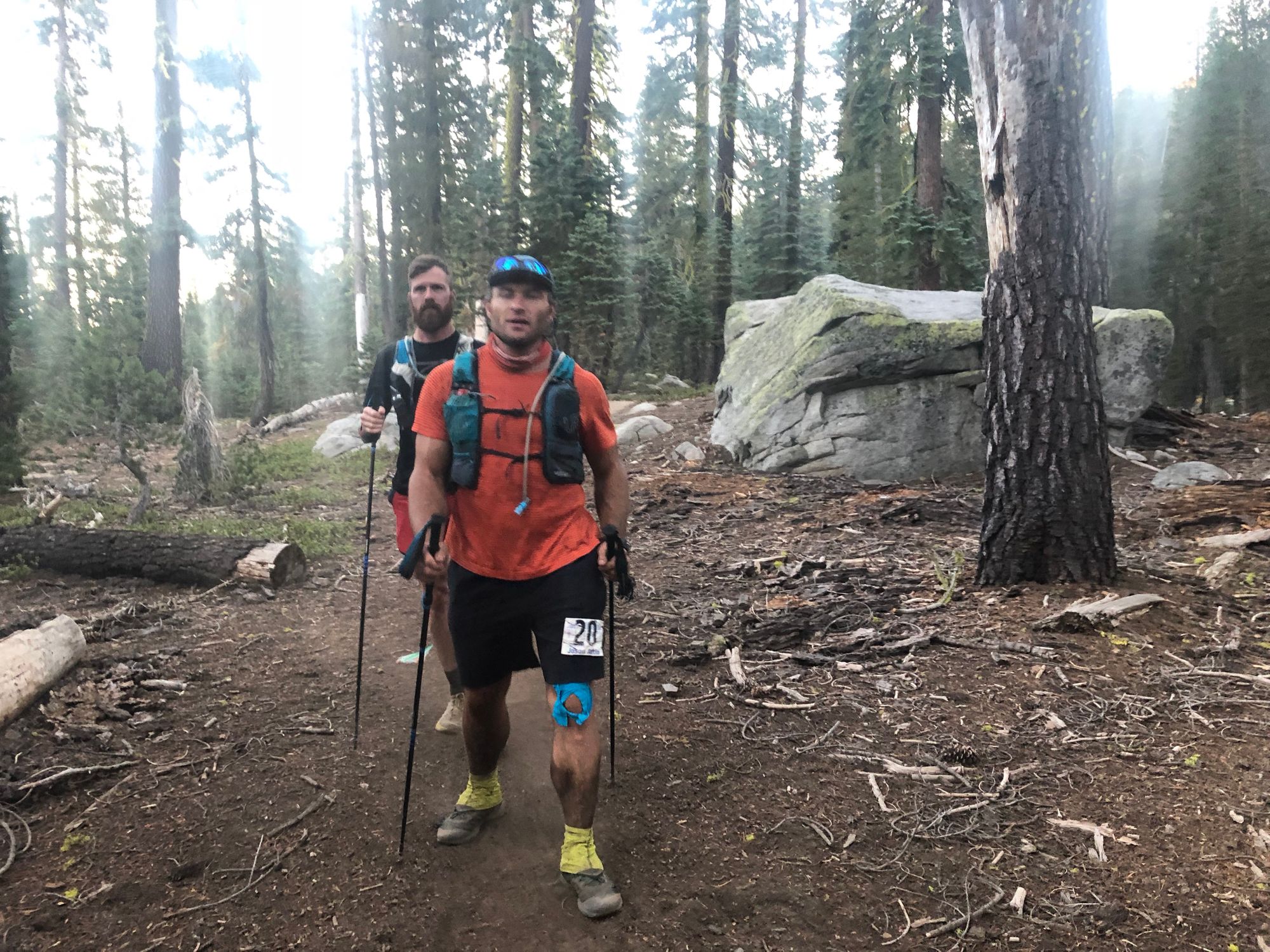 Here's a video update from Hallucination Alley, 58 hours in:
We spread out on the next climb, each taking some time with our thoughts. It had been a long day. The trail turned right down a long, padded descent; it was full dark now and we donned headlamps, then ran in as a group down to the road and the long, gentle paved climb to Sierra-at-Tahoe.
Sierra at Tahoe (142) to Wright's Lake (161)
Jenny and Avery were waiting outside aid station headquarters. The aid station was quiet, and running very low on food. This was becoming a theme; I was shocked at how poorly Candace had prepared her volunteers. There was a lone cook on the quesadilla assembly line, deeply stressed.
Aaron decided to call it here and head back home. He'd been with us for 40 miles and 18 hours, a champion pacer. Jason and I decided to sleep for two hours and then leave for our final 100k. We changed socks, scrubbed the fine dirt from between our skin, prepared our packs to leave and then went to find beds.
There were no beds, of course. Candace, the Black Widow, developed character in the volunteers and racers by charging over $1,000 for race entry and then shorting them beds and calories.
Jenny helped us track down a couple of half-inflated air mattresses stuffed into a supply closet, and I passed out, twitching, on the dirtier of the two. Before it seemed that any time had passed I woke with a gasp to my alarm, looked over and saw... no J. Had he left without me? That fucker. There was no way.
Jason had been having trouble getting to sleep for days. Jenny could lull him to sleep with her fabled Bedtime Ritual, but she hadn't been around for any of our previous nap stations. Jenny was here, and sweet release would be his.
After struggling with the mattress next to me J had spied a perfect cot in the corner (next to a CPAP machine, strangely) and moved over to it. He lay down and closed his eyes. Jenny kneeled next to him and began to unlock the mysteries of sleep with careful whispers.
"Relax your big toe. Now feel the relaxation move up your foot. Calm your arch.... let it spread to your calf."
BOOM! J was out. Finally, deep sleep. The next thing Jason reports remembering is being shaken awake by a large woman with a deep voice, moaning, "You're in my cot! You're in my cot!" She was the CPAP's owner, of course. J said nothing, rolled out of the cot and staggered out the door into the light of the main ballroom, giving up on sleep.
I found J rubbing his feet in the ballroom and tried to get him to speed up so we could leave. I had been thinking about our pace and our tendency to sit for hours at aid stations, and realized that the 100 hour cutoff might cause us trouble. We had 64 miles to go and 37 hours to cover the distance. This seemed like a wealth of time... but if we walked at a 30 minute per mile pace we'd only have a 5 hour buffer. At the mile 100 stop alone we'd burned 6 hours.
I didn't share any of these details, however; J only saw anxiety. He slowed down and looked into my soul, searching. "Are you feeling okay?" Me?? Come on, man, let's go! This wasn't quite a fight, but it was our first tense moment in the 63 hours. My anxiety grew when we finally left and J met a little man in the parking lot who promised to give us Advil. He dug around in his car for 10 minutes (!) before deciding that, in fact, he wasn't in a sharing mood, and needed to conserve his stash for his runner. More time wasted.
We walked out down the road in full jackets, so cold. This next stretch would be 40 miles without crew. On the walk I talked J through my mental math. He caught my spook and we agreed to try running a bit and bank some sub-30 minute miles. The hunt was on! We picked up the pace as the course moved to singletrack again, dirt rollers through the dark, then on to long climbs past granite blobs. We passed a couple of runners limping through a swampy bog, clinging to the bushes along the side of the trail, trying to keep their feet dry. Give it up, boys.
At the top of the next climb, a sign - "Welcome to Lover's Leap". We'd reached a famous climbing area that I remembered from a visit with Jenna years ago. Here's a classic video of Dan Osman free soloing the cliff just below where Jason and I ran that day:
The descent was awful, a broken mess of stones held together by moondust that erupted into the air at every step. I took the lead here, selfishly, preserving my lungs at the expense of Jason's. We passed two more zombie runners on the downhill, muttering out the mandatory "Nice work, get some" as we passed.
Next, a long road descent. The third member of our party, Jason's Bowels, spoke up and J pulled over for a private discussion on the side of the road. I walked ahead and thought about my time here with Jenna, so many athletic lives ago.
Trail update:
Jason caught me as we crossed the highway - we were far from the lake, now, and the next stretch looked like miles of pine-needled rollers at a fairly steady elevation. It was time to bank some more miles. We popped another piece of caffeinated gum each, clacked poles and started striding with purpose up the trail.
I was leading and, just ahead, my headlamp glinted off an ocean of white spandex studded with reflective strips. Could it be? It was Kilian, from the fields of dinosaur eggs on day 2! Kilian's real name was Serge Chapuis. We would later learn that Serge is an absolute legend. Serge was the head of Salomon's R&D lab and responsible for the gear that the actual Kilian had worn for years. He'd designed the pack I was wearing. Serge's entire kit was custom, designed by him, for him, for the Tahoe 200.
Serge is also the sweetest man alive. 60 years old, Serge was attempting the Triple Crown of 200s (Moab, Bigfoot and Tahoe) with his wife. Later in this race, his wife would run into trouble and Serge would spend 20 miles running with her, literally hand in hand, a Frenchman in love, showing us all how to do it right. Here's a movie about Serge that Jason and I found in the days after the race:
We passed Serge at a run and, incredibly, he sped up and joined the pack. "You boys are running! How are you doing this?" he asked. We introduced ourselves and learned his name.
Serge was generous. "Boys, tonight, before I saw you... I did not try. But when I see you running, I decided - now I will try." I was fired up, leading the trio, yelling back at Serge - "You are FUCKING SENDING, Serge!" Jason attempted a few sentences of broken French.
Jason and I were each convinced that this phase couldn't last, and that Serge was going to take a header on the dark trail, but we were wrong. Serge stayed with us and we moved through the dark, sharks hunting in the night.
Behind me I heard Jason take a few exaggerated sniffs of the air. "Hey. You smell that?"
I smelled many things. "Smell what?" I asked, looking for clarification.
"Blood in the water." J sniffed again and pointed with his pole. "Tangy." I looked ahead and there were two more runners on the trail.
We wondered aloud if maybe we could get them to join up too. We were Highlanders, recruiting warriors to our cause, inspiring them with our pace. We'd continue to accumulate runners for the next 30 miles and cross the line as one, a pack of studs united by circumstance, eternally bonded by the glory of the joint finish.
They moved off the trail to let us by, sat down and disappeared behind us. Oh well.
Serge stayed with us for over an hour before falling back on the long climb up the paved road to Mowich Lake. This climb was endless and cold. I couldn't get comfortable, and took my puffy on and off many times trying to find a good temperature. J turned off his light and walked in the dark as we ascended, passing more zombies as the fell wind pushed against our progress.
The road leveled. I looked back for J and saw a woman approaching with a stilted gait. She passed us, hammering. J named her the Mallwalker. Our turn as Highlanders was over. We were both exhausted.
Next came the sign for Mowich lake, and a right turn onto a truly horrible trail, a ditch filled with ankle-breaking boulders. J tried to choke down a sandwich at a small clearing, puked again, ate more. Lights approached from behind.
An aggressive-looking guy with black football paint under his eyes came charging up. His eyes were wide with caffeine and stoke. We named him Connecticut, though I can't remember why.
"How you boys doing?" he asked as he approached, pacer in tow.
J, touched by the chance for human connection, responded honestly. "Man, doing okay - last night was a little rough, though."
Connecticut nodded. "Yeah man, I was acting like a little bitch too for a while. I get it." He moved past a stunned Jason. I could see J thinking, "little bitch? That's not quite what I said..."
We continued to a sharp left, trudging, all the fire gone. Thoughts of the cutoff loomed again in my mind. I held off the mental dip with more caffeine gum; J coped by playing some loud Black Metal from his tinny phone speaker - "Den Ansiktslose" by Forgotten Woods, from the album "Curse of Mankind".
I ran ahead to "investigate the trail", clicked off my light and hid behind a log, giggling, sweating as J approached. He looked my way, saw nothing, limped on. I crept out and snuck toward him, breaking into a run 30 feet away, yelling and pretending to spray him down with machine gun fire from my trekking pole as he turned. Slayed! Jason wasn't amused.
I realized I could see more of the woods, now. The light of the third day had appeared in the sky. Jason's carefully curated playlist progressed to "Fuck the Pain Away" by Peaches:
The trail ended at a horse campground. The horses were awake, and stared at us as we walked past. I ran over to the campground bathroom and devastated the facilities. On the concrete floor was an issue Elle magazine from 1972. It was profoundly cold that early morning - my circulatory system was not well. I cleaned up, left, ran up the trail and caught Jason just before the Wright's Lake aid station.
Wright's Lake (161) to Tell Creek (175)
The aid station was a sparse affair, run by an angry family that passed the time by swapping stories about how bad the runners looked. I reached for a few M&Ms, and the matriarch at the table gasped, reached to stop me and sputtered, "Oh god, don't put your hands in there!"
I took a pancake, made a cup of instant coffee and followed J to the warming tent. The clear-walled tent could hold maybe 5 people. In the center was a cot with a corpse laid out under piles of blankets. Jason and I took the two remaining chairs; Catra Corbett, the Dirty Diva herself, sat next to me, with her pacer across the cot. Catra refused to speak, fully numbed out.
A big propane heater roared away by the door. J tried to shift it closer to us; just when he touched it, it died. The blankets shifted and the corpse moaned, realizing what had happened.
A woman dressed like a park ranger passed the tent and J, in his most polite voice, said "Excuse me, Ma'am, but would it be possible to start this heater?"
She stopped and stared at J. "The heater was on. You must have touched it." Her voice dripped with disdain. "I'll send someone over soon." And she was gone! Ten minutes later a man appeared, forced J to admit that he had been the one to trigger the safety shutoff by touching the heater, and started it up again. I couldn't handle the judgment radiating from the corpse, or Catra's silence. It was time to go.
We were 19 miles in to our unsupported stretch, with 14 to go. Jason went to stock up at the food table, and received another batch of hate for taking the last few pancakes. What was going on here? Who was this angry family? The Black Widow was responsible, I was sure of it.
We took what we needed and rolled out with cups of coffee in hand. Less than a mile out Coach caught up and passed us, still wearing his cotton sweatshirt. He had found a patch of service and was studying baseball scores on his phone. He gifted us with some encouraging words and continued past.
Here's a rare shot of Jason throwing out a friendly finger: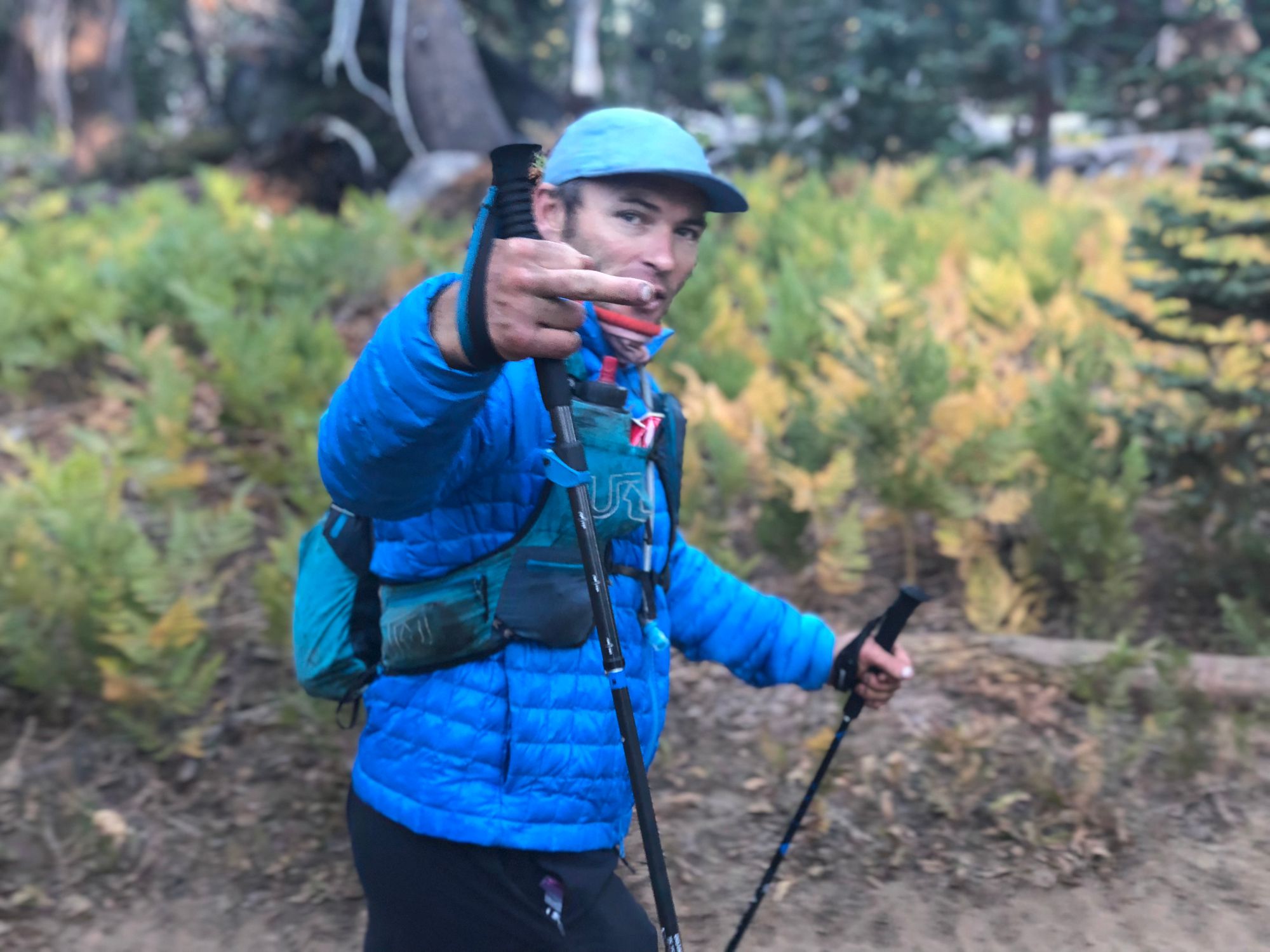 J stopped to pee a while later and I sat down and pretended to be more insane than I felt. I drew a tic-tac-toe board in the dust, then stared at J, exaggerating my gaze. "Sammy's not home right now, Jason... LEAVE A MESSAGE AT THE BEEP!"
Jason was not amused. "We've got a little over 40 miles to go. I need to know that you're mentally together enough to push to the end. Okay?"
Oh, I was the reason we weren't going hard? This was an audacious attempt to turn the tables and establish Jason's Guide status. I remained calm. If you want to push, just say the word, my friend. Just say the word.
Here's another update that reveals our mental state on that third morning all too clearly:
And a shot of me on that cold, cold trail. I was clean-shaven at the start: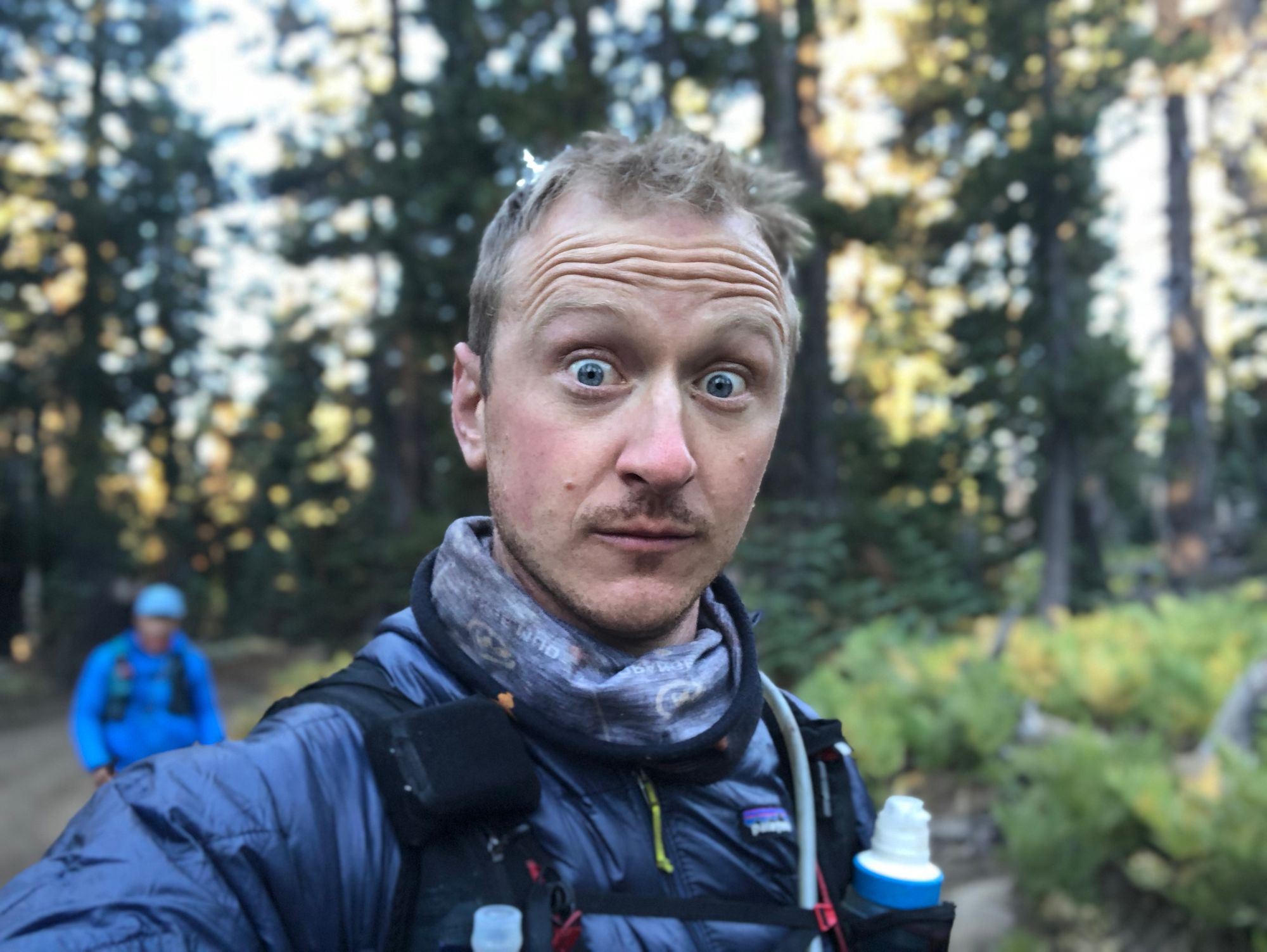 The trail turned into a Jeep road and we clambered ahead over large granite slabs buried in the dirt, dropping and climbing as the heat soaked into the day. I looked back and saw... Serge! Jason wouldn't believe it was him. Who else was out here fully kitted out in white tights? He caught us before long and pulled me aside for a word.
"What you boys did for me last night..." he said, searching for the words. "Last night was a gift, my friend." He smiled and moved on, disappearing off the front. What an animal!
We were moving slow and I suggested another 10 minute sleep on a rocky flat just before the next stand of trees. Here's a shot of the terrain during my search:
Jason fell asleep and began to snore after, no joke, 20 seconds. Here's the evidence:
I withdrew my phone from my pocket defused the alarm clock bomb and reset the timer to 20 minutes. We'd earned it. J took the full stretch and claimed he felt fantastic after waking up. We broke out the cough drops from our med kit to build up some saliva and fight the dust, and headed on down the trail.
The next stretch of trail wound over and around many small hills, then led us over big granite slabs already hot in the sun. The final slab before the trees resumed cradled a large pool of clear, cold water. I was overheating and dunked my head over and over again, feeling the effort. Back into the trees and onto the dusty trail.
We'd been dreading the next stretch for hours - the Barrett Lake jeep trail. The Jeep trails of Tahoe are contrived nightmares, alleys filled with enormous boulders and talc-fine dust that puffed into the air on every step. This was the worst moondust in the race so far, and the competition was heavy.
Here's a glimpse of what we were dealing with on Barrett:
Behind us, runners - Catra and her pacer. They'd escaped the heating tent and were making good time. I tried to make small talk with Catra by complaining about the heat. "I'd rather be hot than cold," she mumbled back at me, pressing on, not interested in making friends.
I haven't mentioned Jason's asthma yet. Jason develops vicious asthma on efforts of more than 30 hours of continuous aerobic effort. Most humans with this condition would never discover it, but Jason routinely blows through the 30 hour mark. We were more than 70 hours deep now, and the horrible dust was hurting him badly. J dealt with the situation by running alongside the trail back in the woods, darting across only when necessary, hiding from the main fairway like a wounded gazelle.
Another runner behind us, familiar. It was Hack! Hack was running, but slowed to trade a few words and thank us for the caffeinated gum we'd handed him the previous day.
"You're looking good, dude!" I yelled, spreading the stoke.
"Oh, well, my buddy dropped a while back. I didn't run from mile 30 to 130... I've still got all my juice!" We waved goodbye and he ran ahead after Catra.
I joined J in the woods and we finished out the Jeep trail and turned left into a superheated forest, dense with foliage but somehow still dry. We walked this long downhill, fantasizing about water, sexualizing it. I dunked my hat over and over when we finally reached the stream and filled every bottle, then "left my poles" and ran back for a final dunk before joining J on the death march to Tell Creek aid.
Tell Creek (175) to Loon Lake (182)
I was not feeling good as we rolled in to Tell Creek. The heat was bothering me and I was quiet. Jason noticed and pointed it out: "You know, you're looking pretty bad right now."
"No way, man," I said, trying to preserve the illusion. "Why do you think that?"
"Usually, you're like this -" he started leaping around, talking fast, offering help to pretend people all around. "But now, you're like this -" he slumped over like Charlie Brown and limped along. Laugh it up, big man. Lots of miles to go.
Tell Creek had the answer to my sadness. The charismatic father managing the aid station saw us coming and ran out to meet us. "Can I make you boys some burgers?" I nodded yes, please. "Bacon? Avocado? How about everything, okay? Sit down there, I'll get you sorted out." I sat down and waited with my feet up while Nurse J brought me a big cup of ginger ale and some lollies. This was heaven, no question.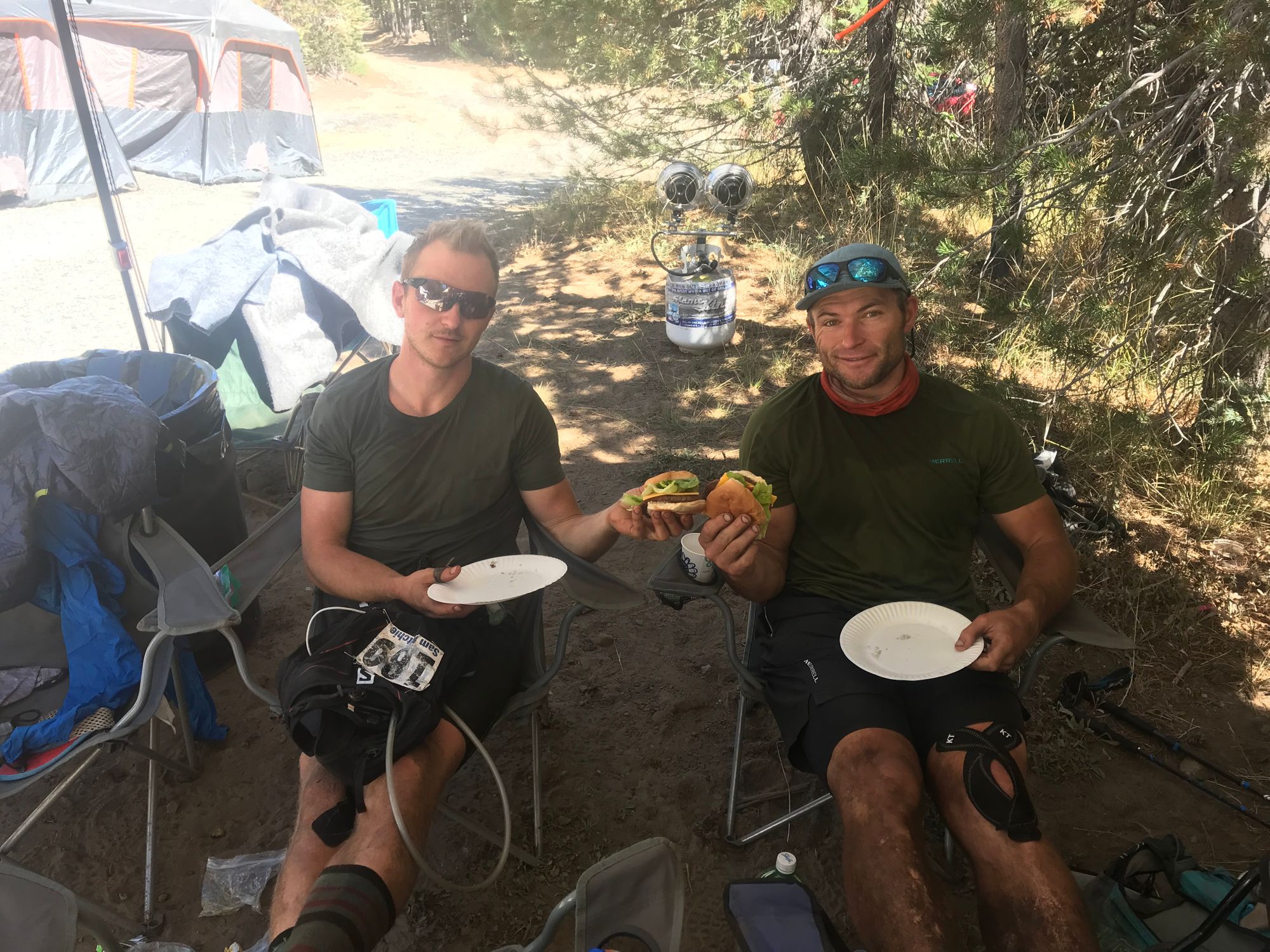 I can't thank that beautiful man and his lovely family enough. It was over too soon; we filled up on water and snacks and headed out.
Heaven had one last surprise for us; an angel walking toward us as we started to leave. It was Blister Kit Mary, our hero! We yelled, ran up, babbled our tale to her and told her again how grateful we were for everything she'd done back at mile 100.
I felt okay again, and J was starting to look tired. Balance was restored to the universe. We turned left off of the road down a hill dense with itchy grass, then onto a trail through a grove of large trees. 1.5 miles out of the aid station we decided to take another 10 minute trail nap on the side of the trail with our feet up on a big log. I fell asleep, then woke to see two runners walking by, staying quiet, looking toward us with understanding. This was one of the most wild parts of Tahoe - the itinerant homeless community of trail-napping athletes.
After this nap was the first time that J attempted to shut me out. He clammed up, not responding to my suggestions that we hustle to make it to a better rest spot at the next aid station. I could tell he was annoyed and moved ahead, letting a gap play out between us. I looked back to check on him, and after a few checks saw a scraggly homeless man appear behind him on the trail. It was Tom Hanks, marionetting his way along like a scene from Weekend at Bernies. He disappeared up the next short climb.
We followed and then began the long descent to Loon Lake. J saw the lake almost immediately deep in the trees. I checked the GPS and realized that this was impossible. The lake was still 5 miles away. J was hallucinating hard, but I humored him and allowed that I might have seen something too. We walked, not speaking, passing the time.
We did see the lake soon enough, and not long after, running toward us along the trail, Joey appeared! He was clearly amped, jacked up on 8 hours of Sleep. All he wanted us to do was tell him what we needed, and he'd go make it happen. Unfortunately for Joey neither J or I could string a thought or sentence together. I named some foods and Joey ran back down the trail toward the crew with our order. What an animal.
Before we reached the aid station proper J instructed me to search for a pinecone for his daughter Avery. "Look for a green one." Only the best for J's girl. It was something to do. I took my task seriously and found the best pinecone on that stretch.
Jenny and Joey were waiting at the aid station parking lot by their car with a chair and lots of food. I sat on the pavement, changed my socks and bathed myself with Wet Wipes. Joey was vibrating with the need to help us, so we sent him on errands for blister tape, burritos, salt pills. Every time he ran back to the aid station I marveled at his perfect running form.
J spent the time popping more blisters and mending his ravaged shoes, which had split open completely on the sides. A volunteer came over to see if we needed anything and recommended a fix for J's Merrells. He left and returned with a roll of wide red duct tape, and proceeded to build massive protective toe boxes around the front of each shoe. We named him Ronald McDonald, for obvious reasons.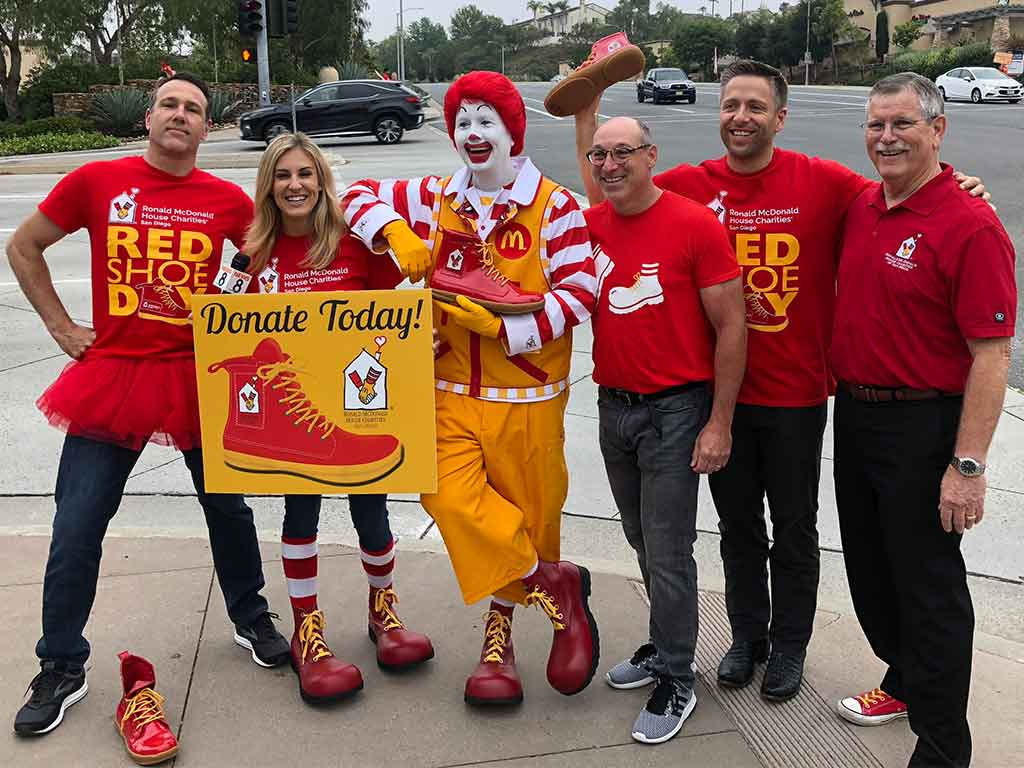 We knew it was time to go when Avery began to yell, "You're okay, Daddy! You're okay!" at Jason. We each lubed up once more and limped toward the exit of the aid station. We walked out of Loon Lake aid, past the point of even pretending to run. Avery saw us off with a final call: "Get outta here, boys!"
Loon Lake (182) to Barker Pass (199)
The light was fading again, signaling the end of our third day out on the trails. The cutoff was 1pm the next day, Tuesday. If nothing disastrous happened during the night we were on pace to finish with a healthy buffer.
I heard a runner catching up to us and turned to see Brian Tomita, the Penalty Boxer from day 2.
"Where's Pringles?" croaked J, and Brian broke into a smile. Pringles was home by now, and Brian was taking it to the finish alone. He'd also had a rough time on the jeep trail and woods before Loon Lake, and told us about the near-constant hallucinations he'd been experiencing all day. "I was seeing all sorts of shit, elephants, demons, crazy, crazy shit." I asked him if he was eating salt.
"I was taking salt pills and drinking on the clock every two hours for the first two days, but I stopped this morning. It is just a lot of shit to keep track of, you know?" Interesting strategy.
J lost his words for this exchange, and for much of the conversation after. He was an ogre, shuffling and grunting. Then, as the trail flattened, J drew up close behind me and started whispering individual words into my ear. "Pain... Suffering... PUSH..." Troubled, I tried to continue my conversation with Brian. J explained later that he was trying to tell me that he wanted me to start running hard.
I came to the independent conclusion that we were losing focus and asked Brian if I could "take a pull" and move back to the front. I jogged ahead, but as I settled in J shouldered past me, loping along in full Donkey Kong mode, sprinting up the stone stairs ahead and moaning to himself as his breathing quickened. He hadn't run like this in hours; I had to follow, and Brian was forced to run too. When we talked later Jason told me that he'd realized that if he could just "smash his feet into submission" maybe they'd stop hurting so badly.
We left the woods and entered a granite paradise on the edge of a wide lake that I swear I visited with my dad when I was 13. I could spot the 50 foot bluff I'd jumped off of years ago, lit up with alpenglow in the setting sun. The view was truly outrageous.
Brian could not stop trying to figure out where on the course we were and where in the landscape we were headed. This set off alarm bells; I had no interest in remembering how many miles were left. Just keep moving, Brian. Who cares what's coming?
On the next rocky descent Jason picked up the pace even more. Almost immediately Brian tripped and plowed headfirst into the one sandy opening between large boulders on the left side of the trail. The fall was so close to very serious, and we all waited for Brian to collect himself. J and I didn't fall on descents. I realized we were going to have to ditch Brian.
I made Brian take a few salt pills and eat a snack as we rolled into the next big climb. As Brian fumbled with his sandwich I took the lead and sneakily increased the pace. I'm sorry, my friend. You were a lovely trail companion, but Walking Dead rules apply at Tahoe. I hope you can forgive me.
The climb ended in a long aisle of trail between trees, remarkably straight. We turned left at the end and faced an ocean of slabs; I called a stop to put on our headlamps and we ran out, hard, before Brian could catch us. J had indeed smashed his feet into submission. His flow over the unmarked slabs was impressive. We were in our element, cruising, happy to be on rock and away from moondust.
I shouldn't have let myself get excited. The stretch was over before I knew it, and when I hit the trail below the slabs I realized that we were once again striding through deep moondust. I checked the GPS. We had arrived at the fabled Rubicon Trail.
Rubicon
Rubicon is an absolute nightmare of a trail. I've never run on anything like it. It's not a running trail at all, really. It's the crown jewel of Tahoe's jeep trails. The Jeep Rubicon is named after it.
Walking on the Rubicon, I had the sense that I had been miniaturized, like in Honey I Shrunk the Kids, and dropped back onto some technical trail earlier in the race. The trail wound through enormous granite blobs and slabs coated in cornmeal created by Jeep tires grinding layers of the rock to dust. The dust scattered the light of my headlamp and made it hard to see ahead, but we picked a line and climbed our way across the features of Granite Moab and managed to catch and pass a group of shell-shocked runners.
Jason spotted a group of Jeepers off trail to the right, clicked off his light and motioned for me to turn off mine. I did and we lay down and commando-crawled to the edge of our tall boulder. J sighted down his trekking pole and I called in wind adjustments. Just two SEAL snipers, getting the job done. Clean kill and we were out. Those Jeepers will never know the danger they were in.
We passed another bunch of runners on the climb ahead. Just as we were starting to feel good, J's light started to flicker, signaling low battery, and then switched to a dim mode that was less than ideal in this rough terrain. I forced him to trade and take my bright light so he could lead us and give his asthma a break from the dust.
Next came a long, flogging downhill, so dense with slippery boulders that I stopped using my poles, scared I was going to snap a shaft by getting it caught in the endless gaps between rocks. Jenny had told us at the last aid station that the top two athletes, Courtney Dauwalter and Kyle Curtin, had battled for the lead through this stretch. We discussed how crazy they must have looked, hobbling at high speed. Would it have registered as a competition to anyone not already in the know?
We hit a flat between descent segments and saw a huge sign for the "Rubicon Trail Foundation". That must be the organization that manages all of the donations of corn flour required to keep these rocks covered. We'd left everyone behind on the descent except for a lone headlamp following far back. The light persisted through the next awful descent. Who was it?
We bottomed out at a large wooden sign for "Rubicon Springs" suspended above the trail on tall posts. There was a building, a big structure ahead, and deep dust all around except for a lush green lawn back to the right, carefully mowed. It reminded me of the village of The Others in Lost: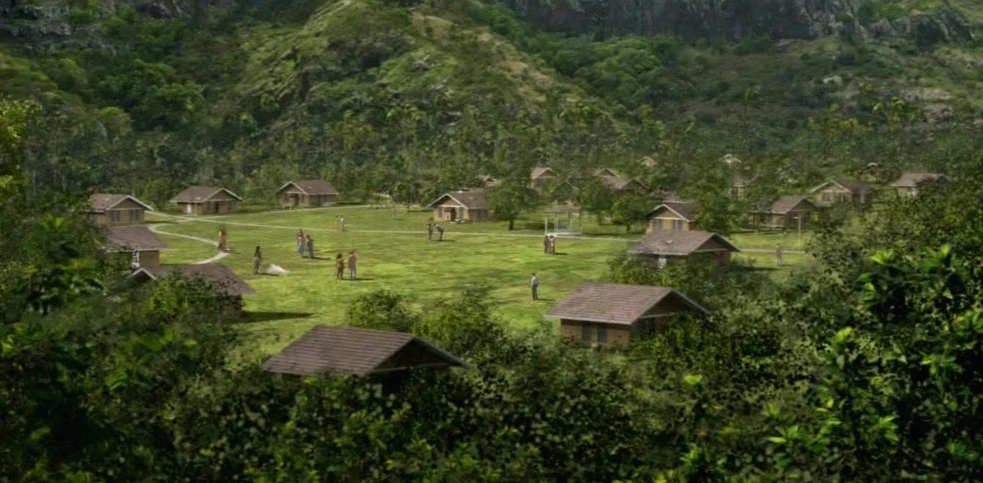 J and I stopped in the grass and stretched our calves. The light caught us - its owner introduced himself as Tomo Eguchi.
"How did you guys do that?" he asked, wonder in his voice. It felt nice to be recognized for our downhilling, the one thing that was going well for us in the race. We all traded stories in the grass for a moment, then decided to team up and rolled out. A while later we reached a campground with tents set up but no one home. The picnic table to the left was crowded with liquor and mixers, a full bar in the night. Margaritas? When we finished. Just keep going.
The trail grew more hellish, now - the dust gave way to 4th class slabs, slippery slabs, endless slabs. Tomo said goodbye when the trail grew steep and we continued on alone.
I noticed a shredded bag of trash on the left side of the trail. It was Tom Hanks's drop bag, no question, worthy of Castaway. An update:
Soon we saw silent flashes ahead. Was it heat lightning? No, it was Scott Rokis, the race photographer. He had hauled up maybe a dozen flash bulbs, synchronized to pop together when he clicked the shutter, and nested them in the trees around his chosen Photo Lagoon. I dropped back behind J once again so his massive bod wouldn't block this photo evidence of my nighttime journey: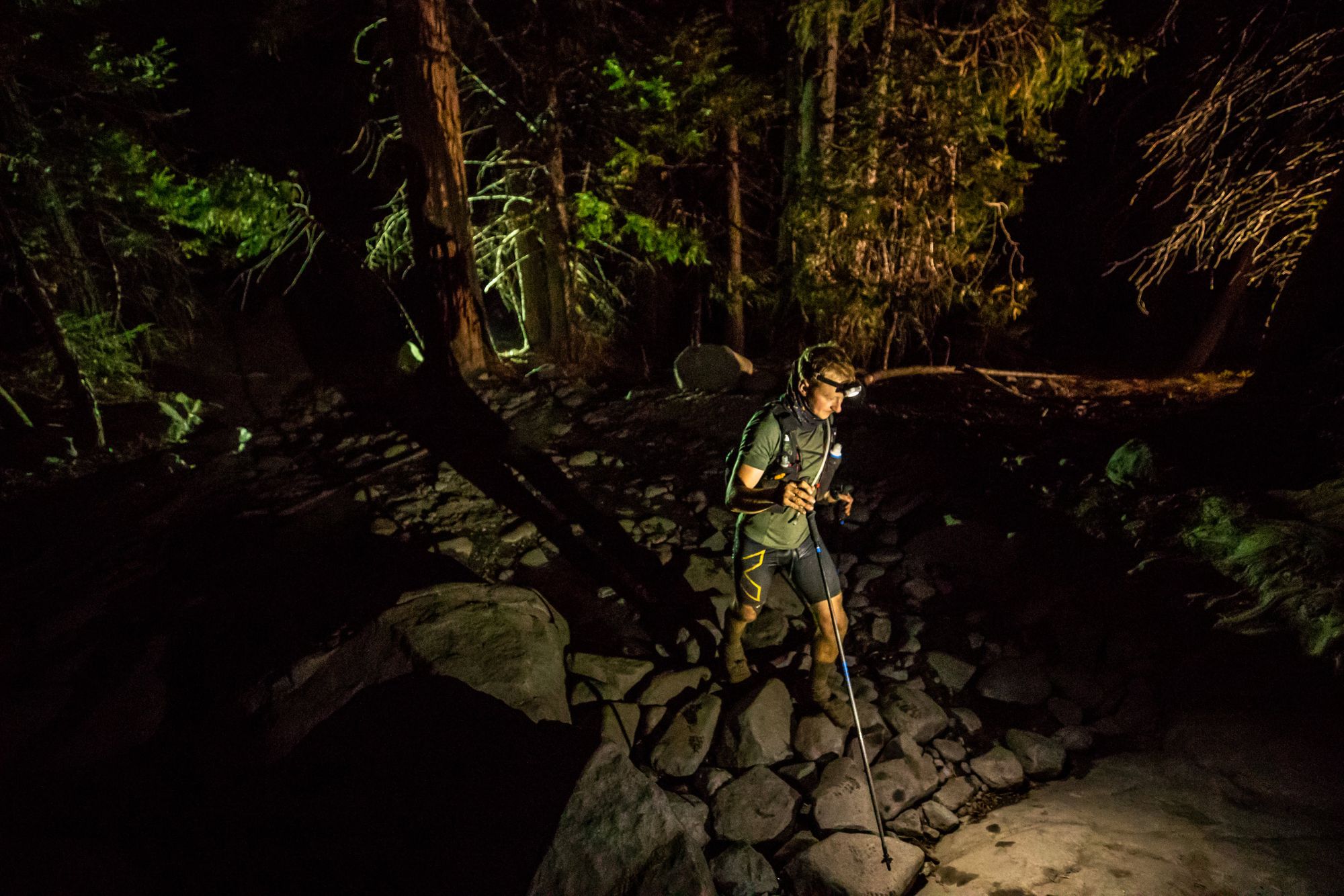 The slabs petered out on a cold, windy ridge. What the hell are we doing out here? We staggered on, found our turn, continued through close forest and long rollers.
We caught and passed the runner walking ahead of us. It's Janeane! I kept the pressure on, running ahead, but every time we looked back Janeane was right there, somehow keeping our pace. Eventually we got ourselves stuck attempting a poorly-marked water crossing and she caught us and stayed with us. Janeane couldn't believe how little we'd trained. Our lack of reverence for the Black Widow's creation clearly disturbed her. Still, she tolerated us, maybe in retrospect because her light was close to dead and at least one of ours was shining bright.
Soon a road exposed to the cold again, and the last long trudge of the segment took us to Barker Pass aid station.
Barker Pass (199) to Finish (205)
Jason and I had been here before, 6 miles into the race, but neither of us recognized our location. The aid station was lit up off the right side of the road past a long row of parked cars. Anna and Jenny were waiting for us.
We both sat down by the propane heater, profoundly tired. I tried to update Anna on our status but was distracted by Catra, the Dirty Diva, on a massage table to my left. She was shivering and covered in blankets. Her tiny dog was perched next to her head at the end of the massage table. She hated the cold.
This was the final stretch. Anna made us each a big bag of lollies and gave us the update on Mike - he had finished long ago, putting on a clinic and finishing in 72 hours, top 15 in the race. What a stud. No way we'd catch him now.
Eventually we moved out into the cold to the trailhead that led to our final climb. Jason extracted two pieces of caffeine gum for each of us from the med kit. He handed me mine and we both kneeled and held the pieces high. We slowly toasted the pieces together, then popped them in and chewed in exaggerated ceremony, giving our thanks to the Lords of Caffeination. Anna was used to our depravity by now and withheld the reaction we'd been seeking. Oh well.
Jenny came along to pace us for the final stretch. Before the race Jason had been skeptical about this plan. He'd had a serious talk with Jenny and cautioned her that we were both quite good at downhill running; if she withered under the pressure of our pace, we'd have no choice but to leave her in the dark to fend for herself.
Well, there was little chance of that, and Jenny's nerves gave way to pity when she saw how little we were capable of.
I stayed back to catch up with Jenny while Jason walked ahead. He'd stopped for too long and his feet were screaming again. We'd have to smash them back into submission if we wanted to run the downhill. I'm sure I was a wonderful conversation partner, almost 90 hours deep into my vision quest.
The top of the climb! We began to descend. J tried to run hard at one point - I'm convinced he was trying to drop Jenny out of principle - but he caught a toe, almost laid himself out and dialed it back.
This next stretch was the first place where I became angry with my friend. J was telling Jenny about the adventure and making a big show of describing how much easier than a hard 100 Tahoe had been, and how poorly structured the experience was. Jenny was silent, and then responded with the obvious comment: "you know you're pushing the cutoffs, right?" and "If it was easy, why didn't you go harder?"
It hadn't been easy. It had been an unexpected epic, and J was obviously still digesting the character-building plate he'd been served and not ready to accept the Wisdom of Tahoe. I should have understood this... but all I heard was that J had given up and was already conducting a post-mortem, at walking pace no less, 5 miles from the finish. What the fuck? We're in this together, bud. All I ask is that you take it seriously for another hour.
All that was left was a series of descending switchbacks through tall trees. A lifetime ago Mike had taught us about forest-bathing on this very stretch.
I took out my anger by running just a bit faster than comfortable, forcing the pace. I pulled ahead of Jenny and Jason as we hit the final switchback in the forest - I stopped on a small rise and peered down the hill at a group of lights. There it was. The finish.
Jenny and Jason caught up and we kept moving as a group. I started opening up my legs, feeling that finish-line fire flooding in to my body. I could see a runner ahead. It was Catra! How had she left before us? "J, Dirty Diva! Let's go GET SOME!" I yelled. J was fried and not excited about the chase. "Isn't it silly, what humans tell themselves is important?" he said, getting philosophical.
I was pissed again. "Dude, this is not the time for that. What sort of psychopath says that? Imagine saying that on the altar to your bride!" (Like that's who I was, right.) "Please just PRETEND to take this seriously!" This wasn't fair, and of course it's embarrassing now. We'd been through a lot together these past few days and I wanted to see the project through.
I opened it up down the hill, running hard down the final switchbacks. We passed Catra, of course. She couldn't have cared less. J was right behind me, yelling, "you're showboating! YOU'RE SHOWBOATING!" A final turn, stride it out and, boom, we'd done it. We could stop, finally, after 90 hours and 21 minutes.
Anna cheered for us and walked us over to the table of custom-made belt buckles, each unique. I had told Jenny about Jenna's love of the electric green moss we'd seen earlier on the trail; she reminded me now, and I picked out a beautiful buckle with tufts of that very moss embedded in resin. With that choice, the epic was complete.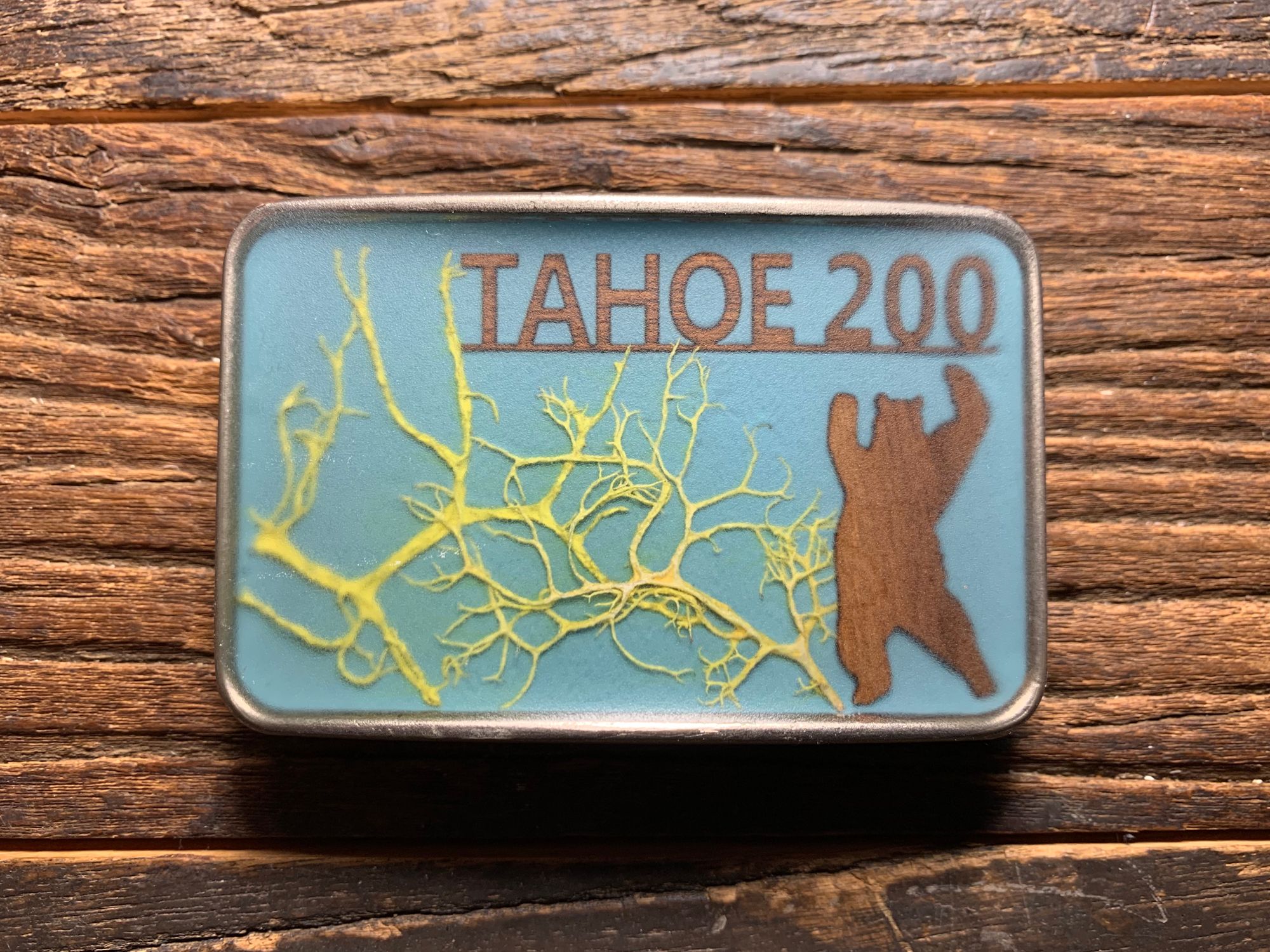 Conclusion
This was a doozy. What does it mean to complete a race like this?
The Tahoe 200 was a unique endurance experience for me. Marathons, Ironman races, even 100 mile runs have a clear structure to the experience they're offering. Ironman races are about finishing, becoming an Ironman, saying that you achieved something huge. Marathons have various tiers of completion time that broadcast your rank to others in the know. 100 milers are ostensibly about "just finishing", but the cutoffs are often harsh and force you to get up and run, to "beware the chair".
What are you supposed to take away from the Tahoe 200? The leaders whipped themselves close to death to run sub-50. Jason and I, back at the 90 hour mark, ran a completely different race. We met folks running to remember loved ones, to test their bodies after injury; to get away from life and walk around a lake for a couple of days.
I don't know if it's on purpose, but these 200s don't provide any structure to their ritual. You have to figure it out for yourself.
I came away with a bundle of great stories, of course, but I also noticed, on reflection, a few notes about how I handled the experience that feel important.
I attached absolutely no importance to my finishing time. I wanted to finish, but I didn't care where.
Where I was on the course didn't matter! I was happy to just run, to move, to get to the next aid station and then the next beyond that. I cared enough to plan for food and water, of course, but I have the sense that I wouldn't have minded if we'd gone off course and ran a bit longer. This is a change for me.
I was able to keep my focus off of myself and on my partner, and help keep us both healthy for a truly outrageous amount of time.
I think of the Tahoe 200 as my mundane vision quest. To go well, it's supposed to be boring in the moment - but running 200 miles cracks open doors in your mind that leak insight for months and maybe years to come.
What a fucking wild race!
Other Media
Here's a list of other stories and posts that cover the 2018 Tahoe 200. I'll add to this as I find great resources.