I feel like I'm never going to publish this damned thing... so here it is, in bullet point form. Maybe I'll tidy it up some day.
Niwot's Challenge, a very fun race out in South Platte. Jason invited me to this damned thing last week...

Text from Jason: "Free Sat?"
All I could find was this one race report from Erik Sanders: https://gearjunkie.com/colorado-ultra-mountain-race-niwots-challenge
Prep for the Infinity Loop later this summer. Race details, what does it entail... I'm totally detached from how hard it might be. "It's only 45 miles", says Jenna.
Pre Race
On Wednesday (I think) we hung out to talk about what gear we'd need and how to prepare. We got as far as discussing gaiters and tights, then ran out of items. We both kind of know how to do these things, right? I'd never been in a proper adventure race where you use only map and compass, so I was relying on Jason for that. Jenna was adamant that I make Jason understand how ill prepared I was at navigating.
"I'm totally dialed. Just a note - I'm totally dialed at finding out where I am in an emergency... I've never had to navigate while MOVING, but how hard could it be?"
Okay, prep, Jenna drops me off at Jason's house on Friday, we head on up. Jason has gatorade, a satchel of little debbie pies, SPKs, amazing food... I've got a bunch of BS I bought at Lucky's, empanadas, bladder, etc, stuff that's worked in running races in the past. We head on up.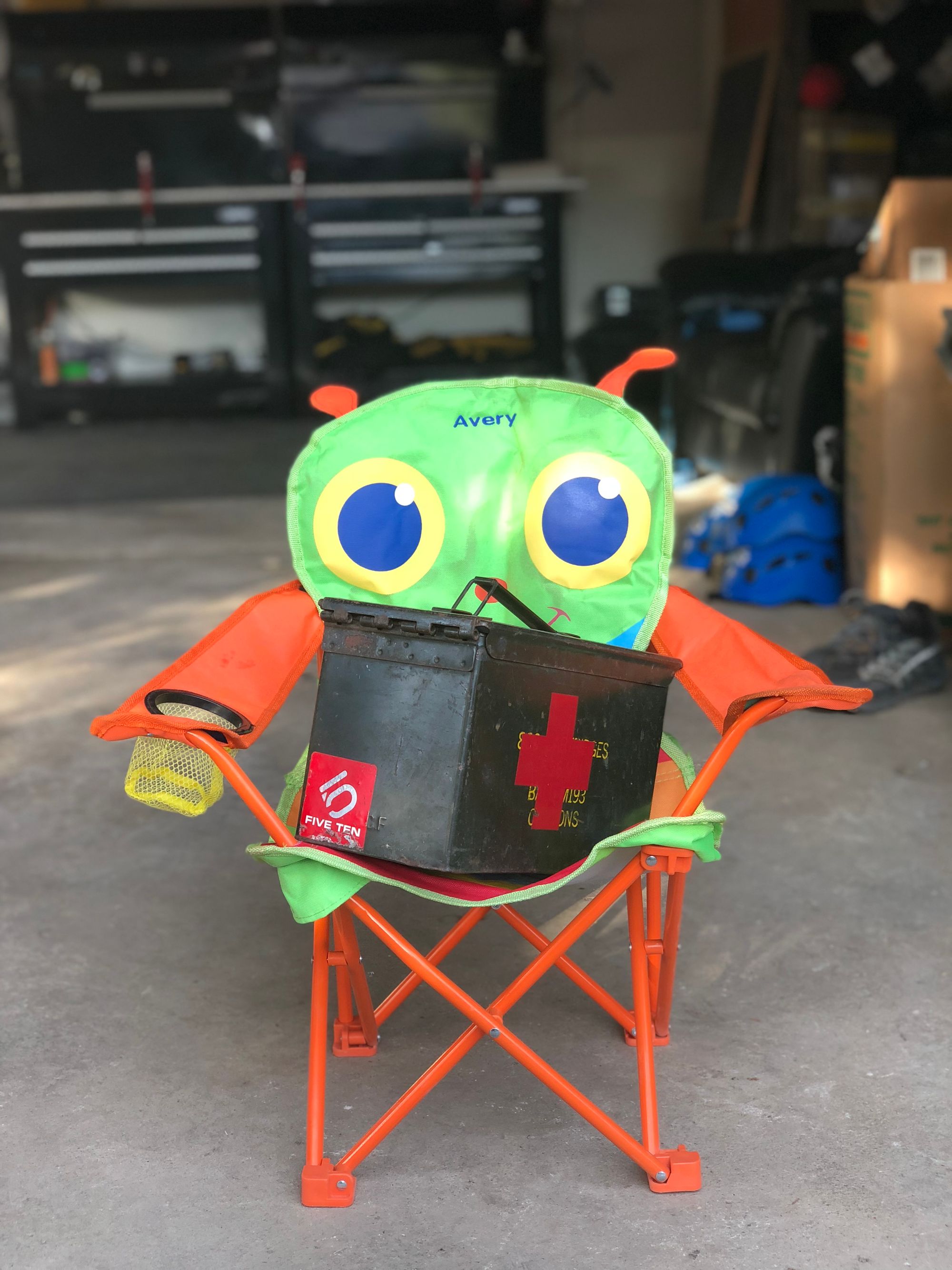 We hit some mexican food, had a beer each, then left. On the way we do a dramatic reading of the course guide. You'll have to enter to see it, but it's full of curious details that we were using to try and get some insight into "Sherpa" John's mind. There was an obsessive focus on his favorite pizza, but no details. Everything we read pointed to an unhinged mind. Not a good sign for our health out on the course.
We arrive at the El Dorado hotel, a dead old building with a big flagpole and a spraypainted skull and cross bones with a circle-slash "NO" sign over it, above the word "BATS!". No death to bats? What does this mean? Beautiful spot by the river, with beautiful weather.
We get there, build the table, get sorted and go off to join the crew. Miguel is cooking cheese-filled fried doughnuts.
We get to bed. At this point neither of us had read the description of the course carefully, let alone "studied". We read the course description, noting that it just did not sound that bad. If you read something dramatically, have you learned it?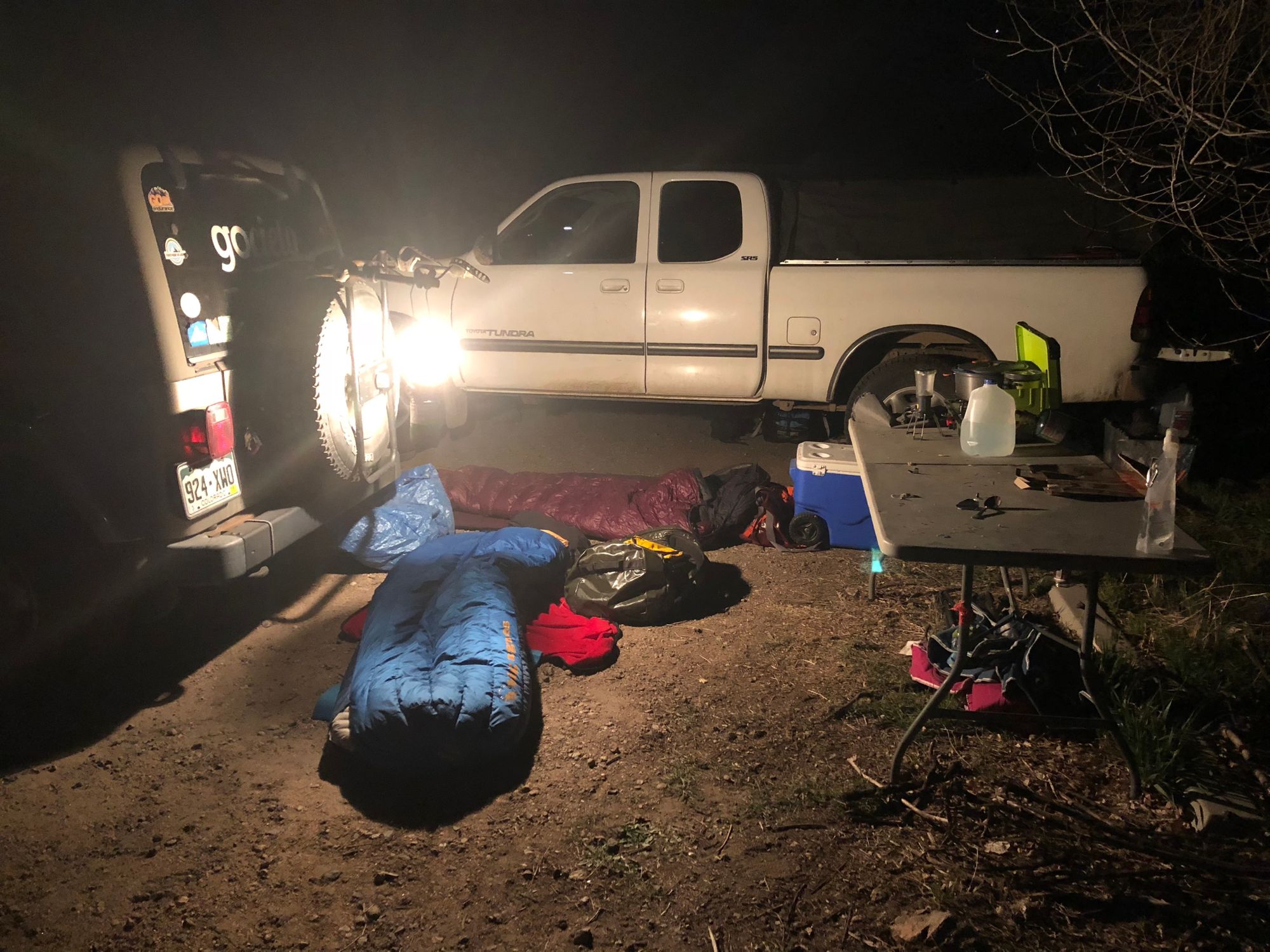 Race Morning
Get up, super cold, get dressed. "Watch out in the ladies room... there's a black widow posted up. I'm gonna smash it," yelled a racer.
"Ceremony" where we're allocated to the starting groups, then allowed to trade. I trade into J's group. Final prep, it's light... the peace pipe's lit and we head out.
Burn
There are only two of us heading in our direction. What the heck? Bill and (woman's name). Bill's clearly skeptical of our tights, Capris in Jason's case, and our obvious lack of knowledge of the terrain. He's done the race before and disapproved of our fast speed. We left Bill behind pretty quickly, feeling great about how fast and fit we were.
leave bill behind, push on the Colorado trail telling stories, goofing, poles out, great decisions
"I don't want to speak too soon, buttttt I think we might be crushing this thing!"
massively overestimate the scale of the map, even though it says the scale. We turn off and head for the wrong mountain, far in the distance. We get halfway there before questioning our choice....
backtrack to the right mountain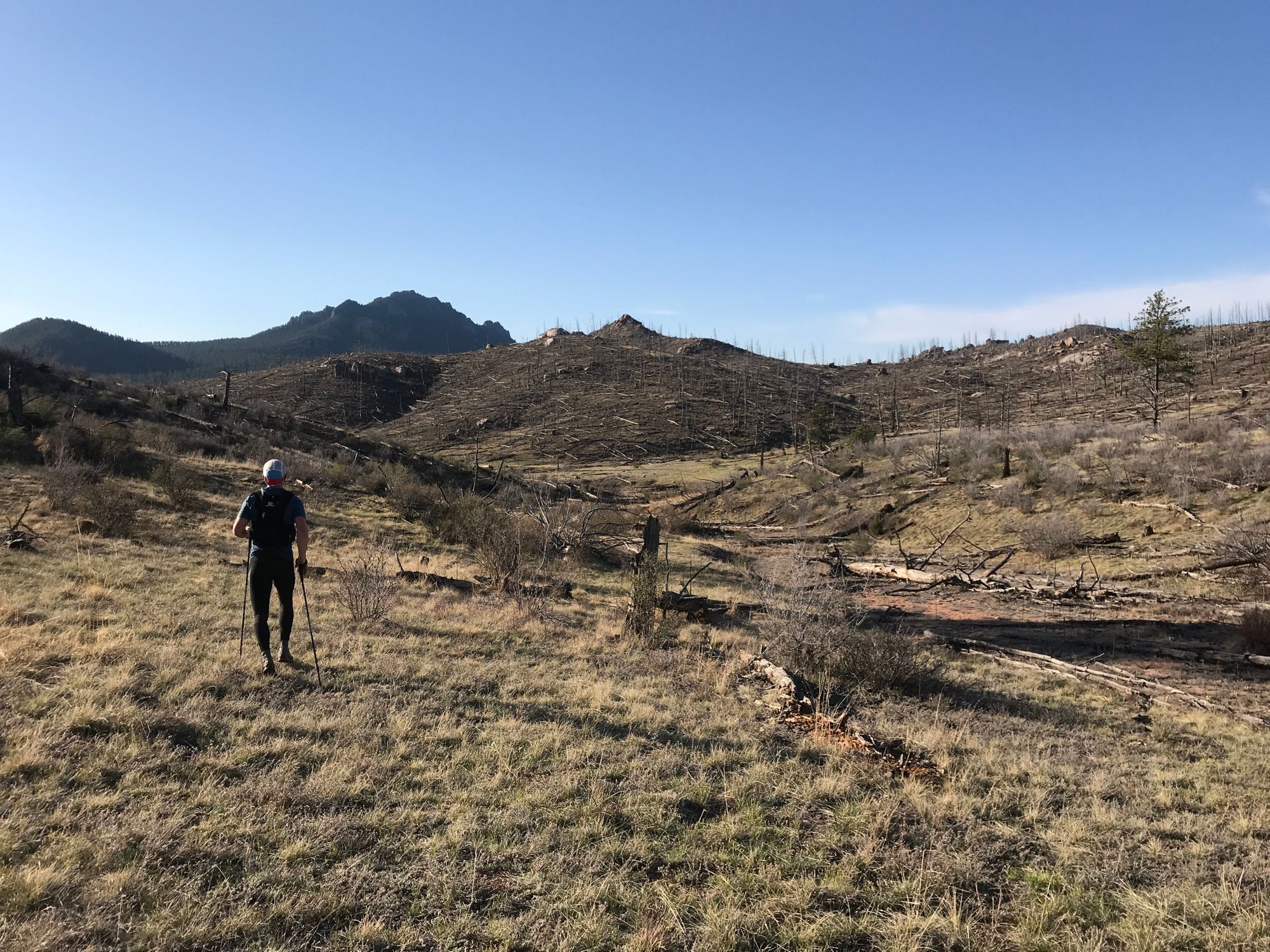 pass the house, get onto a 4th class ridge. What is Sherpa J's climbing ability? Would he ever get on this thing? Downclimb off the other side, it was totally pointless
we see the book spot, finally, bonus miles accumulating... go get the book. We're obviously behind now, as two pages are missing. Bill's ahead!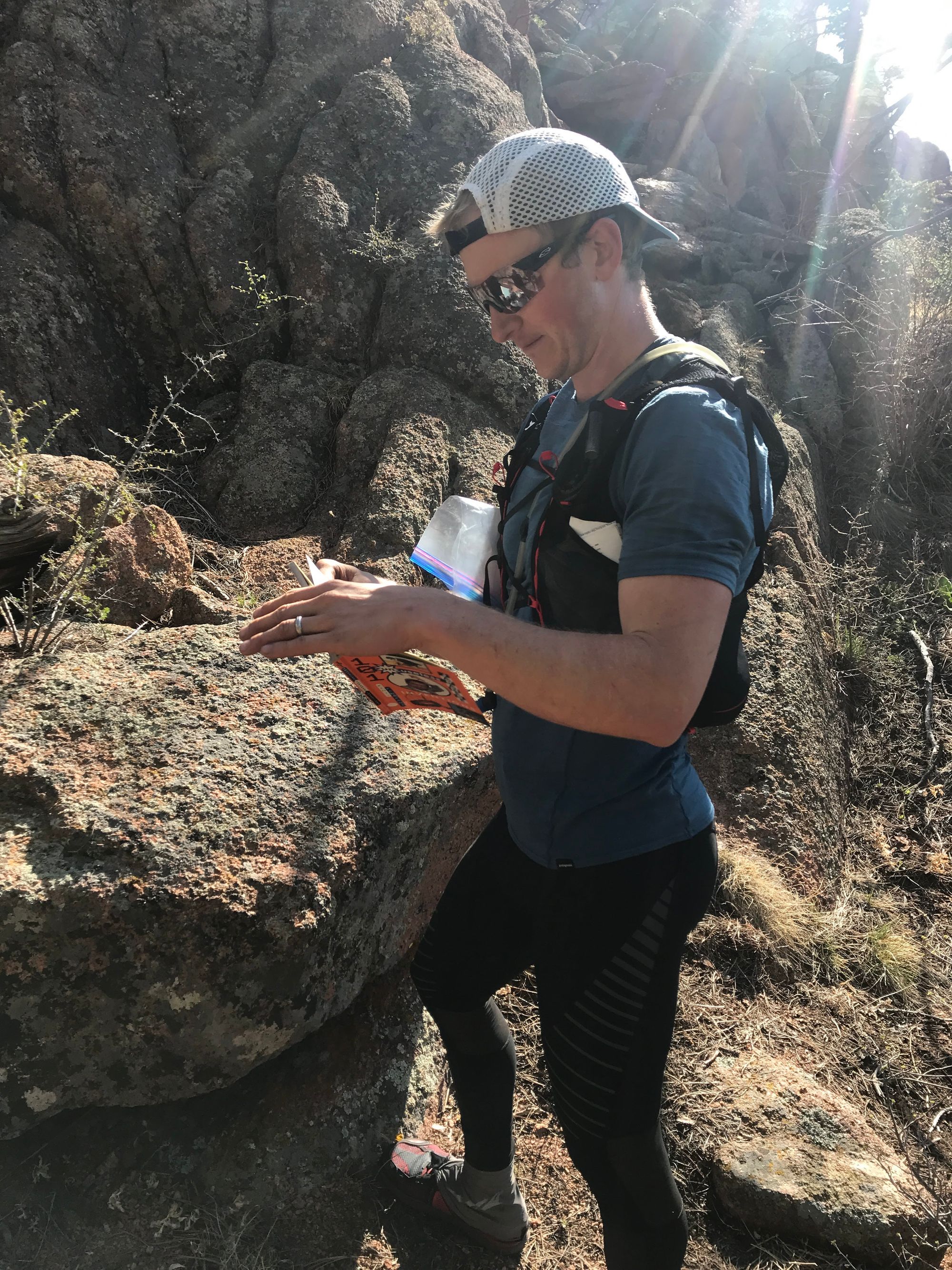 recalibrate scale and gun it for the next book. We were about 30 feet from the book, but decided to explore the next few drainages upstream for about an hour before coming back and finding the actual book.
Theme of the day - mapping things out on foot vs trusting the map. We tried to lean heavily on our stoke and athleticism, and put in a ton more effort than we probably needed to.
Next book went well... we were getting nervous and settled into checking ALL drainages for cairns, not relaxing. Head home, no big deal.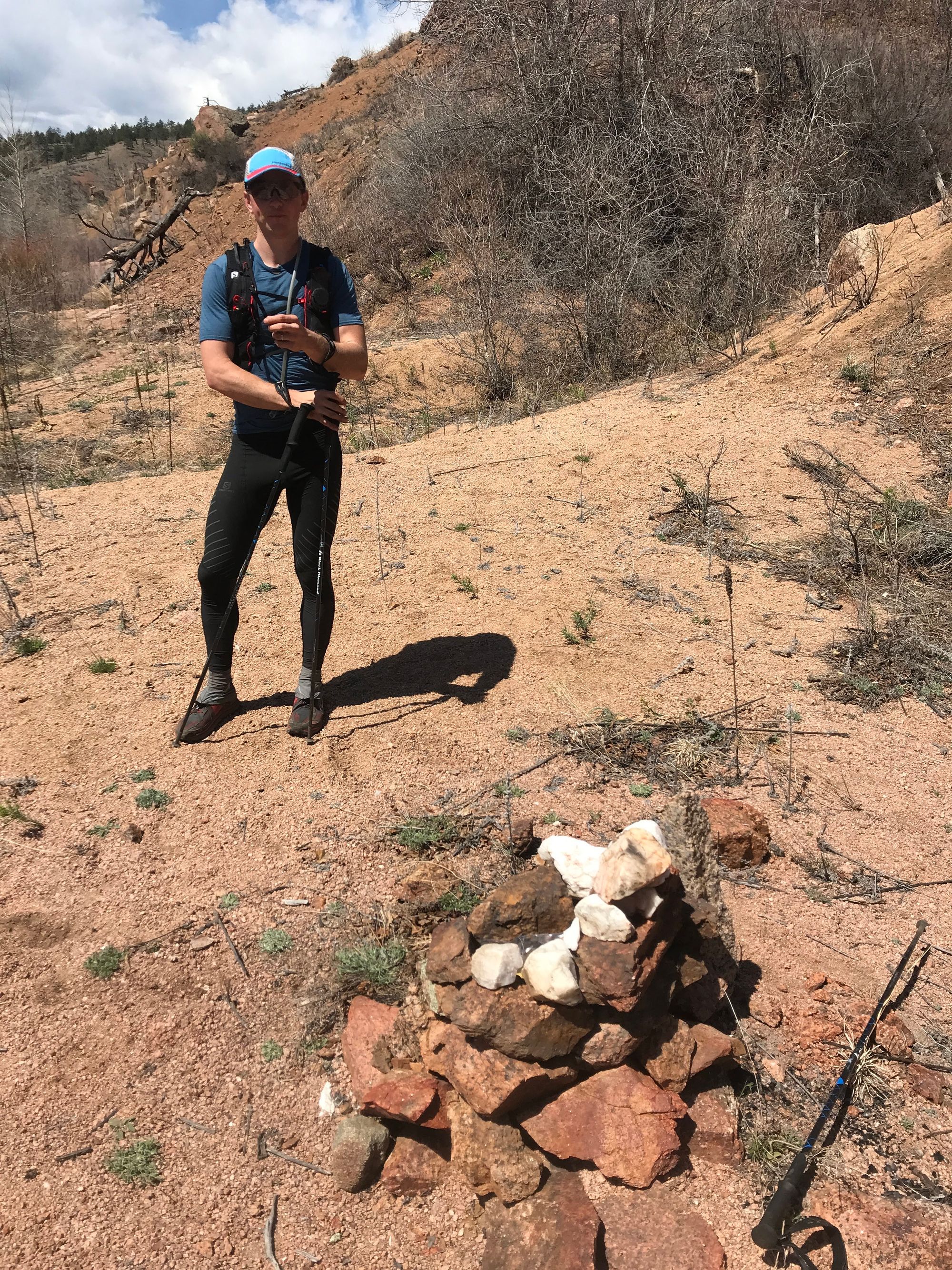 Suffer and Aid Station
refueled, took in a massive amount of gatorade, downed an ensure, probably 500 calories. Total shock to the system, nausea rising.
J - should we bring headlamps?
me - are you kidding me dude? This is the shorter lap! We're going to crush this.
So no headlamps :)
NO ONE had come back yet from Suffer, even with our two hour fuckup. This is with 6.5 hours elapsed. Bill came in two hours ahead of us then quit - it turned out he had never planned on going more than one lap. Maybe he was even smarter than we'd given him credit for...
In our minds this was a huge opportunity to make it back by the 13 hour cutoff. 6.5 more hours to do a shorter lap? Easy, especially if we nail the navigation!
Trudge out, actually crush the first book.
We met one guy coming down who was fully shell shocked - he'd been wandering around for three hours trying to find the descent that he was now on. He told us that he'd filled up his waterbottles six times, the heat was so bad.
hit three more dudes at the summit... they were torn to shreds. This is beyond the eight hour mark. (They looked great, but we later heard that this descent was the "beginning of the end" for them.)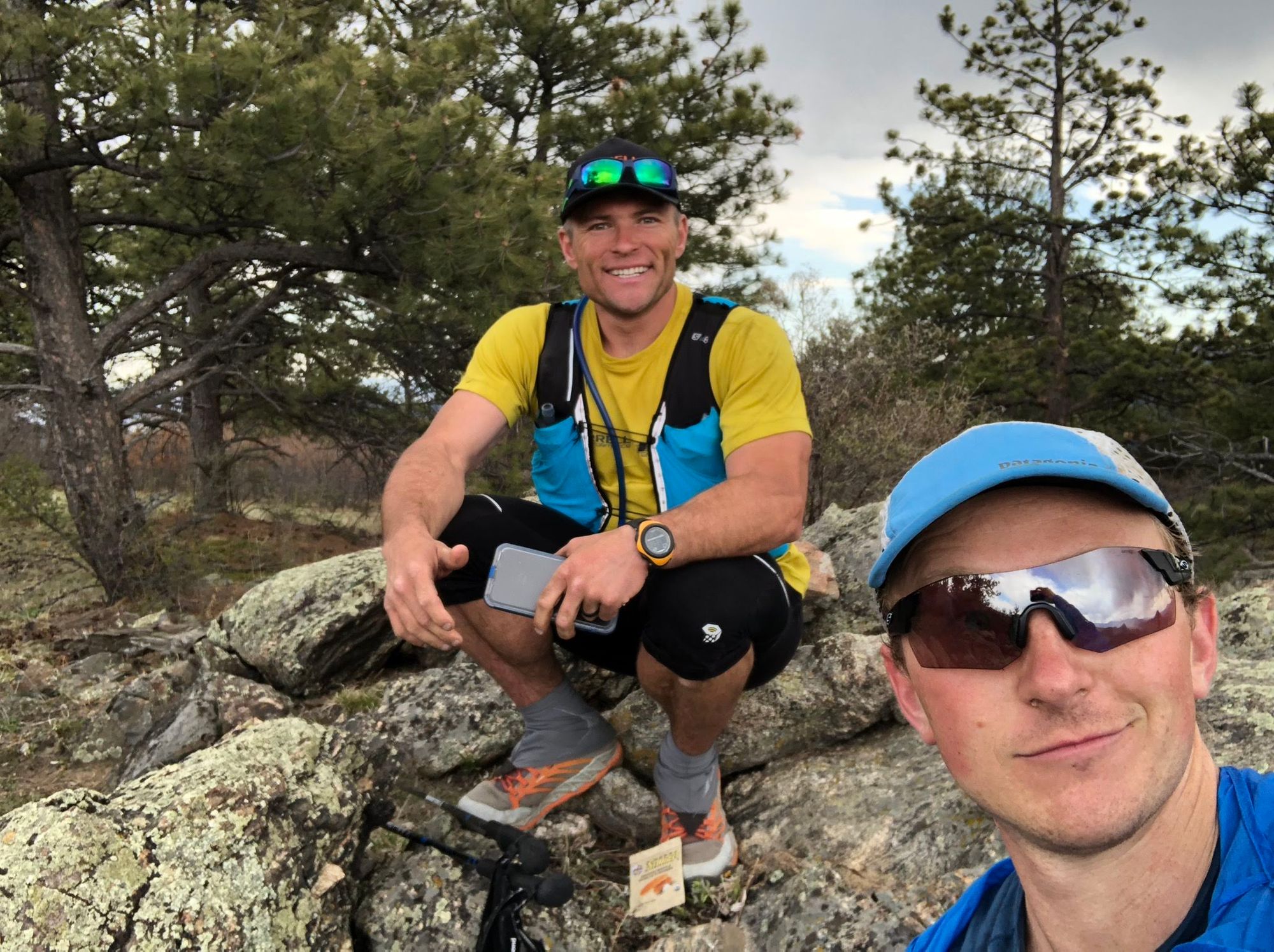 STICK TO THE HEADINGS - 70, 90. Do not forget! More nailing it.
Jason took a shit at the summit, sat in fire ants
more food, eating...
find the book, take off at 70. We were checking every 10 minutes or so. Turns out this is a terrible way to navigate with dead reckoning.
the horrible stabbing trees... pushing down, sticking to ridges, scrambling...
at one point we thought our nav was so dialed that we built a cairn. "How are we going to get back to this?" wondered Jason out loud.
We get to a 5th class wall. Fuck, that is definitely not safe to ascend, and there's no way that's the course. What can we do? We think we know where we are... we decide to go down the drainage to the river. The idea is that we'll just traverse the shore. We get there, so rough, getting scraped to pieces and... sure enough, full deep water solo cliffs.
Okay, we'll swim. Oh shit, it's a half mile.
We scramble up and out and scramble-skirt the contour to the right inlet. Takes forever.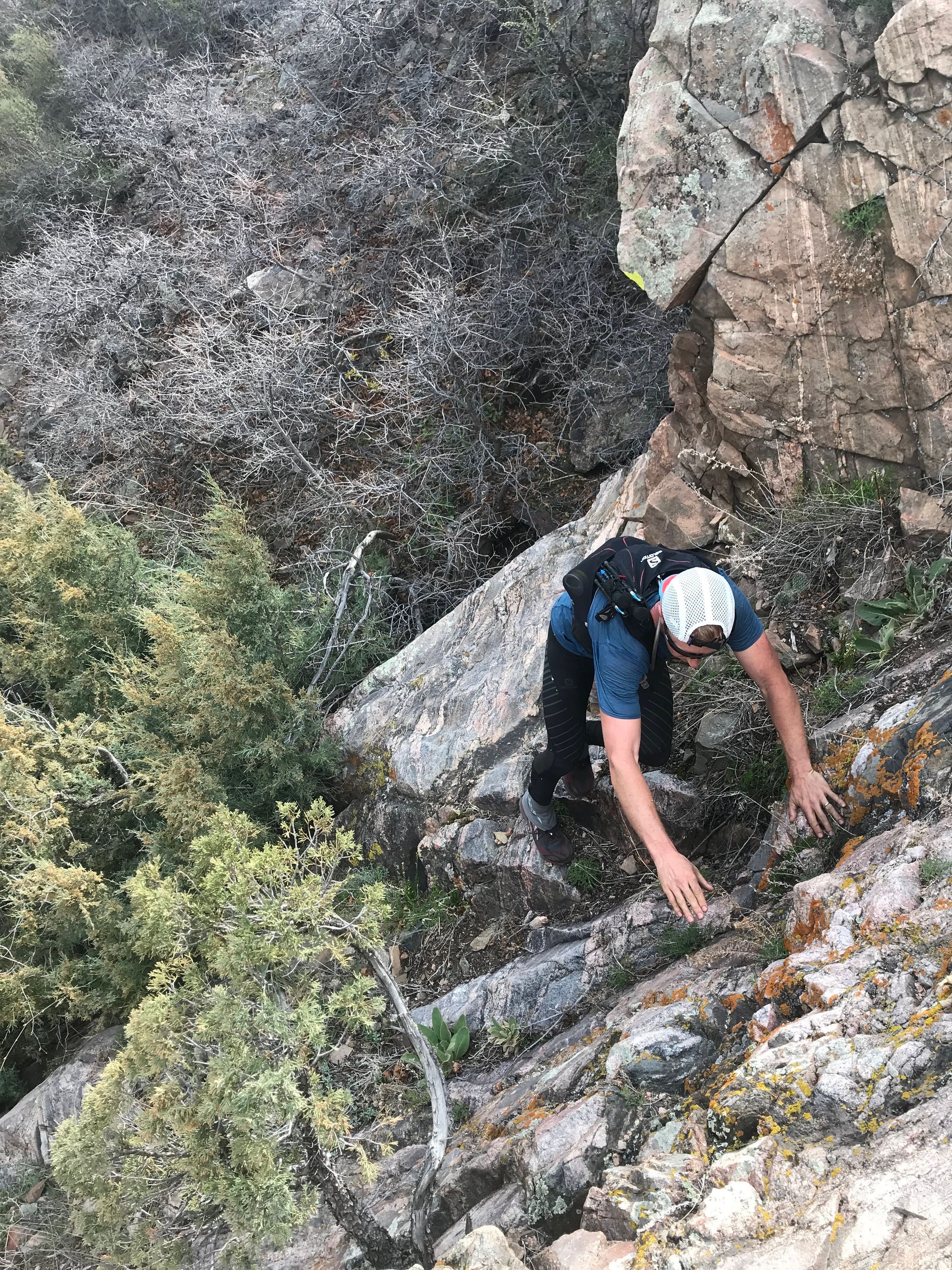 idea about how the worst finisher's course should be the next year's course
"you know, if we were moose this would just be it, forever."
We get the next book, evaluate our time and we're totally hosed by now. It's going to get dark, I have no headlamps, remember.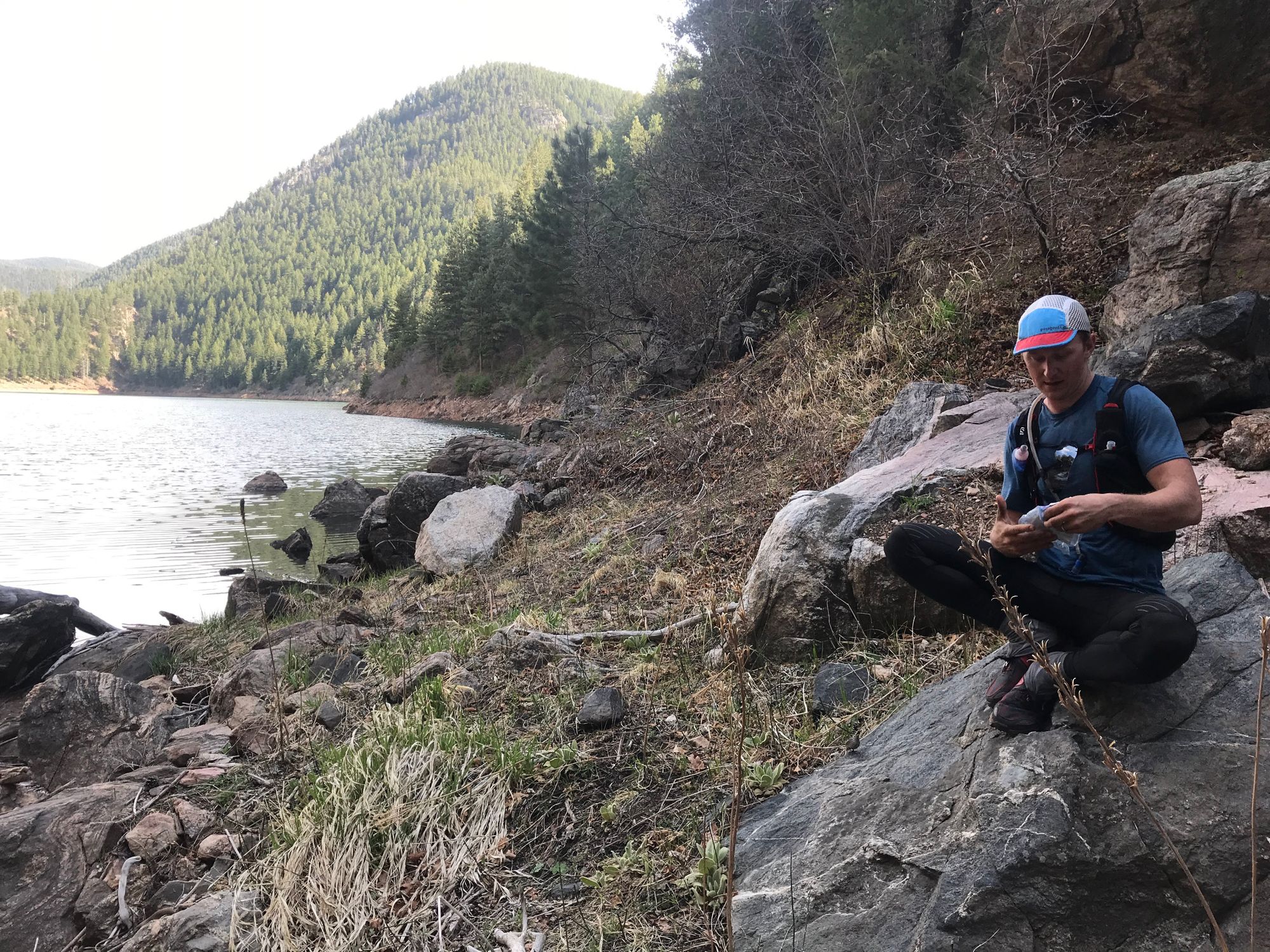 leave, climb the wrong mountain to the right
Then schwacking totally horrible:
struggle up the RIGHT way, but it just sucks... scramble to the top
observation about cane - all this shit is pointing AT us... maybe it'll be easier on the way down? you just get STUCK inside this stuff.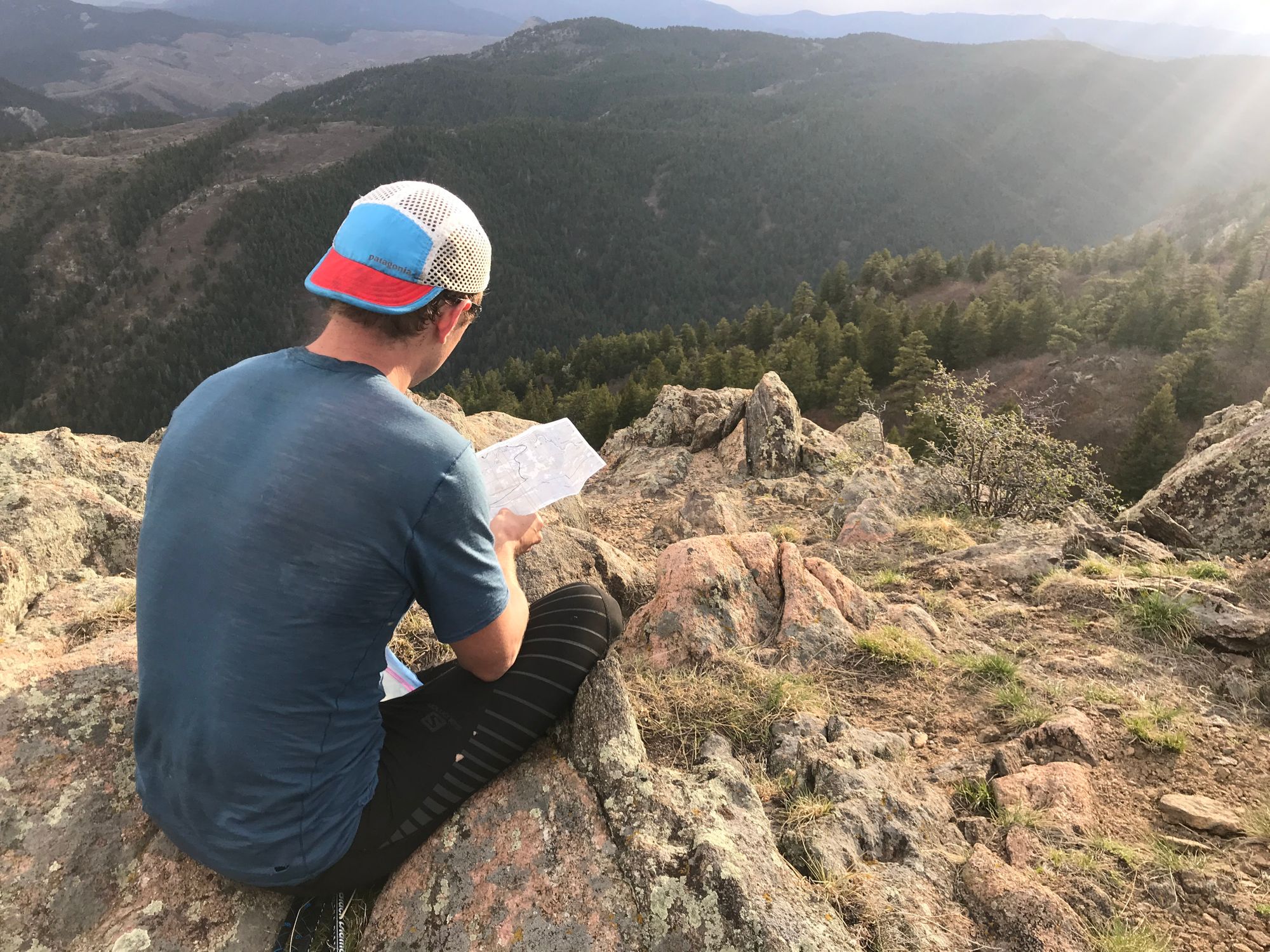 my hat keeps getting plucked off of my head, making me look around for it like an idiot. Sometime's it's hanging, sometimes it's on the ground.
J had his glasses strap get stuck and pulled back like a bowstring, clearly a plan between carnivorous trees to launch his face forward into a spike.
We reverse. Things are going better. We get water.
it gets dark which FORCES us to stick to a heading. we actually make the turn, get the new heading... follow it.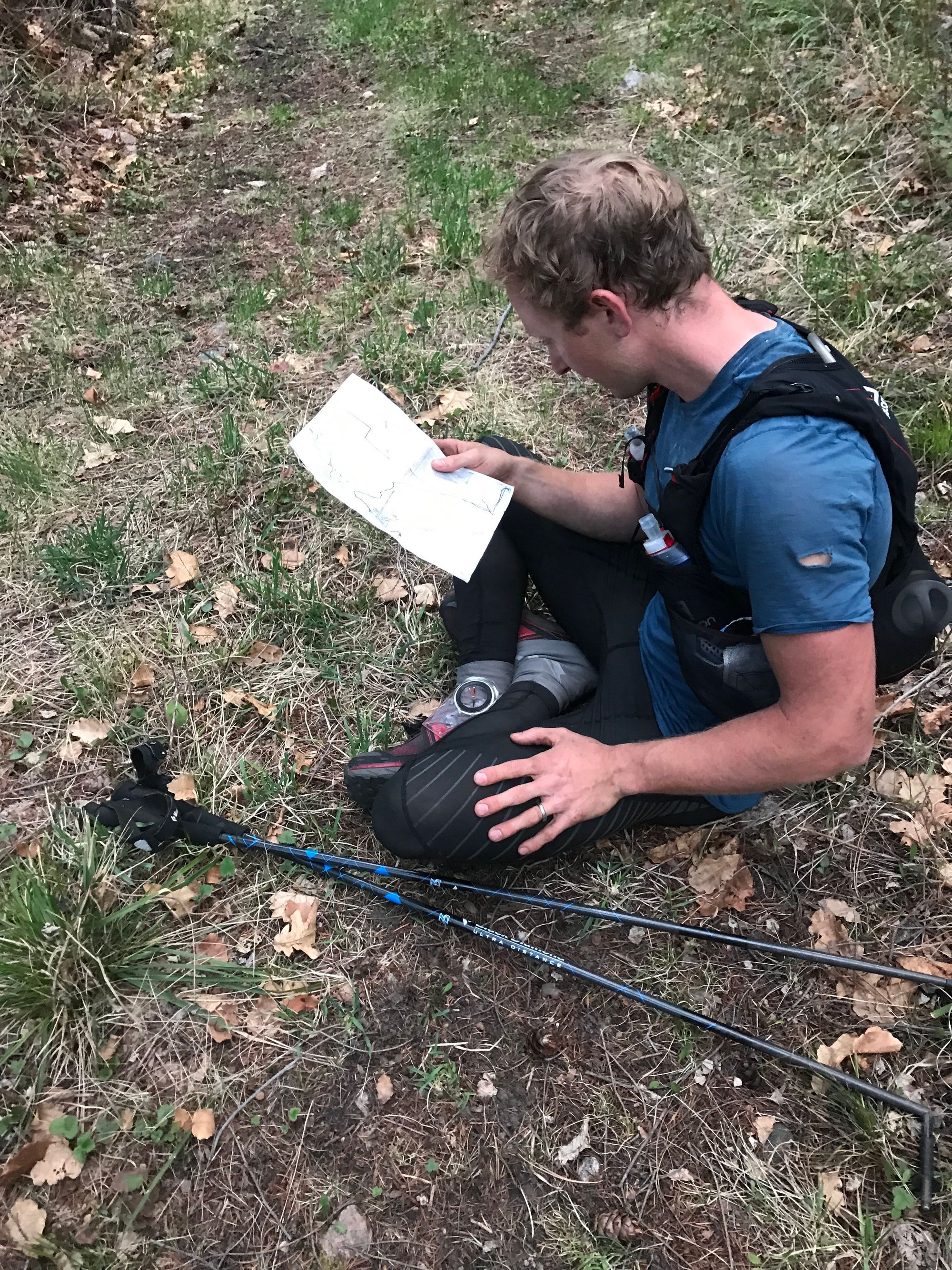 I snap a pole. Boom. That's great! Now I have a free hand to hold the iPhone that I'm using as a light. Following J, crashing through walls of scrub. With the headlamp they look like impenetrable walls. A mile goes forever.
We make it to the first intermediate checkpoint we wanted, then the second... we might be nailing this!
I divert us off to a "shortcut" that takes hours, skirting around to this ridge, instead of going the direct line that we'd planned.
J figures out the trick of pulling his capris down to make them pants, at the expense of butt coverage.
finally we get to a safe drainage and peg it for the bottom. The shrubs are getting weaker, just breaking. So much disdain for those shrubs, unlike their hardier relations.
End
7 people left on the chief's loop and none survived.
Some of the drop reasons:
this sucks.
my wife has a wonderful bed and breakfast, and it's just not that hard, so I'm out
Oh well. We'll have to go back next year and try this thing out, get it done for real.
(UPDATE - we did, and we finished! Read the 2019 Race Report here.)
Jason's Story: https://www.instagram.com/stories/highlights/17929181812103193/