In 2016, as part of my years-long quest to make it into the Hardrock 100, I signed up to race the IMTUF 100. IMTUF stands for "Idaho Mountain Trail Ultra Festival", and I'll admit that before the event, I found it difficult to tell people about the "I'm Tough" without apologizing for how lame it sounded and expanding the acronym.
I've got no such issue now! This was the most beautiful trail race I've ever completed, absolutely world class in the scenery, the trails, and the overall quality of the event.
I ended up finishing in second place behind David Ayala in 20:35 and breaking the course record of  21:06 set by Seth Swanson in 2012. (David, a mathematics professor with supernaturally good downhill running ability, pushed the course record down to 19:52.)
Here's the Strava file for my 2016 run.
Background
2015 was my first year training for ultras with a coach. Adam St. Pierre put me through the ringer all spring. Structured training is exhausting, but it works. Thanks to a more focused spring season with lots of miles and vertical gain, I finished 9th overall at the Miwok 100k in California in May, then 8th overall at the Vermont 100 later that summer in just under 18 hours, 9 minutes.
Vermont was a breakthrough race for me. I trusted my training and ran the race based on heart rate, running through thick fog and distracting myself with trail math for almost the entire race, constantly calculating and checking my pace against the splits I'd need to push close to 18 hours. I remember checking my watch at mile 15, then 25, then 35 and feeling no sense of the passage of time. Each moment was the same. I was able to hide in the data.
The race went so well that it was almost troubling. Would I ever be able to pull off something like that again? Or would I go out hard in my next 100, lured by the memory of my accidentally great race, blow up at mile 20 and pay the price for the next 80 miles?
I'd find out in September of 2016 at the IMTUF.
Preparation
IMTUF stood out on the list of Hardrock qualifiers as a later season race, with the potential for cooler temperatures and beautiful fall colors. The course is advertised at 102.9 miles and 20,000 feet of elevation gain. This would be much more of a real mountain race than Vermont with the latter's rolling dirt roads and easy access to crew. I was burned out on structured training in early 2016, and didn't get out for much running until mid-July, when a training trip for my friend Aaron Steele's second Leadville 100 bid forced me up into the mountains. Not the best strategy, but somehow my downhill running ability felt better than it ever had, and I seemed to be hanging on to residual fitness from the 2015 season. Running was fun without structure and I banked enough mileage to feel good about trying to go hard at IMTUF.
Jenna and I flew to Boise on Thursday, September 15th, just two days before the race. The plan was to drive through McCall to the Burgdorf Hot Springs where the race begins, spend Thursday night in one of the cabins, then stay in the palatial, heated cabin of the camp host on Friday night. My friend Spencer Lawley knew the host and had hooked us up; Spencer had grown up near McCall and seemed to know everyone. He was driving in to race the "Legend of Bear Pete" 30k on Sunday. Aaron Steele would join Jenna and Spencer for crew and pacing duties.
As we touched down in Boise, Jenna started to grow suspicious of my planning ability. "These cabins are heated, right?"
"Yeah, of course," I said, wondering if it was true. I checked the website and found this lovely "What to Bring" guide for the Springs... whoops, no heat or bedding, and we hadn't brought a sleeping bag. We picked up our rental car, letting the agent talk us into upgrading from the tiniest car to a smaller SUV, headed to REI to pick up some cheap bedding, then stopped at Trader Joe's.
My decision making ability had started to fade on Wednesday as my mind began to bank IQ points for withdrawal during the race, when I'd need everything I had for 20+ hours of pace calculation. I wandered around the aisles of Trader Joe's for at least an hour, unable to figure out what I wanted. Dinner? Breakfast? Was I buying too few calories? What if I wanted some exotic sandwich during the race?
Finally, car stuffed with far too much food, we departed for Burgdorf, for IMTUF, for destiny. We stopped in McCall for pizza then continued on into the mountains. The trees were painted with fall colors, mixed in with the black of burned stumps and branchless trunks left from some recent fire. We started to notice aid station names! The sense that this race was something special grew as the sun set over the huge granite domes in the distance.
Burgdorf Hot Springs
We spent Thursday night in "The Castle", a beautiful wooden cabin that housed 10 people. We were the only guests that night, but the cabin was fully booked for Friday night, IMTUF Eve. The Castle was a short walk from the hot springs at the center of the campground: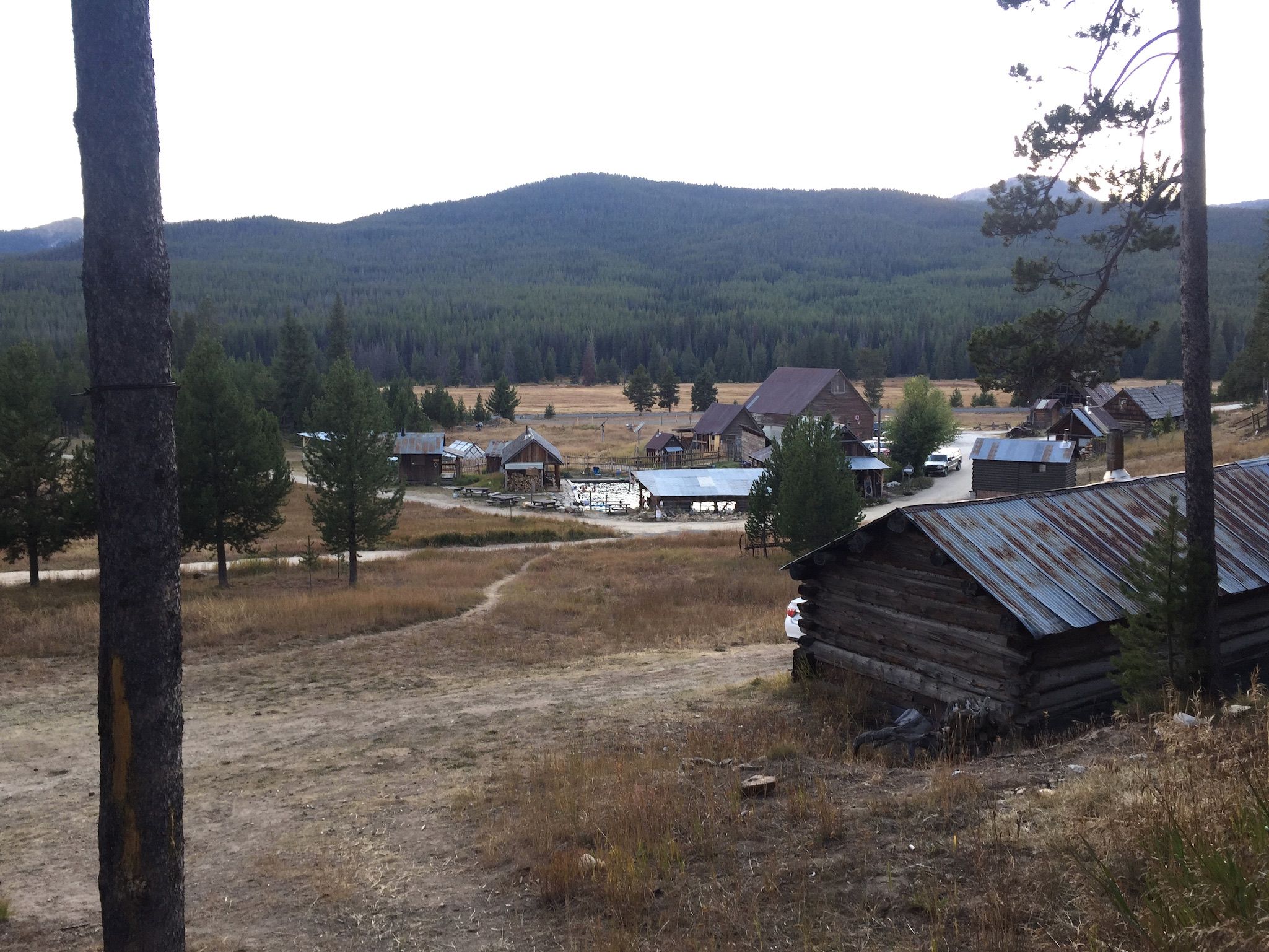 We unpacked in after arriving and shook out for 20 minutes on the trails leading past the campground. A local dog kept us company on the cold morning.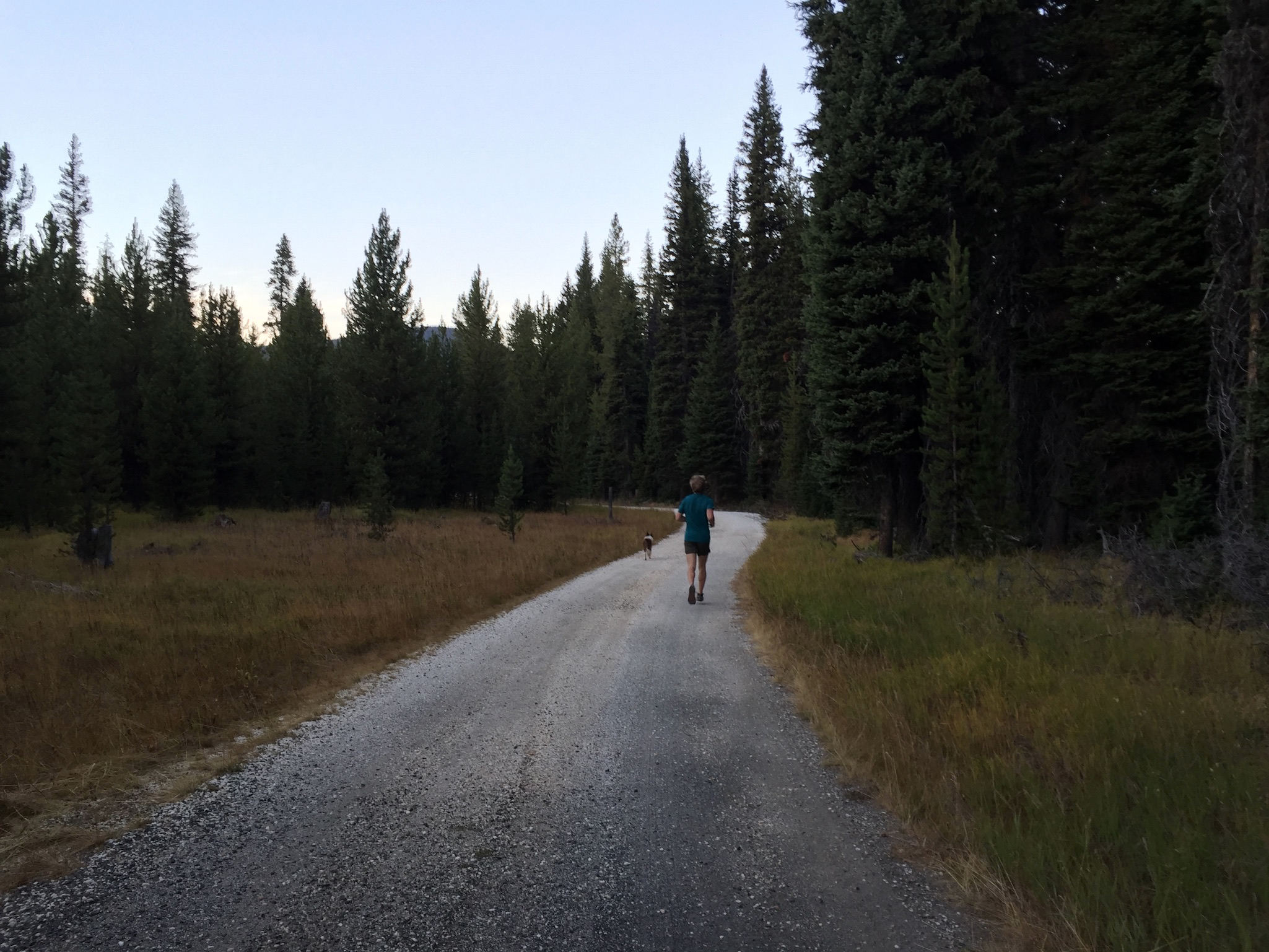 When I tried to think about the race, a low-grade fear about what was going to happen the next day would rise up. This was easy to ignore, and if I didn't try to plan, the fog of war would come back and I could stay calm and enjoy the chilly morning.
On our way back through the Hot Springs we met a lady from California sitting outside her cabin wearing the thick shoes of an ultrarunner. We talked for a while, and when Hardrock came up she let on that she was, indeed, a Hardrocker. How many finishes did she have, I asked?
"I have... a few finishes."
Turns out she had nine Hardrock finishes, and was at IMTUF to get a qualifier to apply for her 10th Hardrock finish. Once she'd finished 10, she told us, she could finally be satisfied with her ultrarunning career and stop the madness.
I don't know if she's tackled that 10th finish yet, but I call bullshit. I had the same thought about my first Leadville, my second Leadville (once I beat 25 hours I can quit...), my first podium finish, and I have it still about that first Hardrock. These are nice stories to tell ourselves, especially if they get us out into the mountains, but the idea that some number of buckles on the wall can calm the demon gnawing away inside has stopped making sense.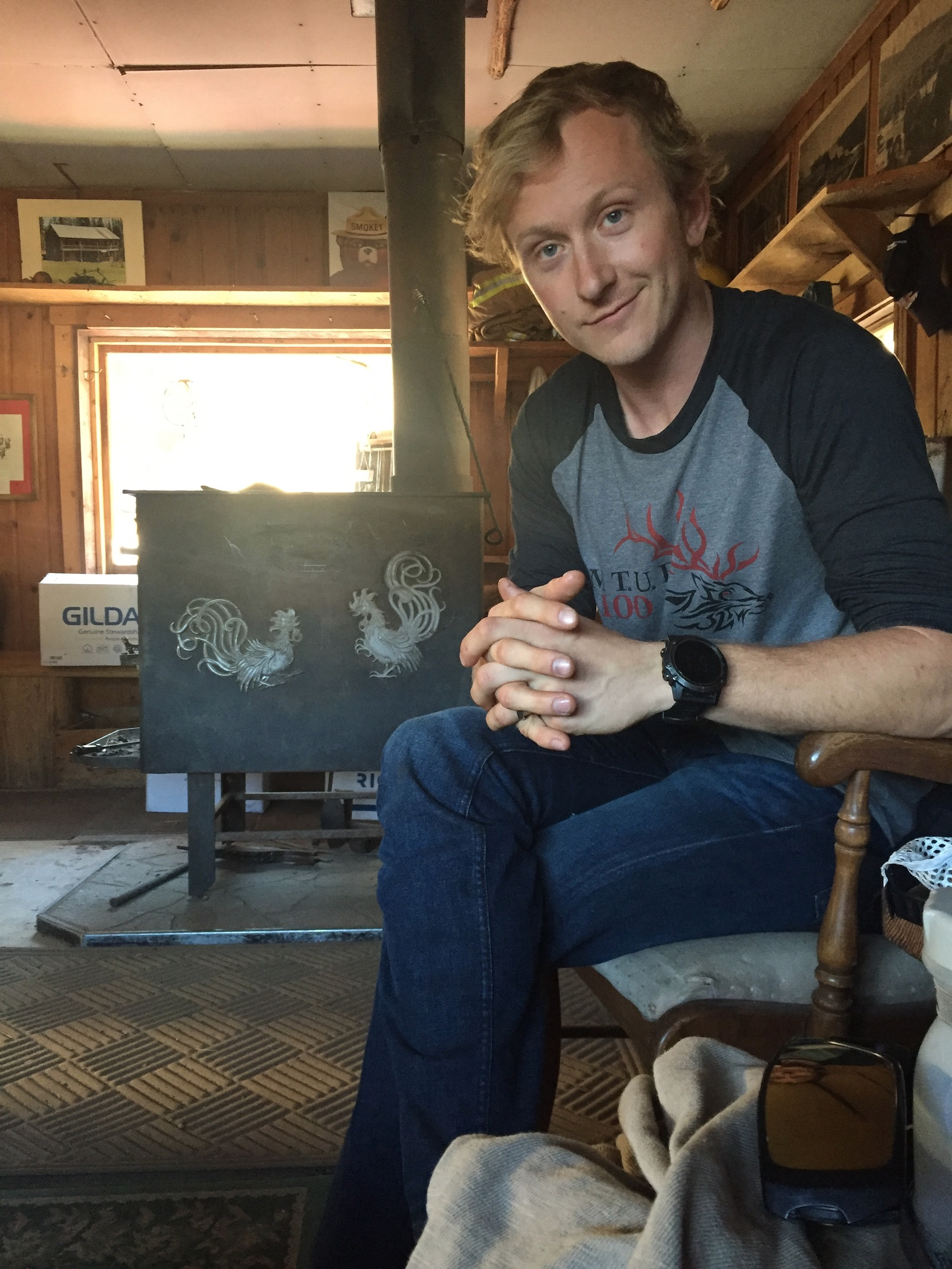 Runners began to trickle into camp on Friday morning. I spent some time in the hot spring soaking and chatting with other runners. Everyone I met seemed to have a top-10 finish at big name races. We circled the topic of time goals. The course record was Seth Swanson's 21:06; Seth's finished 2nd at Western States twice in close to 15 hours. Aiming for sub-24 hours here at IMTUF felt risky, we all agreed.
Jenna and I headed to the Secesh Stage Stop up the road for lunch and wifi and got in touch with Spencer. Bad news... turns out that the camp host's house was hosting a bachelorette party and we'd no longer be able to stay indoors. We drove back to Burgdorf and found a campsite... we had no tent, but we tested our upgraded SUV rental and found that we had enough room to stretch out in the back. Crisis averted!
Next came race check in. Brandi Bolli and Jeremy Humphrey walked us through the course, the history of the race, what to expect out in the wilds of Idaho. A bit of rain, lots of cold, aggressive trails. Jeremy got emotional looking out at the number of runners that had shown up for a fairly new race. Behind Jeremy, fat people floated on noodles in the water of the hot springs, oblivious to the details of what we were about to attempt.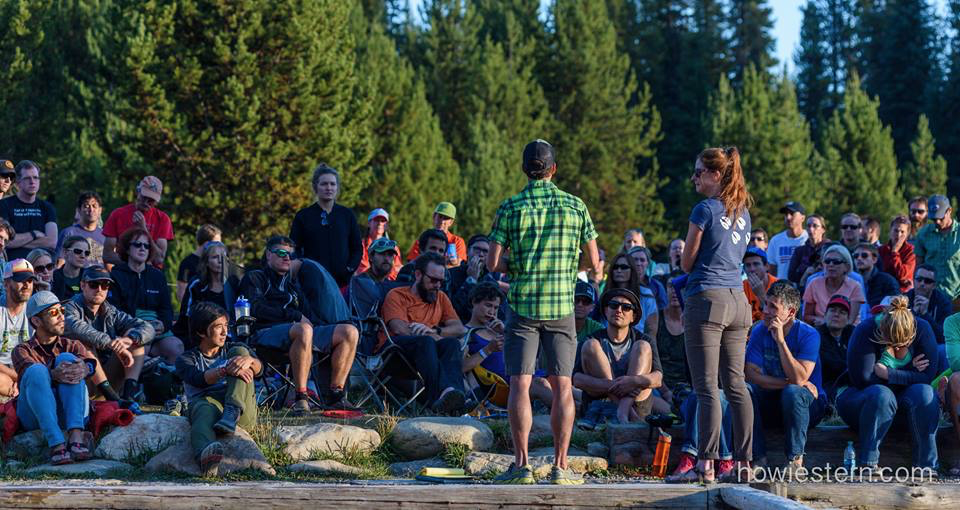 This was my first glimpse of Jeremy's sad eyes. He'd continue to make a big impression on me throughout the race, coming to most aid stations and manning the finish line in the cold, rainy morning.
One more shakeout run at Ruby Meadows. The downhills felt so good. Did that mean I should go out hard? Yes, I guess it did. We cooked dinner back at the campsite and I wrote out a rough pacing guide for Jenna, packed up my treats and spent about two hours trying to decide if I should carry a bladder or a hand bottle at the start the next morning. My mind's ability to make decisions was fully gone.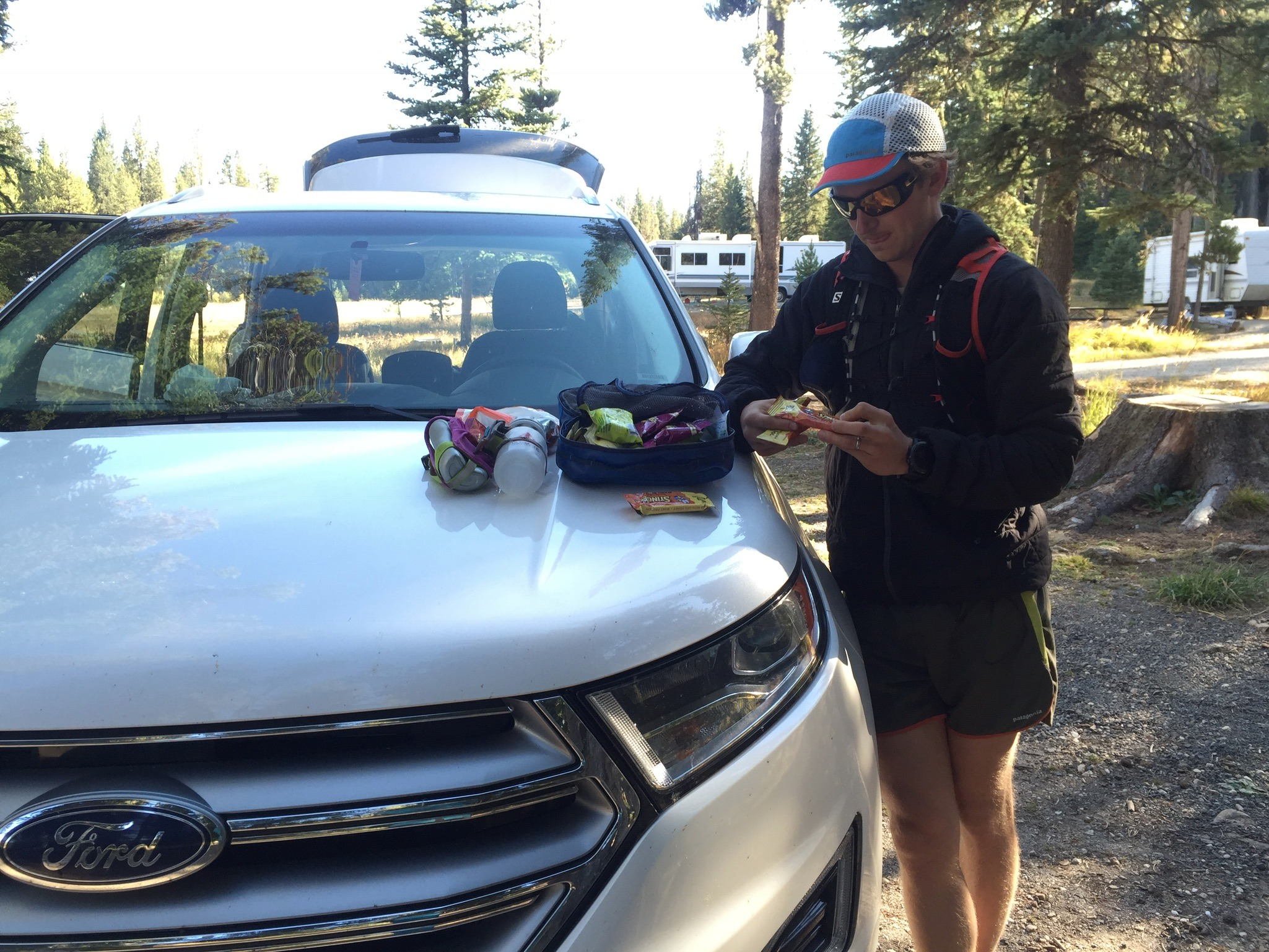 The Race Begins
I woke up at 3am and ate breakfast in the trunk of the car. I meditated for 20 minutes; I'd had wild dreams all night and wasn't sure how much I'd actually slept. Aaron Steele's flight had been delayed, and there was still no sign of him.
At 5am I got dressed for the 6am start. The rituals of lubing and stuffing my pockets with gels and gummies were familiar and terrifying.
Jenna and I drove to Burgdorf, a mile up the road, and found Spencer by the bonfire. Before I knew it, it was five minutes to the start and we were all lining up, adjusting headlamps. I kissed Jenna goodbye, and with Jeremy's elk bugle we took off down the road.
I started with the lead group, running 8 minute mile pace with a heart rate of 151. I'd decided to trust my heart rate and go as fast as the aerobic system let me. The cold was absolutely intense, even in my thick nano-air jacket. I had a hat, gloves and a single hand bottle for the first 16 mile stretch.
There were maybe 15 of us in the lead group, sharing the mandatory joke about how far we'd come as our watches beeped out the first mile. I dropped back at the first big climb, determined to trust the heart rate and walk the early uphills. Downhill running felt good and I'd catch the runners that past me each time the trail tilted down again. The main group slowly pulled away. I was alone in the cold, running with my watch.
Then, on the first long descent as light started to show in the sky, I saw the lead group again. This was a clue. I was descending well, maybe better than many in that lead group.
I caught the group, almost folded my ankle in a hole, recovered, then took a dive at mile 8, laying myself out in some sand and tearing my gloves open. What the fuck! Take it slow, don't make stupid mistakes.
We were running a fast pace line on sandy singletrack as the light revealed the gorgeous fall colors all around us. I remember running along a stream at the bottom of a valley, rolling in line with the top group, not trying to pass anyone this early in the race, just enjoying the good feeling in my legs and stretching out.
I peed and filled up my water bottle at the mile 10. No one else seemed to fill up, and I was off the back of the group again. The big lesson in these races is, don't get pulled in to someone else's strategy. I caught up on the out and back to Loon Lake, where Howie Stern, our photographer and recent finisher of the Bigfoot 200, was waiting with his camera.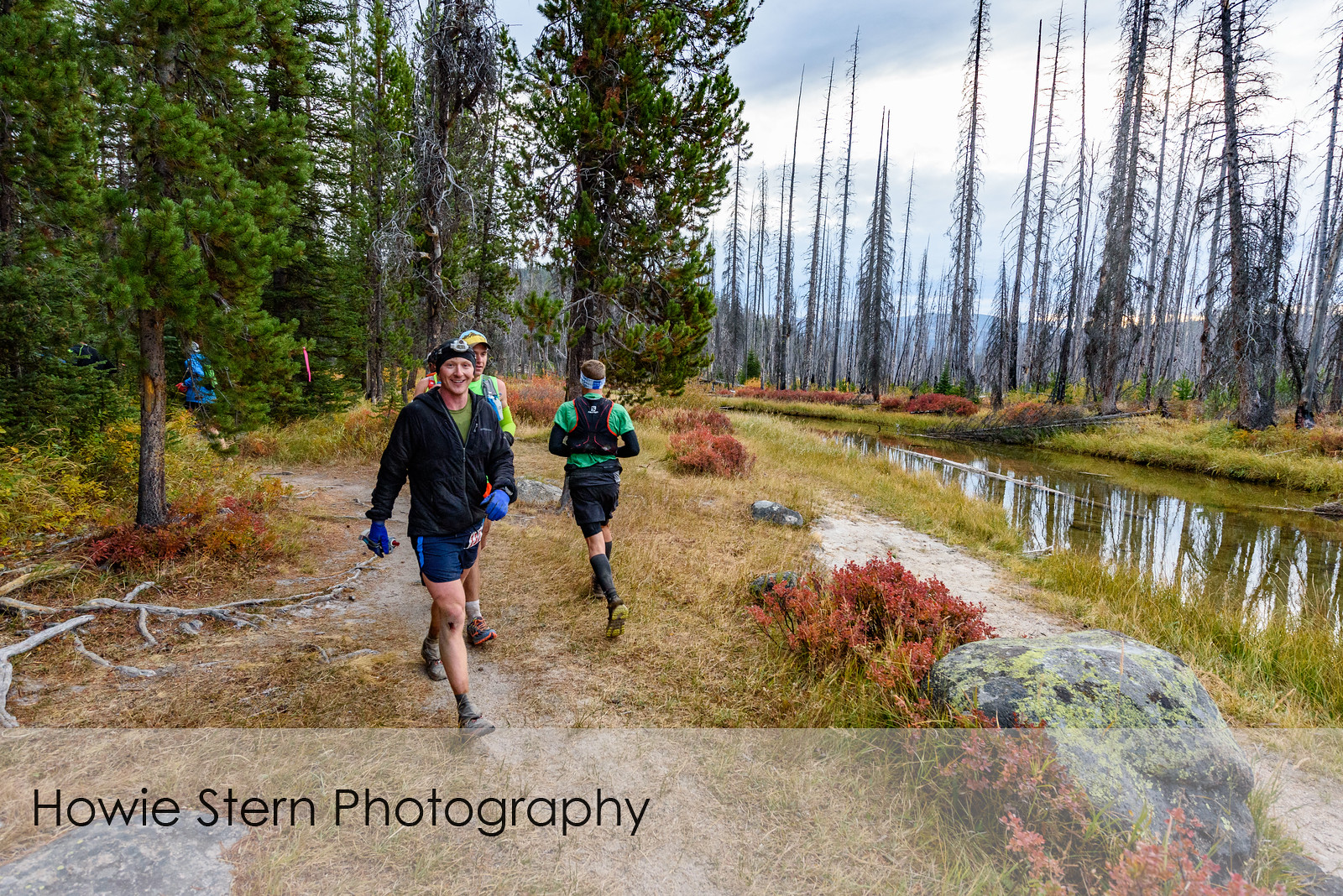 Chinook Campground, Mile 16.7
I hit the Chinook Campground aid station, found Jenna and traded my hand bottle for my Salomon running pack. Starting with the hand bottle had been the right decision, the transition was fast, and I rolled out in, I think, sixth place.
David Ayala and Kyle Ormsby were in the lead, running with a guy in a green shirt. Next were two guys in tank tops and little running shorts, Zach Szablewski and Anthony Jacobs. They looked like they'd gotten lost trying to find morning track practice. I was close, followed by Elliott Barcikowski.
It was massively exciting to rock a fast transition at the aid station. The next few miles felt flat and fast; Elliott caught me and we rolled through the next few miles of mild terrain, moderate rollers through dumped us into a gentle climb leading to our first major hike up Diamond Ridge.
Diamond Ridge was a jarring reminder of how difficult the terrain could become, and a good wakeup call after the fairly casual early miles. Big granite steps led us on a long, difficult push up to a high grass plateau full of those fire-blackened trees. I caught Zach and Anthony, and Zach increased his pace to match my power hike, leaving Anthony behind.
This put me into, I think, 5th place. Was I leading myself into a blowup? During the climb I kept thinking about how strange, how hubristic, it felt to even consider positioning in a race this long. I've had friends that have seized up over 90 miles into the best 100 miler of their lives and had to limp in to the finish, losing hours of time.
100 mile racing requires a suspicious mind. Am I feeling great? Something must be wrong; slow down and bank some calories. Oh, now I feel terrible? Well, everything is temporary. This too shall pass... keep pushing, force down some food and salt and see what changes. The goal is to damp the peaks. Don't feel too good, don't feel too bad. Tread lightly and sneak by the ultra gods and pray, feel that almost religious terror and pray that you don't incur their wrath and bonk with 10 miles to go.
On the hike up Diamond Ridge, as I was thinking about how silly it was to jockey for position with 80 miles to go, Zach was telling me about the pattern of his last few 100 mile races. The gist was that he usually goes out hard at the beginning of the race, bonks, then finishes up in a moderate time. Well, here we were, near the front of the pack!  This was not the guy to be chasing early in the race.
We topped out, I stopped to pee and Zach pulled away on the descent down to Upper Payette Lake aid station. The wind blowing through the trees made a low, constant shrieking noise that sounded like human children. I wasn't feeling great in the heat, but pushed hard on the rough footing and caught Zach as Elliott caught us both. On the next long stretch of road these two guys strode it out close to 8 minute mile pace. I hung on, wondering again how long I could keep this up.
Upper Payette Lake, 32.9
Aaron, Jenna and Spencer were waiting at the aid station. I swapped out food and water. Jeremy, the race director, was there, and I tried to fumble out a clumsy little speech about how beautiful the course was, thanking him for putting on the race... this was super awkward, and I'm sure he pegged me as a weirdo. I left the aid station ahead of Elliott and Zach, in third place now.
It started to get hot on this next stretch and I had a little "uh oh" mental moment. My heart rate monitor band was starting to feel tight, and my heart rate was high, pushing above 155. I decided to take off the chest strap. I stashed it and kept running, but kept looking at the heart rate readout on my watch, looking for signs that the intervention had worked. Sure enough, the reported heart rate started dropping! It settled in below 150. Good. Only after about ten minutes of this did I realize that my brain had started to short circuit. Oh boy... salt and water, keep moving.
Elliott caught me and pulled ahead a couple hundred meters before settling in. A long descent, and then finally we start to see aid station signs... there it is, one little kicker uphill and we're at Duck Lake aid station, mile 43. The soda here was unbelievable, so refreshing, and the quesadillas were incredible. My IMTUF love affair with quesadillas began at this aid station.
I caught up to Elliott on the road out of the aid station, sugary soda powering my legs, but stayed back, knowing that if I passed him I'd just get hounded and forced into a faster pace. On the long downhill I do the calculations and realize that, holy shit, I might beat my 8:47 50 mile split from the Vermont 100 on this much tougher course. (I ended up tying it.) I'm too deep in the game to slow down now.
Snowslide Trailhead, 47.8
Jenna, Aaron and Spencer caught me at the aid station and fitted me with trekking poles and my rain jacket just as it started to rain. My lips were purple by this point but I knew that I'd stay warm as long as I could keep moving. I was loaded up for MOTHER FUCKING WAR and feeling much more aggressive now that we were halfway done.
I left ahead of Elliott. Immediately the climbing began, and it became clear that the second half of the course was going to be a different animal. It was cold, wet and steep, and I kept slipping on the massive granite boulders and grass that made up the trail. I tried to pull my fancy Salomon rain jacket on over my pack and managed to pin my arms to my sides over my head. I couldn't escape! I waited for Elliott and asked him to help me. So shameful.
This was my first race using trekking poles, and they were just incredible for efficiency. I kept up with Elliott with low effort, power hiking as he alternated a slow hike with running on flats. Bank my energy, let him blow up.
Near the top of the climb, the trail devolved into a bushwhack and we both kept slipping, dragging our way up the vegetation. Stay conservative. Jesus, this is hard. I stopped to adjust my gear and breathe at the top of the climb and Elliott gunned it, leaving me behind. I picked my way down the steep descent to a more uniform grassy section of trail as the rain started to die down, and tried to keep it together for a long, long stretch of gentle rollers. I ticked off miles at roughly 10 minute pace, ignoring the inner thigh chafing that the rain was causing and trying to focus.
Lake Fork, 59.3
I hit Lake Fork feeling tired but disciplined, and cautiously excited at how well the race had been going so far. I'd started to lose interest in "racing" in favor of self preservation, and tried not to care when I heard that Elliott was now five minutes ahead. Good, one less thing to think about. Quesadillas and coffee, thank you to Spencer and Aaron, and Jenna and I headed down the dirt road for the huge Crestline crossing.
We followed Elliott's footprints until we hit a left turn up the hill, and quickly we're back in it on yet another massive IMTUF climb. Jenna stopped to take a few pictures: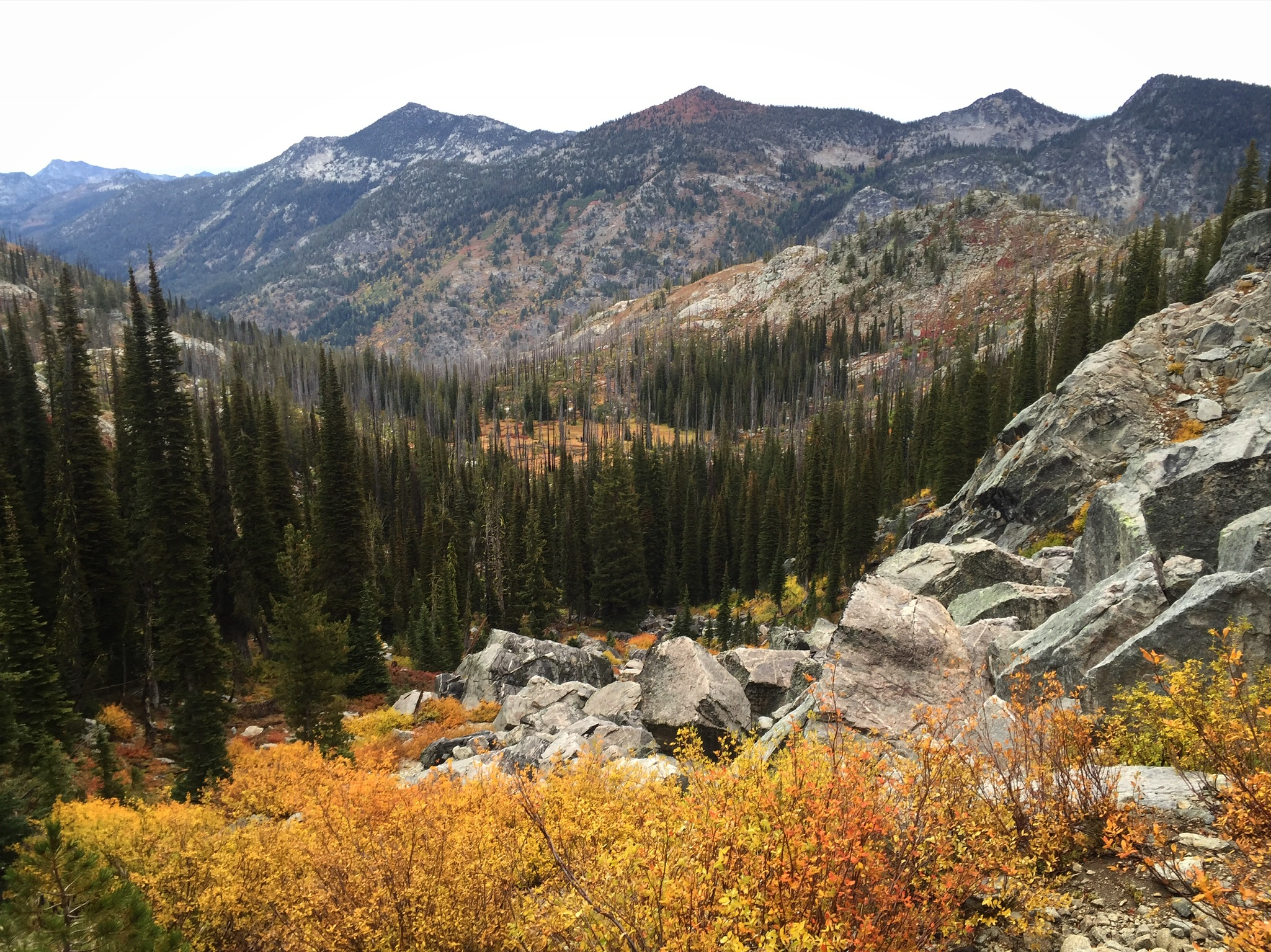 I think this is where she sensed that this was a different race than previous ones we'd run together. I didn't stop for her, and it took her a while to catch back up to me. I could hear her close but kept pushing, staring at my feet, not enjoying the incredible views that she was taking in.
The angle kept increasing as we approached Crestline until maxing out at this absurd climb: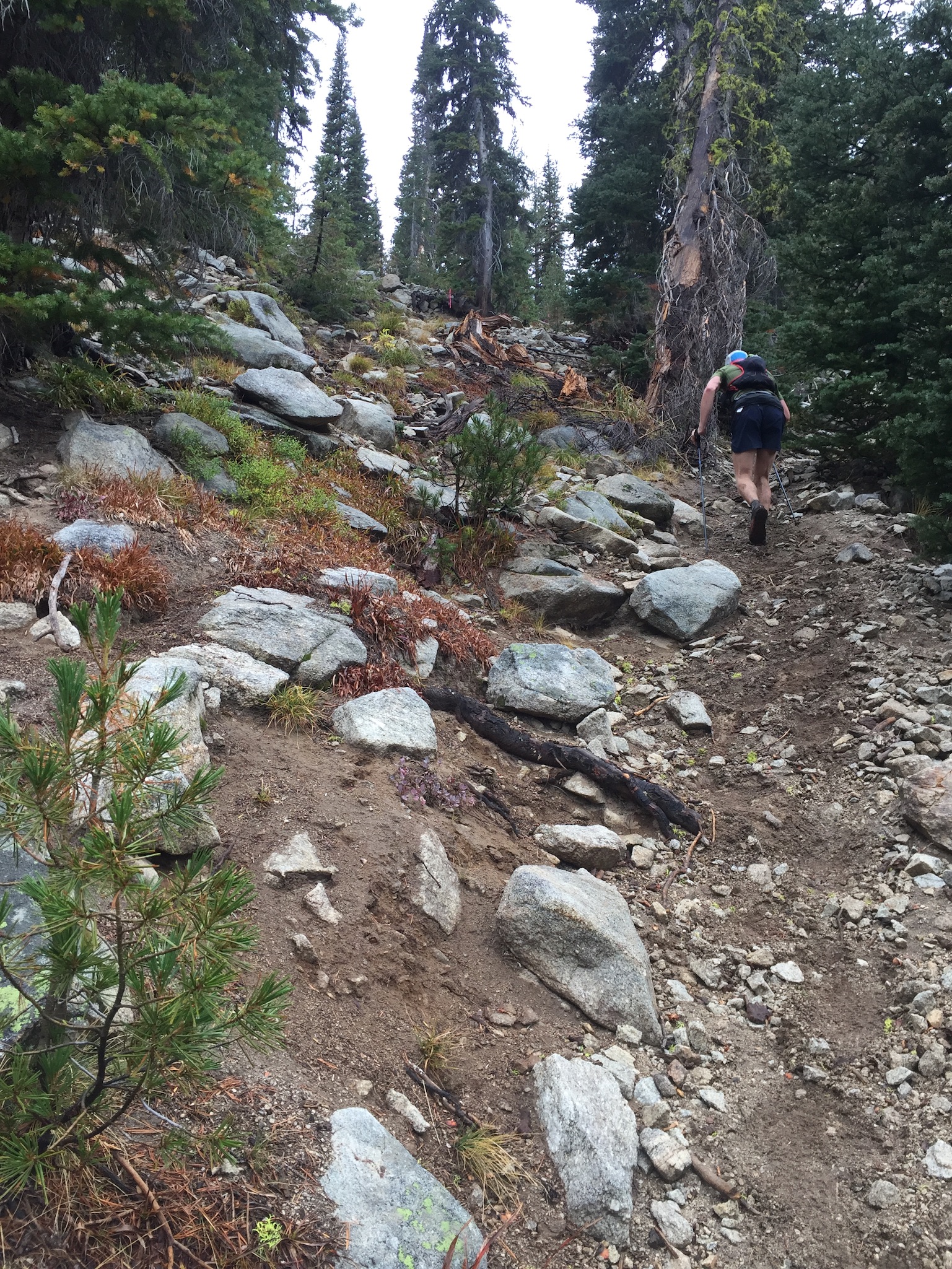 Crestline was the most intimidating stretch of the race, but we were moving well enough to hit it in the light. The temperature and light rain felt great and I tried to show off how well my legs were working to Jenna on the descents down the dusty 4x4 roads at the beginning on the crossing.
We hit the first aid station of the crossing at 7.5 miles in and I gobbled a nutella and jam tortilla. This was a sugary punch to the face, and it took me a few minutes to hold it down before the energy wave hit. We moved through long stretches of straight trail through grass, climbing higher, trying to use as much light as possible.
The grass sections transitioned into a dirty and granite moonscape; I was running my most consistent miles of the whole race, no slack in the mental pressure, eating the quesadillas I'd stashed from the aid station. We made it through the most aggressive high terrain before dark and put on jackets and headlamps before the rain picked up and it was time to descend.
The light from the headlamp was distorted by the rain and the dense bushes and veggies pressing in on the trail. Then, in the distance, Jenna noticed a light. With so many switchbacks it was impossible to tell how far up it was, but it was definitely another runner. Don't think about it.
We hit a river crossing with a camping party on the other side. How the hell do we get across? I picked my way over the rocks, and realized that it was the goat aid station, mile 74.4... and, holy shit, Kyle Ormsby, the third place runner, was just leaving.
Jenna had been looking forward to the goat aid station for months. I had too, but we had to go! The couple running the aid station was so sweet, welcoming us in with fresh food and asking us to pose for pictures with the goats.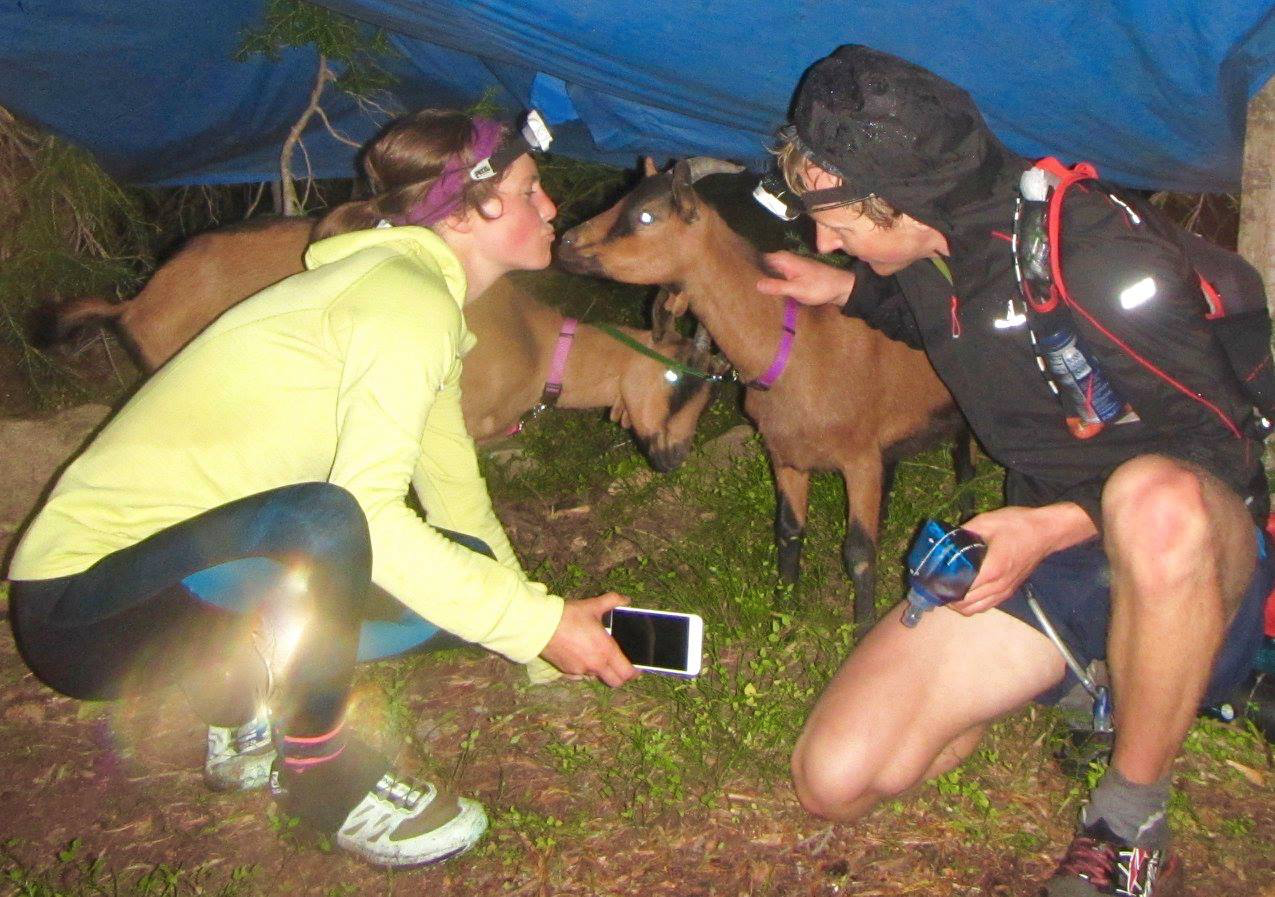 "Sit down and get warm! Can we make you a grilled peanut butter sandwich?" asked the lady at the fire. Oh god... yes, I do, you siren, but I can't, I have to leave and catch the runner that just left! I was flustered; I'd already stared at my feet through some of the most beautiful terrain I'd ever run in; was I going to blast through this too? Fine, one picture with the goats. Maybe you can tell that I was anxious to leave:
In my anxiety I forgot to take enough food for the next big stretch. This was my fear, the wheels coming off 75 miles in. I had taken two snacks and rushed Jenna out of the aid station before she could take any food at all. This was not okay. I didn't want to think about racing, but I couldn't help it. I was hunting.
I forgot about it. We couldn't do anything now. I started to talk at Jenna, to force her to listen to what had been an internal monologue.
"If we catch them, they'll just hunt us. Better to hunt, right? Okay, wait, Jenna, I know what we'll do." Jenna silent, knowing I just needed to babble. "Let's wait and try to catch them at the aid station. They'll think they can rest and we'll blow by them while they're snoozing by the fire!"
Then, plan out the window, we caught up to Kyle a mile before the aid station and I couldn't hold back. I poled past and grunted out a "Nice work."
"Where are you from?" Kyle asked as he and his pacer moved aside. No one knows who I am! I'm not supposed to be this fast.
"Oh, Boulder," I replied, as if that explains the situation.
"Do they have mountains there?" said Kyle, earning dry trail humor points.
I made some joke, tried to think of something to say, and all I could come up with was, "How's your day going?" Oh god. Did that sound right? Was that rude? Too late, I had to power past and pretend to look strong now that I'd committed to making a move before the aid station. Funny how social awkwardness can manifest itself in such odd situations.
We hit North Crestline at mile 80 and hurried to fill our water and get food, but not too fast. We couldn't afford to leave without food. Jenna and I jammed out down the dirt road, so happy that we'd made it through Crestline without too much damage. I take two Excedrin and my legs stop hurting completely for a good fifteen minutes.
The next notable stretch is the turnoff to the "Terrible Terrence" trail. I'd gotten it in my head that this is 0.3 miles long, but it became clear pretty quickly that this is wrong. I forced my way through dense bushes covered in water from the night's rain. Cold water dumped over me constantly, but my core was warm, and I stayed focused for 1.5 miles of navigation through deep ravines and dense, wet bushes, yelling directions back at Jenna as I made mistakes - "RIGHT, wait, no LEFT!". The only physical damage I was worried about was some aggressive, oh so aggressive chafe on my left inner thigh. NSFW detail alert... It was so bad that I decided the only solution was to pull my balls out of the left side of the shorts liner so that my scrotum could physically shield the chafed skin.
Next, a long road stretch, and my headlamp started to blink out. Fuck, just keep going. I found a soggy "mystery quesadilla" deep in my pack that tasted so damned good. There was one car on the road... It's Spencer heading back to camp before his own race began later that morning.
"You're in third place! Go get it!"  he yelled. Don't think about it, keep moving.
As we approached the aid station Jenna ran hard ahead to our parked car to get an extra battery for me... and of course it was the wrong car, an identical rental car. The lights went on as she hauled the door open and there was a stranger, rubbing his eyes, confused. Whoops! We found the correct car and Aaron at the aid station, suited up and ready to leave for the final leg.
Upper Payette Lake #2, 88.8
Aaron Steele's a long time ultrarunner, and is just an outstanding crew member and pacer. He knows how you're feeling and can anticipate what you need in the dark hours late in a race.
Usually this late in the game a pacer needs to distract you, to pretend you're just going for a casual little run, anything to distract you from the horror of what's actually happening.
This race was different. Aaron had just started work at Stripe, and I asked him for the distraction, for stories about Stripe, how the week was going. The problem was that his stories were all so interesting that the telling started to pull me back out of the warped sense of time I'd been living in, the constant body scan, the time calculations. I finally asked if, so sorry, could we please switch to race mode at the next uphill? Aaron adjusted quickly and started giving me stats on the course ahead.
"We've got 1000 feet of climbing to go, then a long plateau and a descent to the finish," he reported. Of course I kept thinking that we'd topped out, and of course there was always just a bit more to go. I led, so happy about how good the trekking poles made everything feel, cautiously optimistic about a potential podium finish.
We hit the second-to-last aid station, Cloochman Saddle, mile 94.2. My GPS had matched the reported aid station mileage up to this point, which meant that we had just over seven miles to go. Just to confirm I asked the aid station chief how much was left.
"12 miles to go!"
This was jarring, to say the least. I asked for confirmation, got it, adjusted. Aaron and I took food and water and headed out up more steep switchbacks.
Aaron noticed it first. A light ahead of us, far up the trail. It was Elliott. Aaron started to get excited, and I could feel the pull of that sick-excited feeling of competition. I wanted nothing to do with that feeling. I was already as focused as I could possibly be. What could I change? I asked Aaron to stop giving me updates on the runner and tried not to look up.
Another moment that reveals so much... I had to pee and tried to pee while running, but managed only a rough waddle down the trail, spraying as I walked. Aaron kept eyes forward as I muttered  "Come on, come ON," trying to speed the process. (The next day he asked me, "... do you remember yelling at your dick?")
We hit the ridge and started moving more quickly. Aaron complemented my footwork and I responded by speeding up, trying to show off. If it hadn't been so dark we would have been treated to this phenomenal view (photo from Dave Swoish's race report):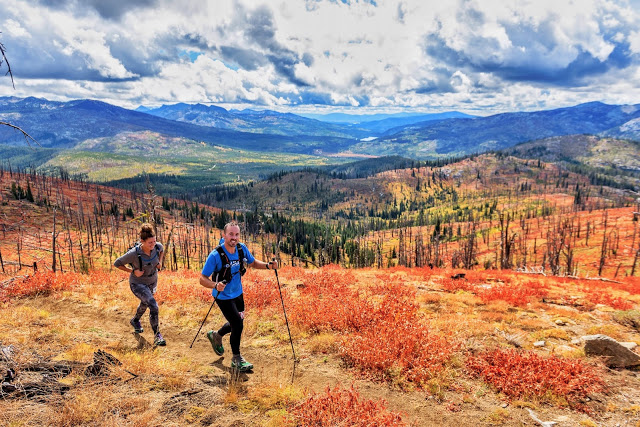 We kept thinking we'd reached the final descent; I'd start to put away the poles, then pull them out as we rolled into another climb. We hit the 100 mile mark on the GPS in about 19:40. Finally, finally, a sign... 0.25 miles to the aid station. I refilled a bottle with coke, grabbed some cookies and we noted a sign that claimed 4.7 miles to the finish. That must be right, but don't think too hard about it, just go.
The descent was huge. It was so steep. We were running very fast, and for the first time in the race I started to get ahead of my feet. I used the poles to control the descent and tried to focus on the trail through the moon dust I was kicking up.
Aaron was inspired by the downhill flow, and started up a bizarre monologue: "Relax, just imagine that you're running, Pretzel by your side, flowing through the trails, your hand down... Pretzel licks your hand as you move, smooth, fast..."
This was too intense - my dog licking my hand while running? Why was my hand down?? - and I asked him to change the channel. Aaron transitioned, cycling through "A little more pressure", "push" and "relaxxxx" as appropriate, the consummate professional pacer. I let him control the effort and tried to calculate. How are we doing? Can we possibly go sub-21? Seth's course record was 21:06. Could this be happening?
And then, with maybe 0.75 miles left in the descent... I saw Elliott, running with no pacer. "No fucking way," I said to Aaron, thinking we must have found some crew member out for a run, but Aaron knew and upped the pressure. We charged by with a quick "Hey, nice work", trying to look strong and erase any thought from Elliott's mind about latching on to us and keeping up.
With just a couple of miles to go, my head was full of everything that could go wrong, running through the nightmare scenario of a twisted ankle and a hobbled, damaging sprint to the finish. Keep going.
Then, the trailhead, 1.3 miles to go. We strode it out at a 7 minute pace, the fastest I'd run the entire race, pushing toward the finish line. Aaron looked behind us - no Elliott.
Finally, there it was, the finish line, the Hot Springs where we'd started, 20 hours and 35 minutes ago. Jeremy and Brandi were waiting in the finish tent in the rain, Jeremy with his sad eyes. I crossed the line in second place, a little over 3 minutes ahead of Elliott and 44 minutes behind David Ayala's incredible winning time. It felt very strange to be home so early.
I joined David inside, drank a beer, forced myself into the hottest section of the hot spring for a while, then hobbled to the car to get some sleep and deal with the waves of physical pain that take over when the race is over and the mental cocoon finally bursts.
recap
Last year, I saw the Vermont 100 as my best possible performance.  I'd had to run so fast that it scared me to think about ever planning to race like that again. How would I do another 100 knowing that I couldn't slack?
My answer was to go into the mountains, to IMTUF, to a different style of course. I discovered during the race that something had changed over the last year. I was able to run for massive stretches without my watch, without knowing where I was or how far I had to run and stay calm and happy with that lack of knowledge. I'd almost buckled in Vermont without a watch! Everything came together for a second time, absolutely the best race of my life.
IMTUF was one for the books. I'm startled and proud of the whole experience, and can't wait to head back to McCall.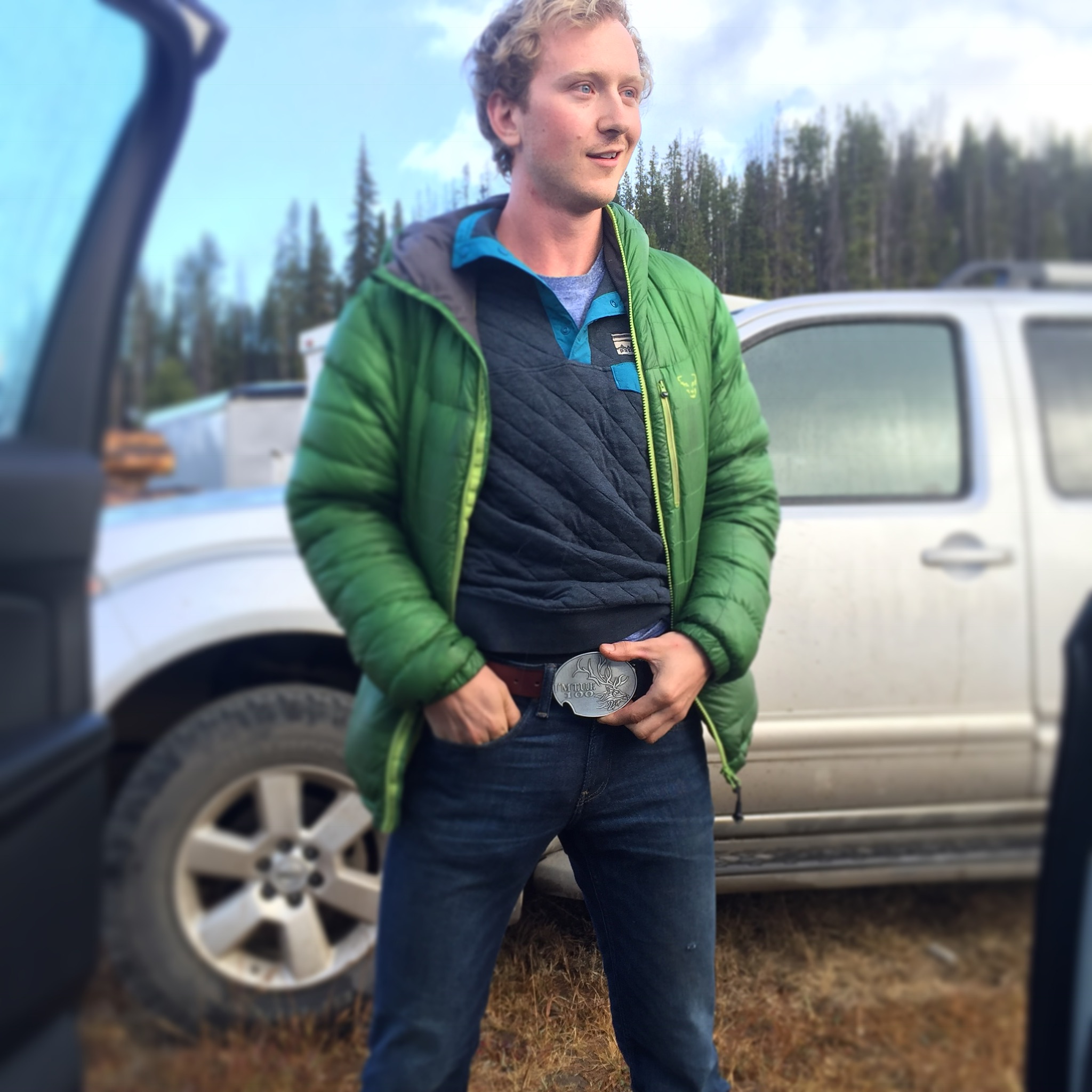 Other Notes
Here's a great video that David Ayala's family put together of some of his moments on the course: David's Race Footage.
Here's Kyle Ormsby's race report, and a race report from Zach Szablewski, one of the two tank-topped runners from early on.